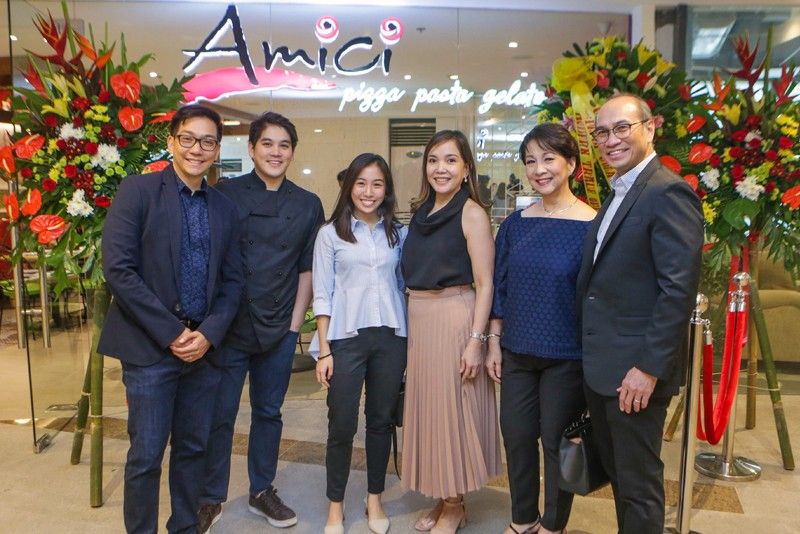 All in the family: Amici general manager and COO Philip Moran, executive chef Paolo Moran, marketing manager Pammy Moran, Ayala Malls VP for operations AC Legarda, Tessie Moran and Amici president and CEO Danny Moran
Photos by Geremy Pintolo
Amici brings the taste of Italy to BGC
'We feel it's about time to welcome everyone to our flagship store at One Bonifacio High Street, Taguig. Our ninth and definitely the most important — because it's here where diners get to experience Amici's wild and playful side,' says Philip Moran, general manager and COO of Amici and Cara Mia.
The restaurant that introduced the Filipino palate to delicious, classic and unpretentious Italian fare in the early '90s is making its presence felt in the most happening place in the metro today with the opening of its flagship store at the heart of Bonifacio Global City.
Amici welcomed guests to a brighter, fresher and homier space that can accommodate up to 60 customers on the third floor of One Bonifacio High Street in BGC, Taguig.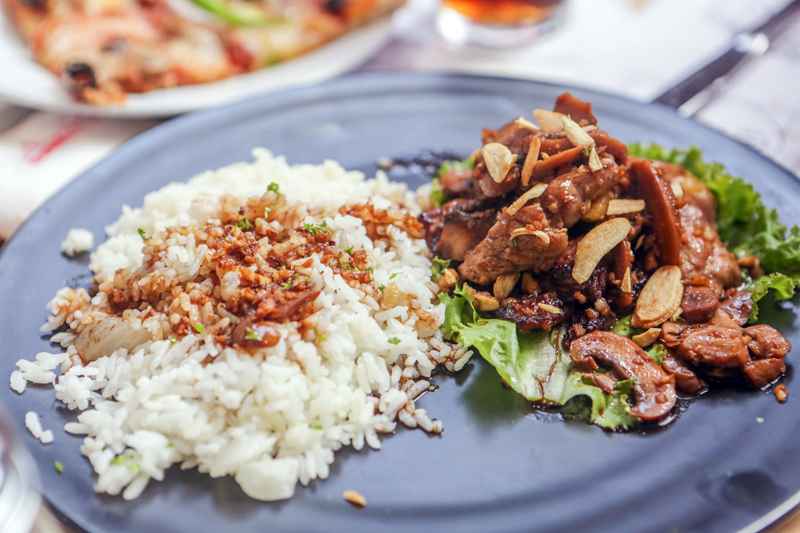 Beef, beef: Striploin Steak Salpicao
"Amici has come a long way from its humble beginnings at Don Bosco on Pasay Road," enthuses Philip Moran, general manager and COO of Amici and Cara Mia. "That branch will always be special to us. However, we felt it's about time to welcome everyone to our flagship store — our ninth and definitely the most important — because it's here where diners get to experience Amici's wild and playful side."
While the flagship store still carries traditional Italian dishes like the Spaghetti White Vongole e Gamberetti, Spaghetti alla Carbonara, Al Quattro Formaggi and Pepperoni and Three-Cheese Pizza that regular guests have come to love, Amici BGC will soon introduce its Chef's Specials, exciting food items that executive chef Paolo Moran will whip up when he's in the resto.
Each week, chef Paolo plans to serve at least two new dishes to entice diners to come in and have a good meal.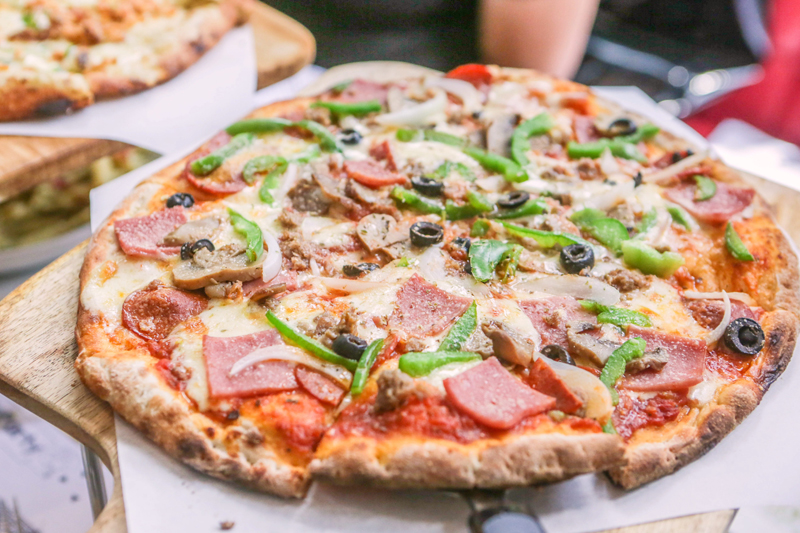 Loaded with goodness: Il Supremo pizza
Meet the chef?
Though the Morans have been in the food business since the 1980s — Philip and Paolo's parents, Amici CEO Danny Moran and wife Tessie, established Red Ribbon in the '80s — it was only in college that the amiable chef realized he wanted to have a career in the culinary arts.
It was around the time the Food Network channel became popular and kitchen geniuses had attained rock-star status.
After getting his diploma in Liberal Arts at the Ateneo de Manila University, Paolo flew to the US, where he lived for seven years. There he worked in various restaurants, starting out as a prep cook, then worked his way up.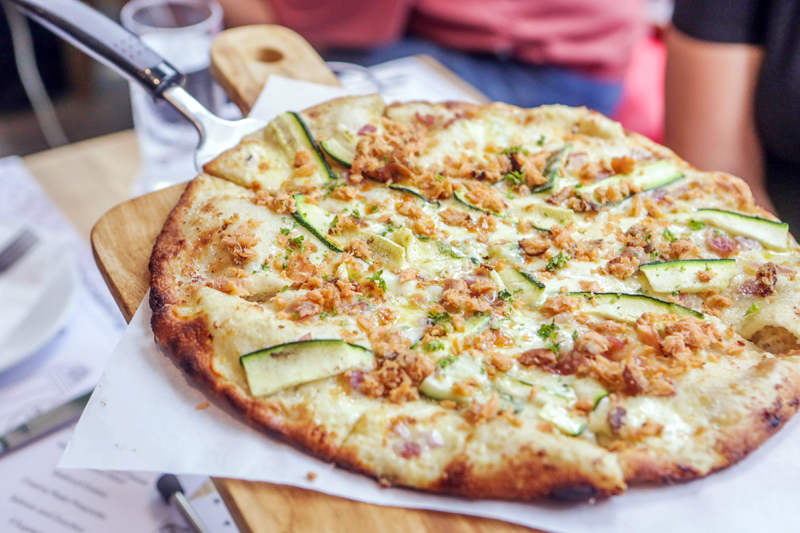 A healthier alternative: Salmon and Zucchini pizza
From the US, he moved to Italy, where he reconnected with his good friend, chef Francesco Mansani, an Italian chef with great experience and an even greater passion for life. Chef Francesco was a consultant for Amici.
"He and his wife would always bring me along to try good food and good wine," Paolo recalls. "I didn't have formal training in the kitchen but those experiences became my practical training in understanding food and Italian cuisine in general."
And with chef Paolo at the helm of Amici's kitchen, he has brought a new kind of dynamic to the dishes that come out.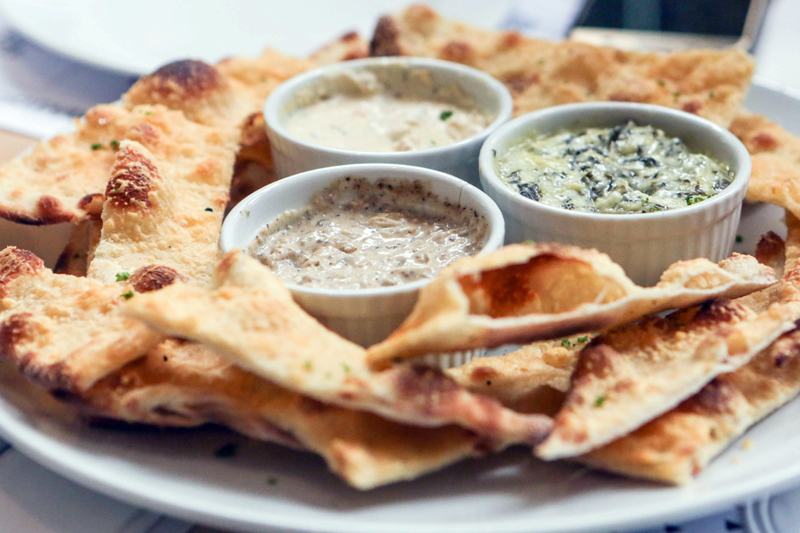 Take a delicious dip: Trio Dip Platter, freshly baked flatbread served with Truffle Mushroom, Smoked Salmon and Spinach Artichoke dips
"Originally, we tried to be an authentic Italian restaurant. Working in Italy exposed me to Italian cuisine, but since I grew up here in the Philippines, I just try to marry the two ideas together. And so far, it's been good based on customers' feedback," the chef says. "People are liking the dishes, which aren't as traditional as the ones introduced by Fr. Gianluigi Colombo, but there are still a lot of Italian elements to the dishes."
I first met chef Paolo in 2016 at Amici in Greenhills when he was introduced as its executive chef. At that time, he wasn't so used to the limelight but already impressed us with his pleasantly spiced yet creamy Seafood Diablo, which is Amici's bestseller now.
A more confident, but still handsome chef Paolo greeted us last Monday at the opening of Amici's flagship store, where he explained to us the idea behind the Chef's Specials.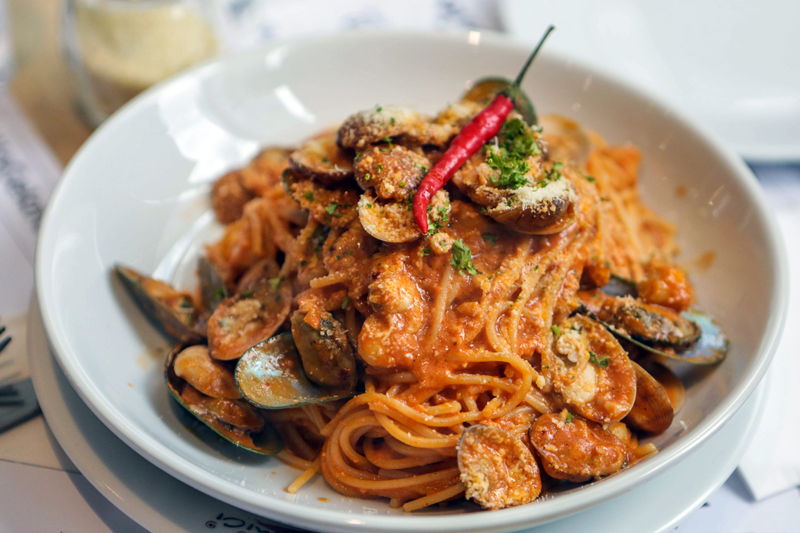 Pleasantly spiced: Seafood Diablo
"I want to come up with new dishes that are a bit more outside of Amici's comfort zone. I think the market here in BGC is more adventurous when it comes to food," he explained. "And, of course, we also want to make noise while we're here since there's a lot of competition out there."
Needless to say, Amici BGC will serve as chef Paolo's test kitchen.
"I've always wanted to come up with more sophisticated dishes, but I'm just not sure if they would click with diners. Amici BGC gives me the license to be bold and bad (in a good way) in the kitchen," he added. "I will probably revisit some old recipes like the Pasta Nero, which I really like. I might also serve a good quality steak that's sous vide."
During the opening, chef Paolo gave us a taste of his new dishes.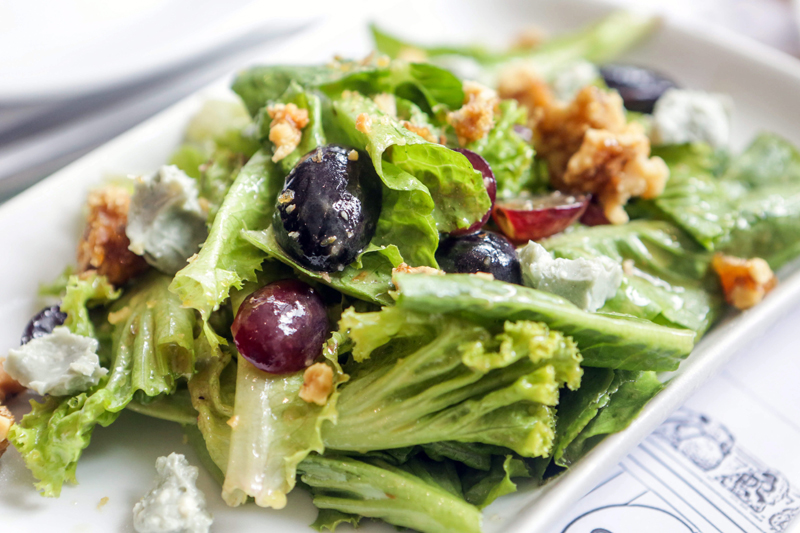 Oh, so fresh: Mediterranean Blue Cheese and Walnut Salad
For starters, we had the Trio Dip Platter, freshly baked flatbread served with three delicious dips: Truffle Mushroom, Smoked Salmon and Spinach Artichoke. While I've always loved their Spinach Artichoke dip, the Truffle Mushroom is highly recommended. It's so good I can even eat it with a bowl of steamed rice.
I'm not really a fan of "healthy" pizzas, but I enjoyed the Salmon and Zucchini Pizza, a yummy alternative to the Margherita. It went well with the Seafood Diablo and the Creamy Pesto Prosciutto pasta.
For the mains, chef Paolo treated us to a generous serving of his garlicky and tender Striploin Steak Salpicao.
The past three years have definitely honed Paolo's skills as a chef. And it shows in every delectable and IG-ready plate that comes out of Amici's busy kitchen.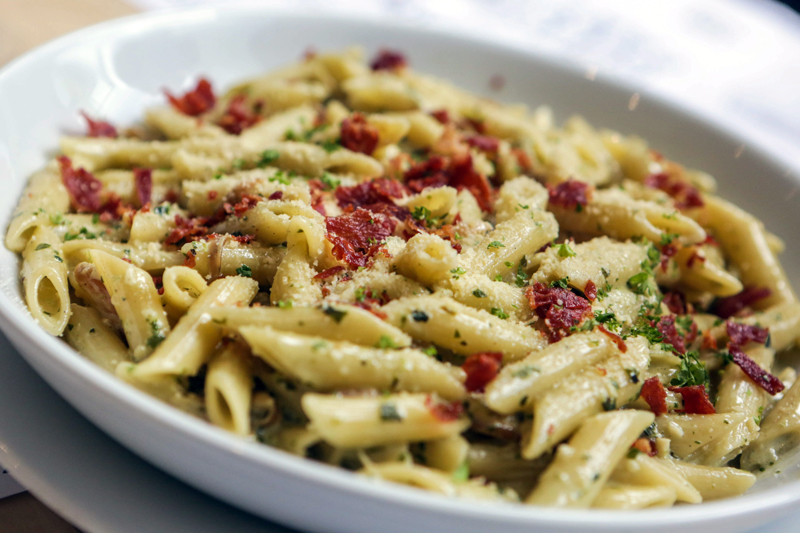 Creamy-licious: Creamy Pesto Prosciutto
"I guess it's because I know the market more now and I've adjusted pretty well," chef Paolo said. "Amici will be more adventurous now when it comes to food. We will try to extend our reach to a bigger base — not just in our comfort zone."
Indeed, the future looks bright for Amici, which is now run by a dynamic, young team headed by its general manager and COO Philip Moran; his youngest sister Pammy, who's the marketing manager; and executive chef Paolo Moran.
Though they've introduced fresh, new ideas, these young guns ensure that Amici continues the legacy of Fr. Colombo and their supportive parents by sharing Italian comfort food to people from all walks of life.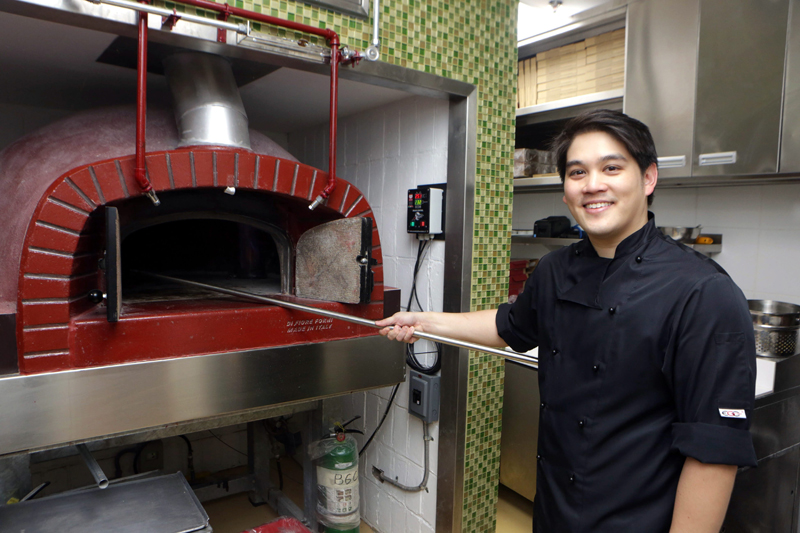 Commander in chef: Amici executive chef Paolo bakes pizza in a brick oven.
* * *
Amici is located at One Bonifacio High Street, Bonifacio Global City, Taguig. Follow Amici on Instagram and Facebook @Amiciph.