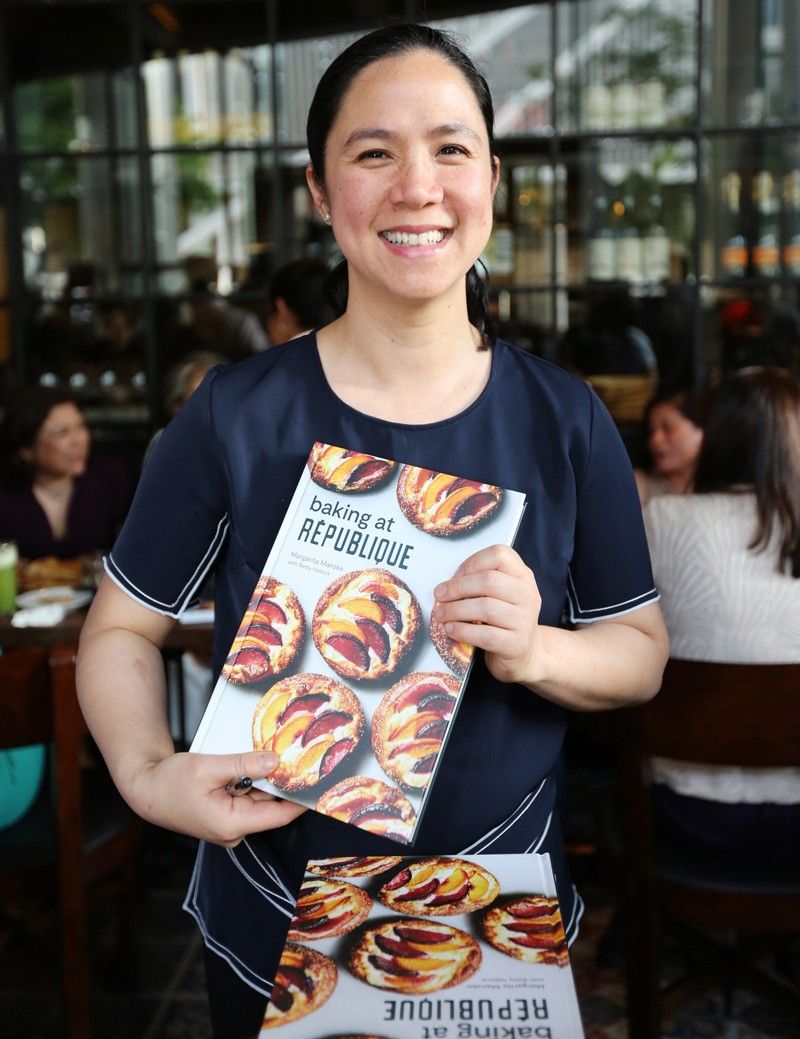 Chef Margarita Lorenzana-Manzke shares over 100 recipes in her cookbook Baking at Republique.
Photos by Walter Bollozos
The Republic of Chef Margie
While chef Margarita Lorenzana-Manzke is best known for partnering with her sister, Ana Lorenzana de Ocampo, to open Wildflour, the wildly popular bakery-café in the Philippines, in America she has gotten James Beard-level cred as the founder and pastry chef of Republique, the restaurant she originated with her husband, chef Walter Manzke, in Los Angeles, California.
The all-day-dining establishment is located in a Hollywood landmark that once housed the offices of Charlie Chaplin before it became home to iconic eateries like La Brea Bakery, Campanile, and now Republique.
Margarita, or Margie, as she is fondly called, started cooking at seven years old. Coming from a family of food entrepreneurs — her parents owned and ran the White Rock resort and restaurant in Subic Bay — cooking was all she knew and loved. During summer she'd make chocolate treats to sell; in high school she started baking the Food for the Gods that Republique now sells as date bars.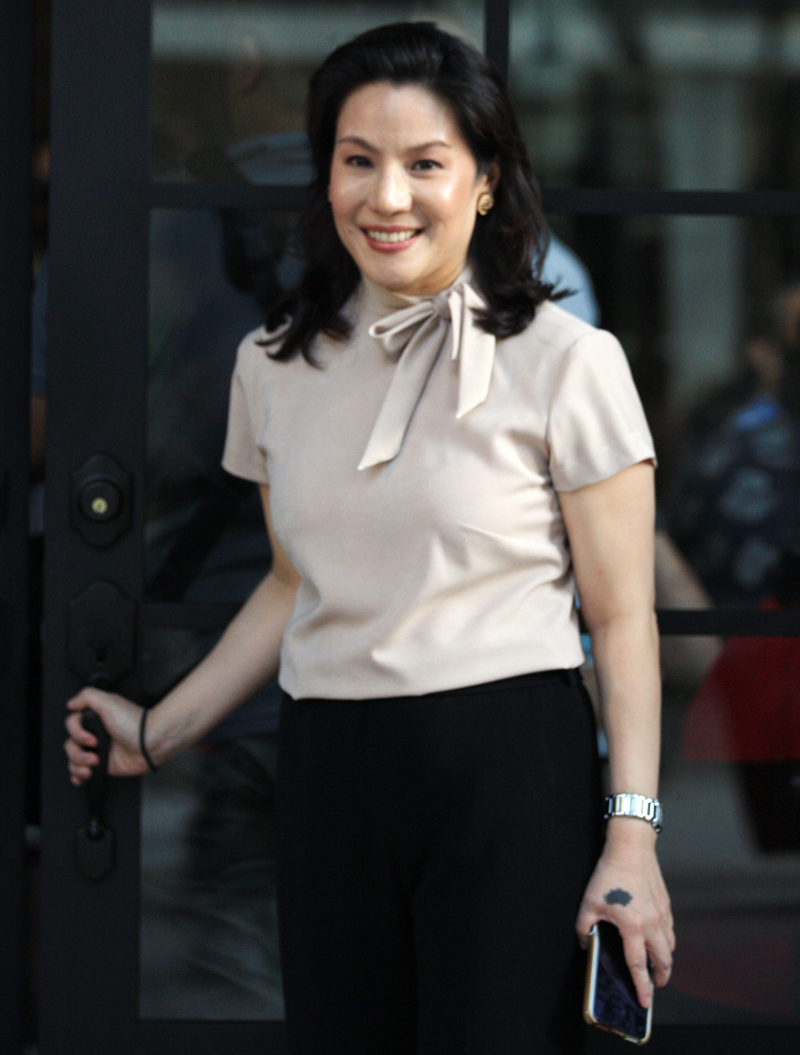 Wildflour president and CEO Ana Lorenzana de Ocampo will open the doors to Wildflour Italian in a couple of weeks.
What's interesting is that she had little formal training in pastry. She followed her older sister Ana to Le Cordon Bleu in London before studying cuisine at the Culinary Institute of America in New York. After graduating, she worked in prestigious restaurants like Spago before meeting Walter at Patina. Once set on opening her own restaurant in Manila, she ended up staying in Los Angeles.
Today, during a typical morning at Republique, you'll find Margie presiding over a pastry case overflowing with croissants, cakes, cookies, fruit tarts, donuts, brownies, muffins — basically every kind of baked good imaginable — and a line of people snaking around the block waiting to buy their daily carb fix. The excellence of those pastries earned Margie the title of "Best Pastry Chef" from LA Weekly in 2014, and three consecutive James Beard nominations in the Outstanding Pastry Chef category from 2017 to 2019.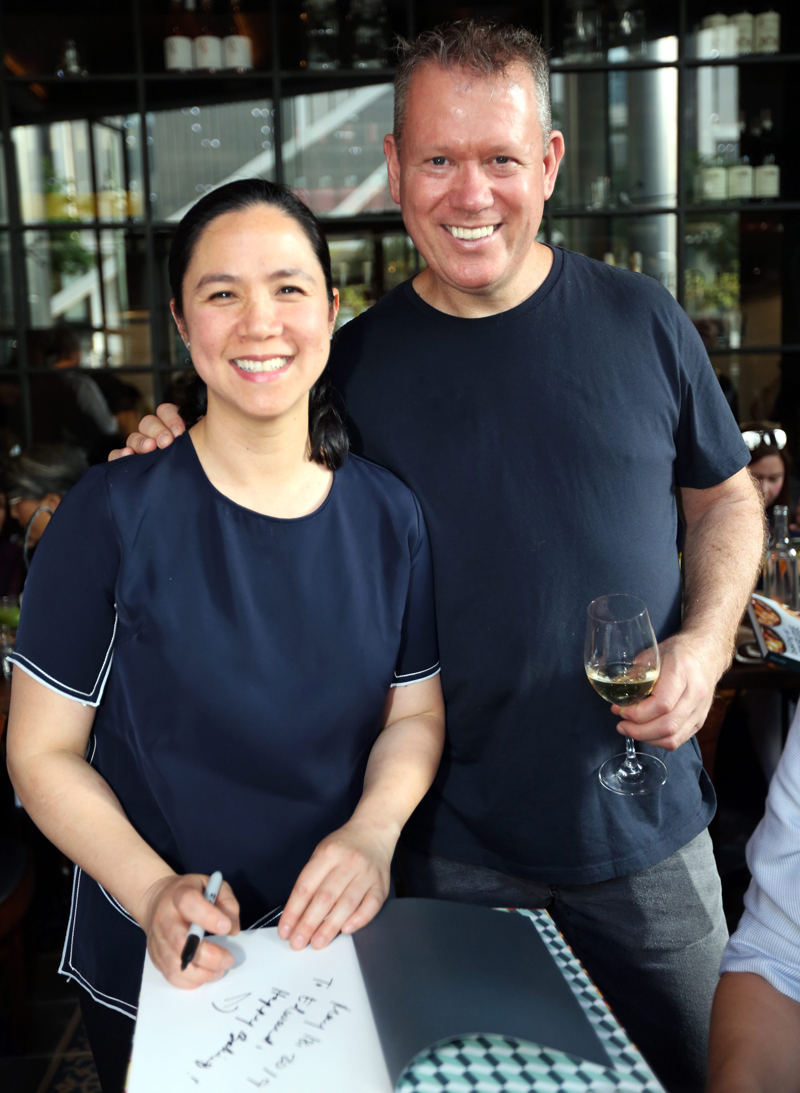 Chef Margie signing books with her husband, chef Walter Manzke
Locally you've probably tried Margie's handiwork in Wildflour's brioche French toast or German pancakes. If you're one of those many obsessive French toast eaters who've ever wondered how to replicate that thick-cut slice of heaven at home, the good news is that Margie has generously shared over 100 of her recipes in Baking at Republique, a cookbook that she launched last Saturday at the soon-to-open Wildflour Italian in BGC. It contains recipes and techniques masterful enough to turn you into the next… well, chef Margie.
The Philippine STAR: In writing a cookbook, were you comfortable with spilling your secrets?
Chef Margarita Lorenzana-Manzke: Very comfortable. The purpose of writing a cookbook is sharing the knowledge and also sharing your creations and wanting people to not only follow the recipe but also be creative and put their own twist on it. The recipes are just a guide.?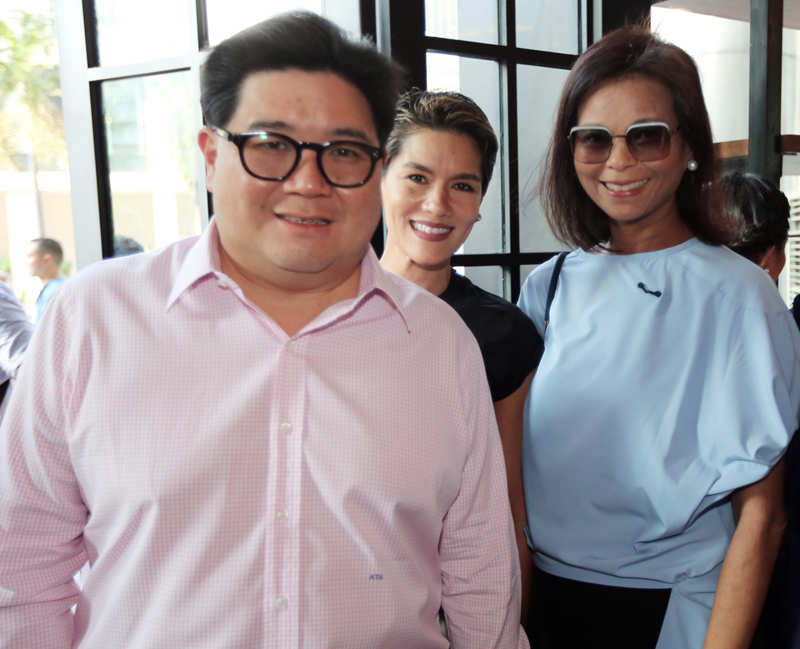 Anton Huang, Nina Huang and Marivic Pineda
Are there any recipes you won't share with the public??
Yeah, there are some. The chocolate cake, it's not my recipe to share. It's my sister Ana's recipe.
What do you like to bake when you're happy? Sad? Angry? Stressed?
(Laughs) I don't really bake according to my mood, I bake when I need to bake during the day. We bake whatever customers like, what sells the most. The salted caramel chocolate cake is one of the bestsellers over there, the bomboloni, a lot of fruit tarts, stuff that's mostly in season.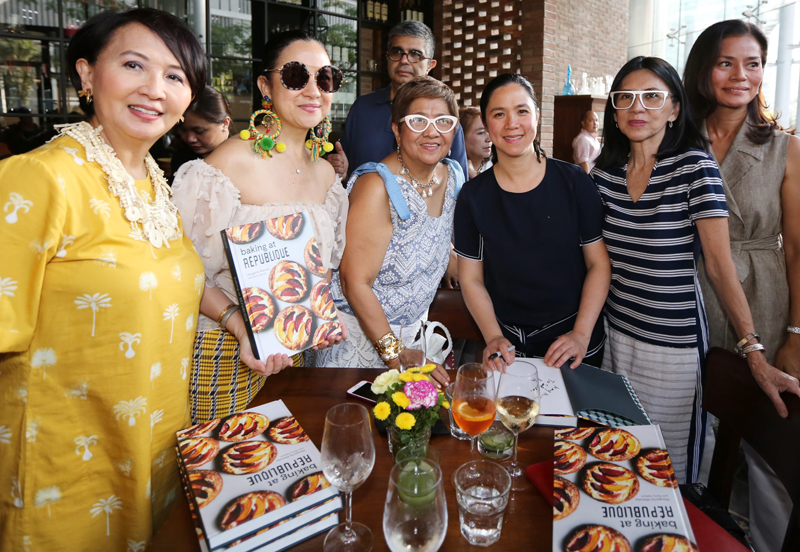 Chef Margie with Fe Rodriguez, Mia Borromeo, Susan Joven, Lulu Tan Gan and Zelda Kienle
?Do you do gluten-free or keto pastries?
We have some gluten-free pastries. It's good except it's not what I do, so I'll leave that to the people who are passionate or expert about it. My style is more going all-out with the ingredients, like butter, eggs, flour, sugar. That's what makes pastries good, right??
What is your personality in the kitchen? Are you a shouter or calm and cool?
Most of the time calm and cool. I'm not a shout-y, Gordon Ramsay type, but definitely kind of strict. I like people to be disciplined and to do things the right way, so I'm very particular about that.?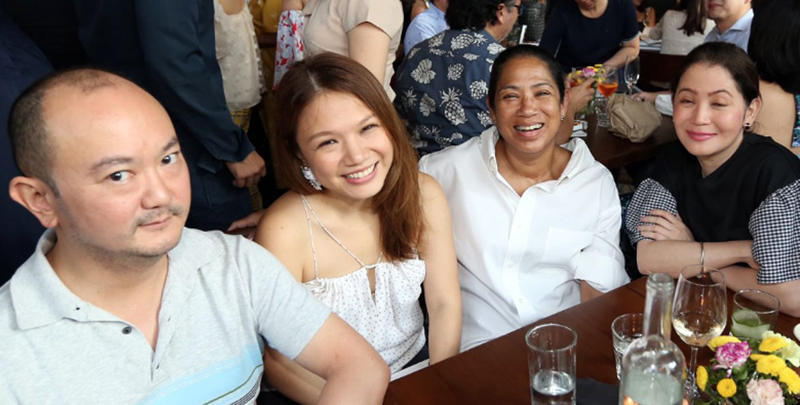 Pepper Teehankee, Cheryl Tiu, Gaita Fores and Tourism Secretary Berna Romulo-Puyat
Is it important to you to express your individuality or Filipino-ness through your creations for Republique?
Yes, of course, but I don't force it, you know what I mean?
What are your favorite Filipino ingredients to work with in the States?
Mangoes. We get mangoes similar to here. They're called Manila mangoes and they're not as good as here, but they're still pretty good, so when those are in season, I try to incorporate the mangoes wherever I can.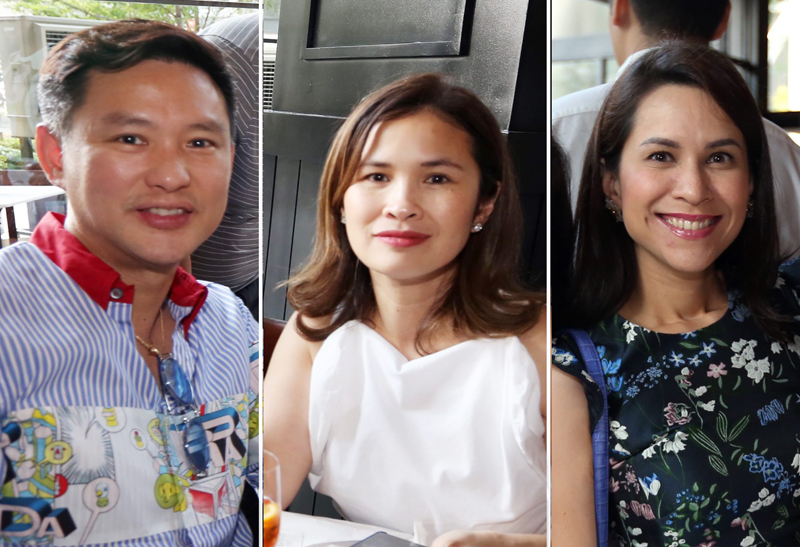 Steven Tan, Mitch So and Audrey Tan-Zubiri
Do you like educating Americans about Filipino flavors?
I do like to use Filipino flavors because it's my upbringing or I grew up eating some of those things, so it's more of what I like to do, not forcing it on people or making it because I want them to know about it. But of course I'm happy when everybody likes it and learns more about what Filipino food is or what Filipino pastries are.
What are the similarities and differences between Republique and Wildflour?
If you go into Republique, it's going to look super-familiar to you because the design is sort of the same. A lot of the things are taken from here, like the tiles, the wood, and the chairs, so you'll see a lot of similarities, not only with the design materials, but also the menu. The breakfast and lunch menu are kind of the same concepts.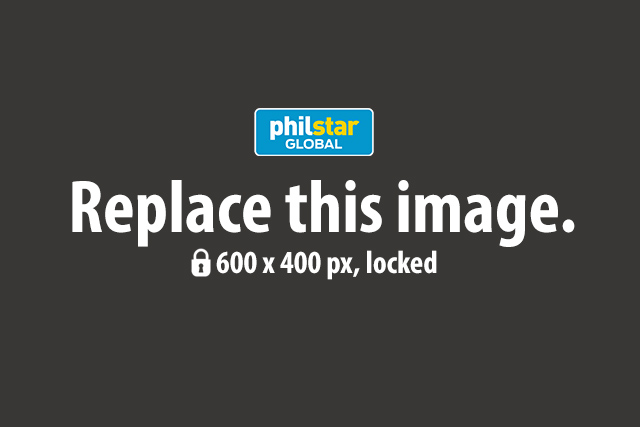 Edd Fuentes (right) and Emer Ibabao
Who came up with the idea for the pastry case?
My husband and I together.
In the book you have a recipe for "The Best Easiest Baked Dessert: Nectarine and Blackberry Crisp." What local fruit can you substitute for the nectarines and blackberries?
Mangoes, apples, the strawberries here are pretty good. You can even put buko in there if you really want to.
* * *
Baking at Republique will soon be available at all Wildflour restaurants. You can order it now on Amazon.
Follow me on Instagram @theresejamoragarceau.