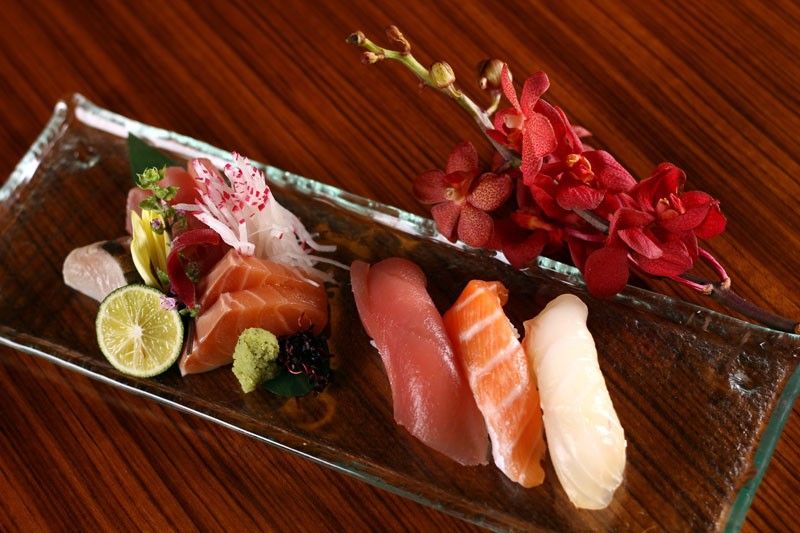 The Tuna, Salmon, and Spanish Mackerel Set Menu at Yakumi
Chef Yukimura: I want food to be original
In anticipation of his residency at Solaire Hotel later this year, three-star Michelin chef Jun Yukimura talks about the flavors of home.
There's a video floating somewhere on the Internet where a Japanese chef skillfully navigates a thick knife to serve a huge crab. No heat needed — in this video, with more than a million YouTube views, this chef prepares the crab totally raw. There's an obvious familiarity with the creature in his hands; the chef's every gesture is sure and quick, every snap and placement on his wooden plate certain. He wipes down his workstation after every other step, as if to say, the work is never finished. It ends with him serving it quite simply — fresh meat on the crab shell, with huge legs and pincers served up on the side. And even with his audience showing appreciation for his work, the chef is almost bashful, hesitant of all the attention. He leaves the majestic crab on the table for further scrutiny and steps out of the frame.
That chef is Jun Yukimura, one of the few three-Michelin-star chefs in Japan. In June 2019, chef Jun will be staying at Solaire Resort and Casino for one week to be guest chef at the hotel's Japanese restaurant Yakumi, where his colleague, chef Norimasa Kosaka (who says that he was inspired by chef Jun's culinary work), is the executive chef. During his stay at Solaire, local diners will get to try chef Jun's rather elusive genius. After all, his restaurant Yukimura in Tokyo has some of the most sought-after tables in the city. (And they are pretty hard to book, given that there are less than 20 seats in the house.)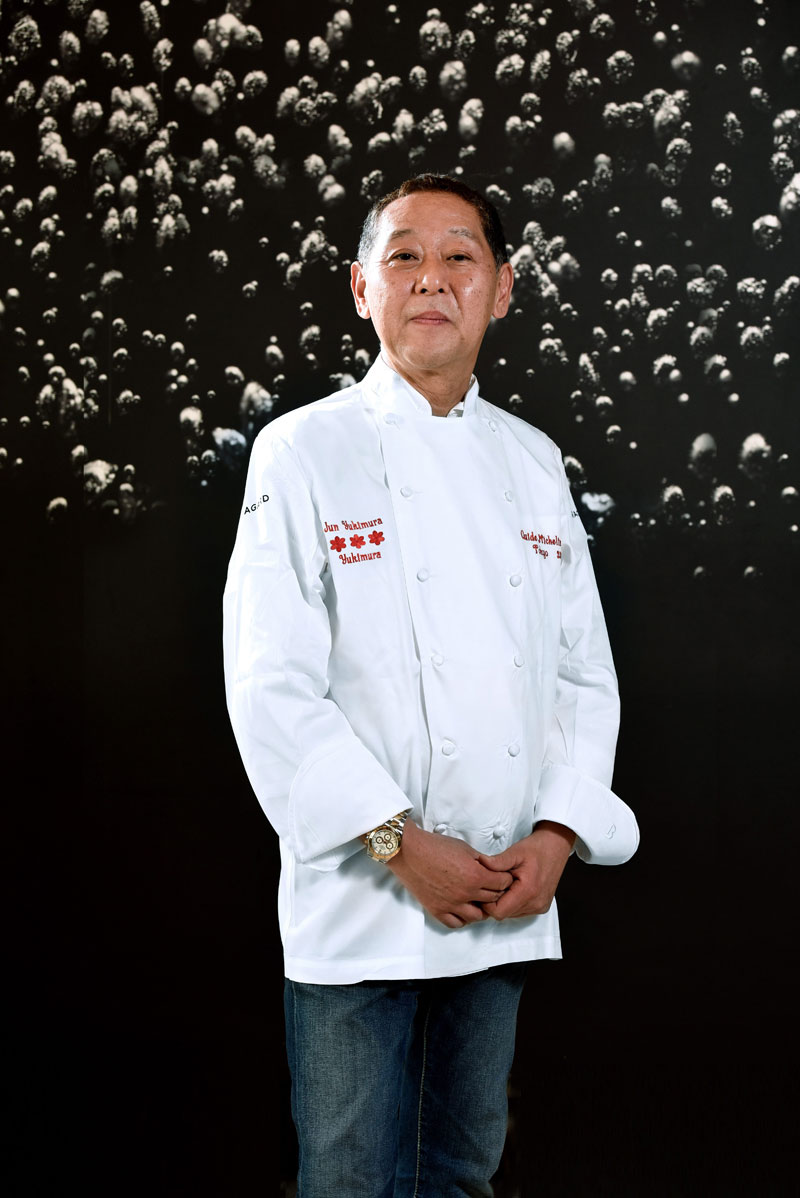 Chef Jun Yukimura
"I made the seats limited because I didn't have enough money to make a big restaurant," chef Jun says with a laugh. But on a more serious note, he explains that the intimate size of Yukimura allows him to provide the kind of quality he'd like to deliver in every meal, with the focus on each and every guest.
Chef Jun specializes in kaiseki cuisine, a type of multi-course dining experience that CNN has described as "the world's finest meal." Kaiseki originated as a type of meal served to the royal noble classes and is said to be the embodiment of the best type of hospitality. It involves about six courses, depending on the chef's discretion, and includes an appetizer, sashimi, a simmered dish, a grilled dish and a steamed course. According to chef Jun, his specialties depend on the season, to make the most out of the best ingredients made available by the weather and environment.
This is typical of a kaiseki course – connecting nature to the dining table. In fact, some kaiseki restaurants in Japan are situated close to waterfalls or greenery so that guests can enjoy the view as they dine. Yukimura may be in a very urban setting, but the ingredients used are carefully considered for their quality and origin. Most of it actually comes from Kyoto, more than six hours away from the restaurant, and chef Jun's hometown.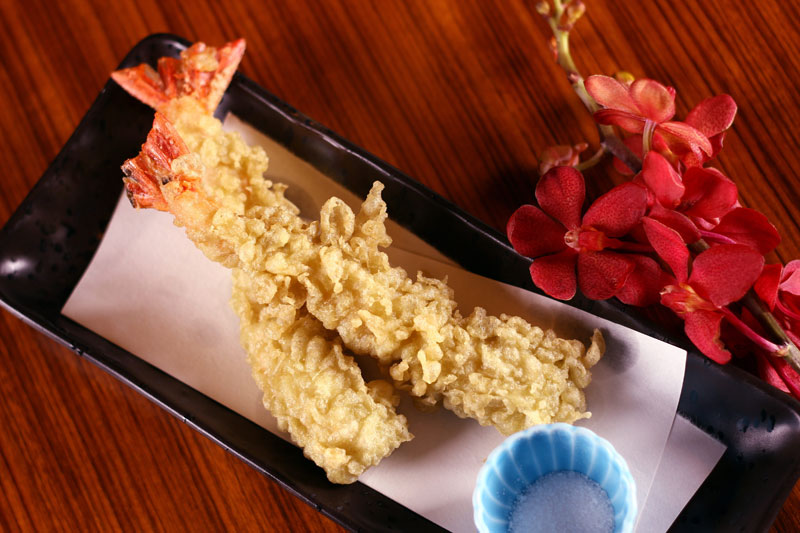 Ebi tempura at Yakumi restaurant in Solaire
Chef Jun likes to bring back the traditional culinary traditions of Kyoto to his restaurant, given the old Japanese capital's long and rich culinary past. "Kyoto has no seaside, but like in Paris, there's no fish and the sea," chef Jun says. "But almost all of the ingredients in Kyoto are already there. And there's a special technique in Kyoto — it's simple but effective."
It's clear that technique matters to a chef like Jun Yukimura, and it's as much part of his culinary work as the actual food that's placed on the table. This is why, he says, kaiseki has always appealed to him: it's about the places and the rules involved. The rules may have evolved as kaiseki is introduced to a younger set of chefs, "but the standard rules are always there," he explains.
And so chef Jun Yukimura reveals a shred of his cooking philosophy: it is important to be anchored by the rules, but to think outside of the box. Through his translator, he explains: "The food may not always be to the customer's liking, but for me, when I'm making food, I have one rule: It should always be different when you taste it. I want it to be original. I don't want to copy anyone."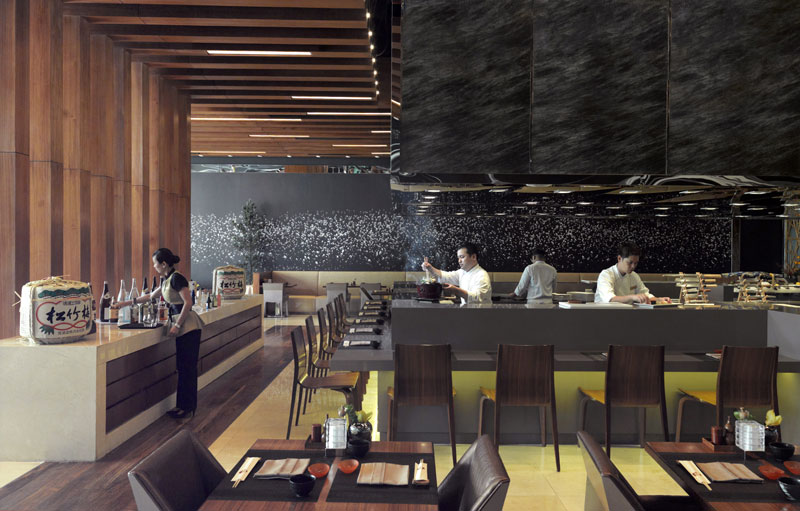 The main dining area at Yakumi Restaurant in Solaire Resort and Casino
With chef Jun coming to Manila, his next challenge is to familiarize himself with Filipino produce. The flavors and smells are different, he says, and now he's thinking of how to bring his kaiseki style to Solaire's kitchens.
It makes one wonder, then, what kind of food a chef like Jun Yukimura enjoys, given his adherence to discipline in the kitchen, his dexterity around gigantic Japanese crustaceans, and his fondness for the rules of dining. Does he eat kaiseki-style, too, whenever he's at home?
The question throws him off. He laughs. "I eat tofu!" he says.
* * *
Chef Jun Yukimura will be the guest chef during the first week of June at Yakumi Restaurant in Solaire Resort and Casino, Pasay City.