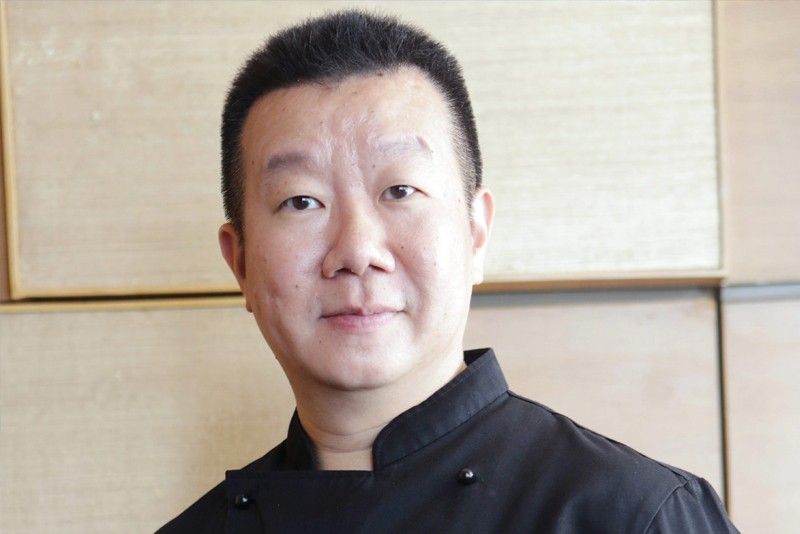 Master chef Jereme Leung breathes new life to local ingredients in China Blue by Jereme Leung's Majestic Summer Menu, available until April 30.
Jereme Leung loves local in China Blue's summer menu
He had me at his marinated cherry tomatoes with sweet vinegar and sour plums that taste exactly like champoy. I'm not a fan of tomatoes but its delicate and subtle flavors had me hooked when I first tasted it a few years back.
And then there's the steamed bun that looked exactly like a shiitake mushroom. As soon as the waiter lifted the lid from the dim sum basket, the smell of truffle wafted out, which heightened our appetite even more.
From then on, I always looked forward to dining at Conrad Manila's China Blue restaurant by master chef Jereme Leung, where "everything is thoroughly modern and thoroughly Chinese."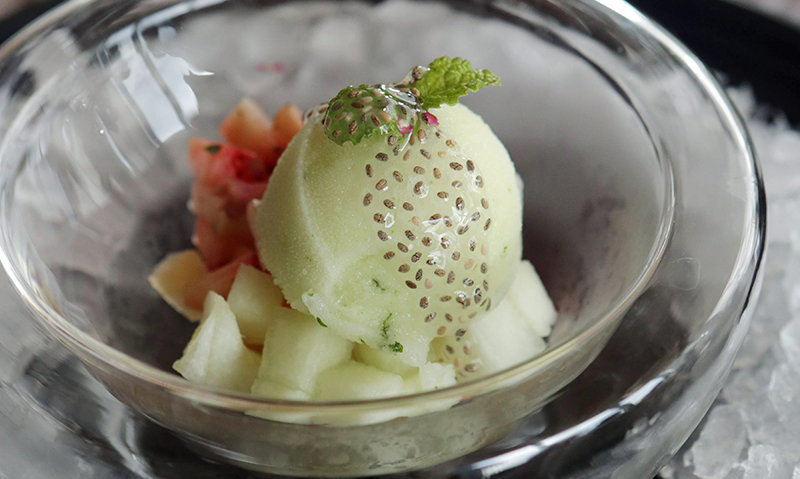 Malunggay-cucumber sorbet with chia seeds
On my recent visit to the restaurant, not only did I get to sample his latest creations, but met the master chef himself, who conducted a master class with select members of the media.
We were led to the back kitchen where chef Leung and China Blue executive Chinese chef Eng Yew Khor were doing prep work. While the formidable tandem did much of the dirty work, chef Leung shared tips on proper knife handling and how to distinguish if the dough for the sweet and savory pumpkin dumplings was ready.
"When romancing the dough, ditch the gloves," he said. "It's best to use your bare hands so you can actually feel the temperature and texture of the dough. If the dough sticks to your hands, that means it's dry. So put a little hot water or a bit of flour into the mixture."
On proper knife handling, chef Leung reiterated that the proper grip gives you maximum control over the knife.
"Grasping the blade with the thumb and forefinger gives you the greatest control," he said. Not only does it increase your cutting accuracy and control over the knife, the "pinch grip" also prevents it from slipping and thus lessens the chance of an accident.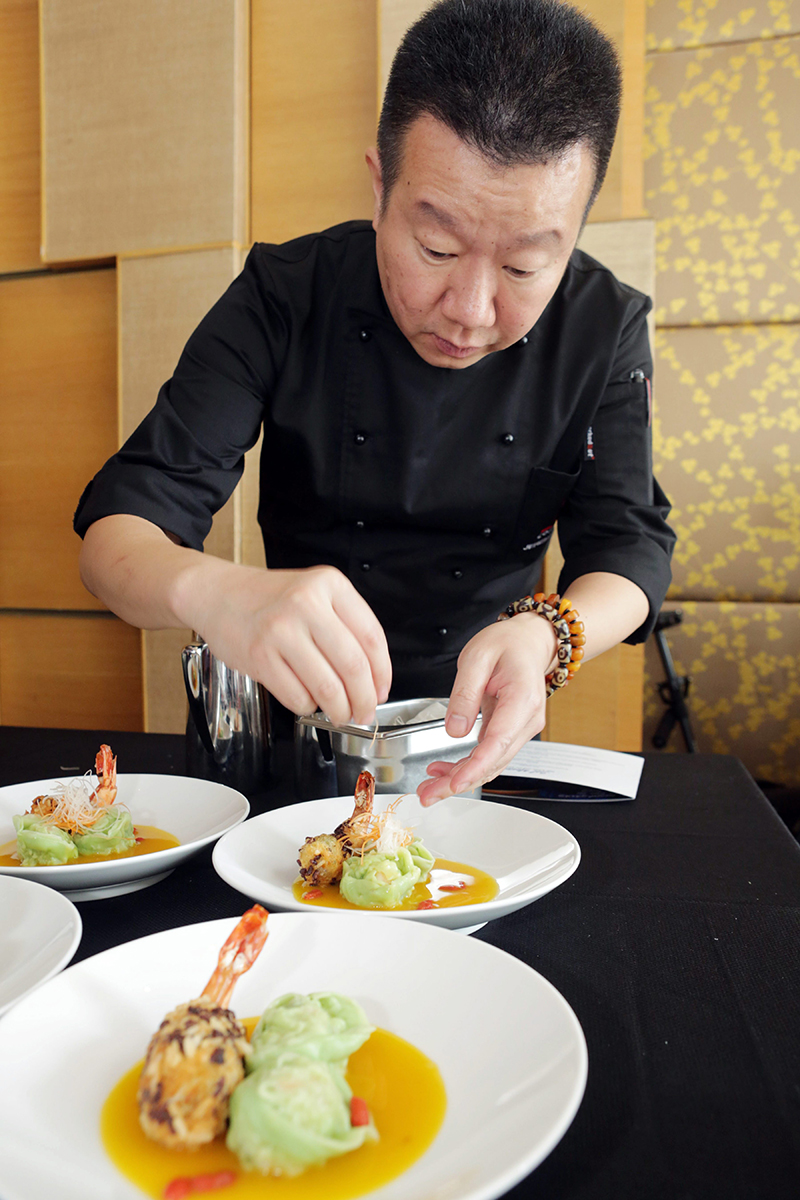 Chef Jereme Leung puts finishing touches to the crispy black rice-coated king prawn in pumpkin sauce.
Chef Leung then walked us through the process of making China Blue's specialties: the sweet and savory pumpkin dumplings, which come in the shapes of pumpkins and carrots.
And after all that slaving in the kitchen, we hungrily went back to the dining room — with a spectacular view of Manila Bay — to sample our creations, plus China Blue's Majestic Summer Menu.
Love local
Local ingredients such as kamias, sampaloc, calamansi, pili nuts, malunggay leaves and Batangas coffee beans take the spotlight in China Blue's Majestic Summer Menu, which is currently being offered until April 30.
"I fell in love with these produce during my third visit here in the Philippines," chef Leung said. "You have such wonderful food items around. And this time, together with chef Khor, we explored the possibilities of how these ingredients could actually work with our own produce and enhance Chinese dishes."
Recognized as one of the "World's Best Chefs" by the American Academy of Hospitality Science, the culinary trailblazer breathes fresh life into the country's most sought-after emerald harvests to showcase the culinary marriage of modern Chinese dishes and the Philippines' finest local ingredients.
Avid China Blue by Jereme Leung patrons will be treated to a five-course tasting menu.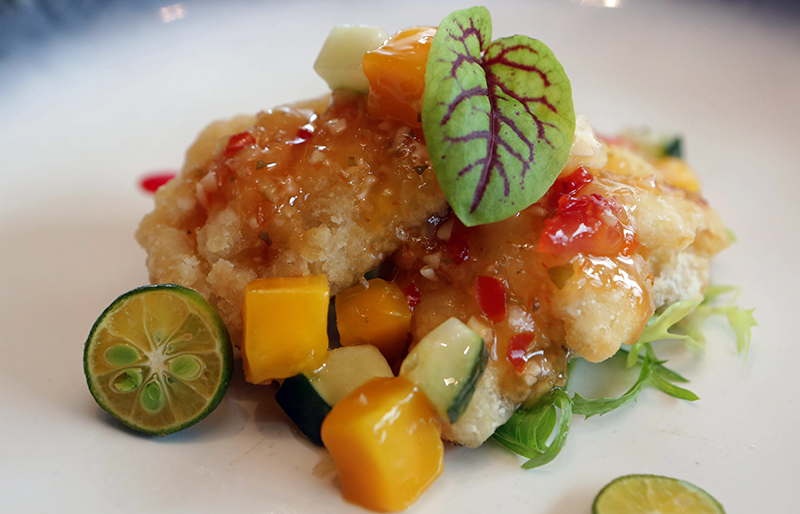 Deep-fried lapu lapu with calamansi and mango sauce by Master chef Jereme Leung
For starters, chef Leung served a delectable trio of palate pleasers: tamarind-glazed chicken skewers with deep-fried and caramelized pili nuts topped with sesame seeds on the side; wok-fried coffee spareribs; and beef roll with eggplant.
Pre-cooked on a habashi grill, the skewered white meat reminded me of chicken teriyaki but with a lighter, sweet and sour glaze. The wok-fried spareribs, flavored with Batangas coffee beans, are so delicious I wanted to ask for a second serving.
The trio was followed by the poached seafood in cherry tomato kamias consommé, which chef Leung raved about. Loaded with scallops and generous amounts of fish lips, the aroma of the tomato-kamias consommé wafted in the air as the broth was poured into the bowl.
"For this dish, chef Khor played with dry cabbage and kamias, which give a refreshing scent and flavor to the seafood stock. I loved this soup but I just couldn't take the credit, because it's actually chef Khor who invented this dish," chef Leung enthused.
Equally delectable is the poached malunggay seafood wonton and crispy black rice-coated king prawn in pumpkin sauce, and the deep-fried lapu-lapu in sweet and sour calamansi sauce.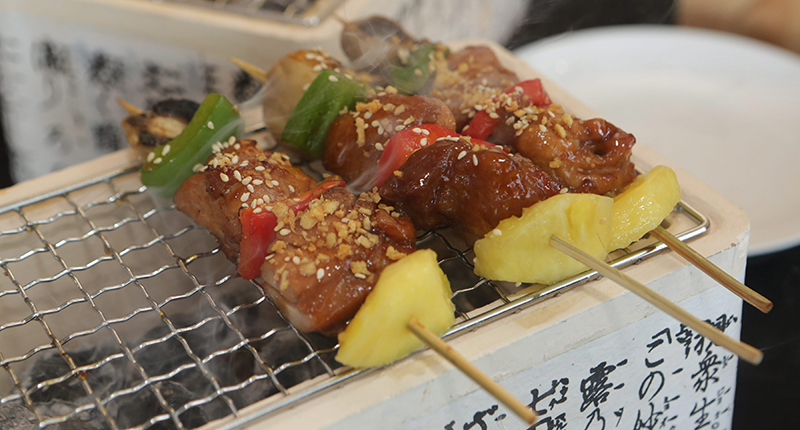 Tamarind-glazed chicken skewers
Dessert was just as beautiful — malunggay and cucumber sorbet with chia seeds was served to cleanse our palate.
"The Philippines has been so good to me," chef Leung enthused. "In return, I would try to promote these local ingredients by incorporating them to some of my signature Chinese dishes served in my other restaurants throughout the world."
The Hong Kong-born Leung's ever-evolving tastes continue to revolutionize Manila's diverse and rich food culture with this season's guilt-free showcase of gastronomic delights, uniquely made from locally sourced ingredients of the highest quality.
* * *
For reservations, call 683-3915 or email conradmanila@conradhotels.com.