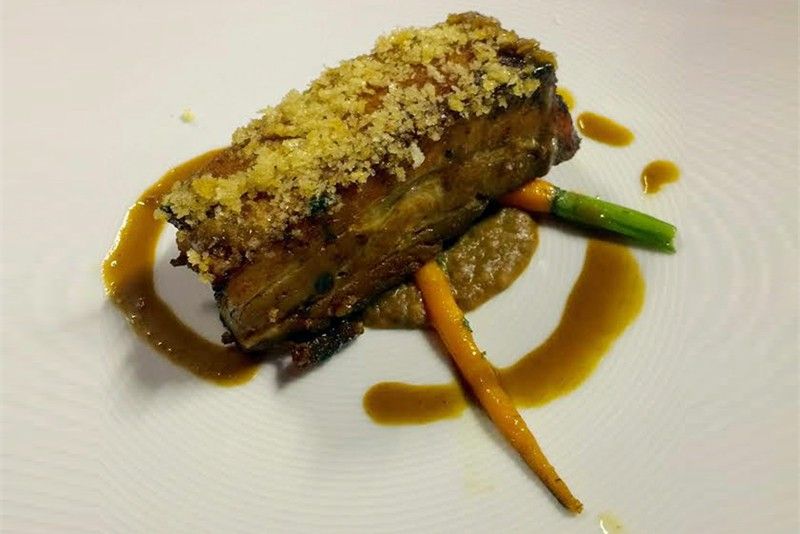 Slow-cooked pork belly is just as great 150 feet in the air as it is on the ground.
High-class dining, literally
My sheer love of collecting eating experiences brought me to Solaire, not in one of their fine restaurants, but dangling 150 feet in the air.
The one thing I concern myself about constantly when I travel is I want to eat as many things in as many places as possible. I want to pack my life with as many great eating experiences as I possibly can.
Little did I know that one such experience is right here at home. Just recently, I got the privilege of eating somewhere I had never eaten before: Solaire. Oh, wait. Maybe I should be more specific. I got to eat at Solaire, not in any of their fine restaurants, but dangling 150 feet in the air!
Dinner in the Sky is a traveling food concept where diners are seated in a special rig, strapped in and lifted as high as 50 meters in the air. The rig contains 22 seats, where diners are seated around a small kitchen and the chefs prepare a lovely, four-course meal. For the next two months, Solaire will be home to this unique dining concept, and I was honored they invited me to be one of the first to try it.
I have to be candid, though, and admit that I didn't reply to the invite right away. I do have a small fear of heights, particularly when there are no glass windows separating me from the view. This is why I have issues with ziplining, skydiving or even horseback riding. With this dinner up in the air, could I handle it? More importantly, could I enjoy my dinner? My sheer love of collecting eating experiences took over and I knew an opportunity like this doesn't come along often, so I RSVP-ed and prepared myself for Dinner in the Sky.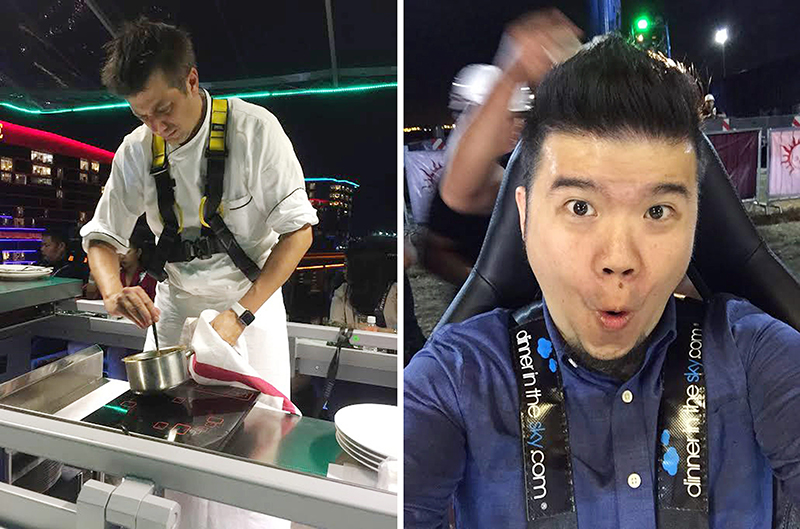 Chef
Hylton

Le Roux(left) preparing the four-course meal in the air. Even for a wuss like me(right), there was never any time to be nervous.
Even for a wimp like me, the entire experience was safe and I never felt scared for even one second. Firstly, as you get to your seat, you are strapped in, with as many as three different safety straps. The seat itself is very comfortable and the staff adjusts the tightness of the straps however you like them.
Secondly, the rig itself is designed to be very stable. It never tilts up and down and only rotates a little in spite of strong gusts of wind. In fact, I enjoyed the rotation since it gives you a different view of the skyline and the bay from time to time.
Lastly, I learned that there were as many as three different forms of communication between the ground staff and the safety officer that goes up with the dining group, so everyone's well-equipped to handle everything.
I had so much fun that there were actually times I forgot I was dangling so high up in the air. I even looked down! Some people don't recommend that, but I personally enjoyed it.
What about the food? Well, I enjoyed that, too! Every week, a different chef with a different menu is featured. I was pleasantly surprised to see my friend, chef Hylton Le Roux of Solaire's Waterside, take the helm of the kitchen that night. We met years ago when we were promoting our TV shows and, apart from cooking great food, he is quite the fun person to banter with. Before going up, I got to chat with him about his experiences. He revealed that he had already practiced preparing the meals in the rig up in the air three times, just to familiarize himself with how it all works. Among his toughest challenges would be the small kitchen, about two meters long and barely a meter wide. Chefs, though, are used to working in tight spaces and chef Le Roux said that the space and the occasional gust of wind that makes the food grow cold faster are minor issues that were easy to deal with.
Clearly they were because the food was lovely. The first course was the chef's version of Tuna Tiradito with Amarillo Paste, followed by Chicken Anticuchos with a Mojo Verde. The tuna was undeniably fresh and the amarillo sauce was a perfect complement. The chickens were grilled to perfection and I particularly loved the mojo verde.
Guests had a choice of salmon or pork for the main course, and I guess it is already clear what I chose. Cuban Style Slow Roasted Pork Belly with Refried Beans had the guests groaning in approval and I have to say, the refried beans were a revelation.
For dessert, chef Le Roux had fun with us and told the guests to plate our own dessert, which was a Dulce de Leche Cheesecake Dome with garnishes like pralines, caramel popcorn, chocolate textures, chocolate kisses and the like.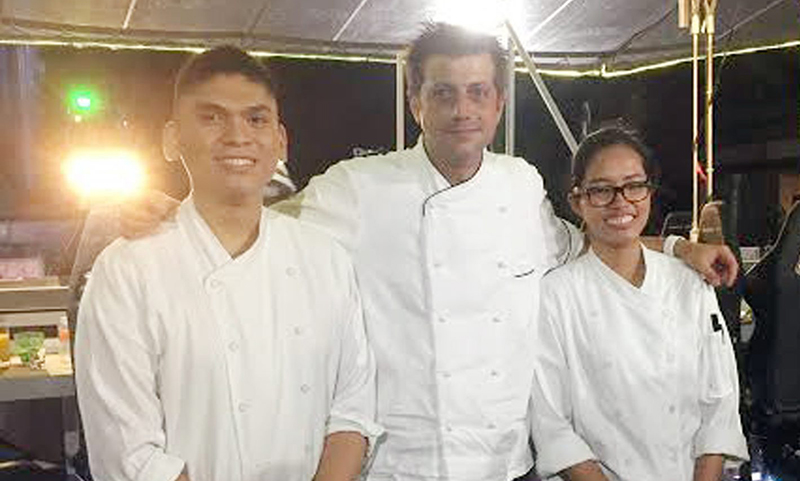 Chefs Hilton Le Roux, Kevin Patricio and Patricia Jimena take a bow for a great meal upon landing.
Okay, if any of the above got you interested, I have pro tips for you. You can buy your tickets at www.dinnerinthesky.ph and you can customize your experience. While the economy class already affords you a great four-course meal, moving up to business class gets you an extra sushi course from Yakumi, plus a glass of champagne in the pre-flight lounge and a glass of wine each in the lounge and during dinner. Also, move up to first class and get to enjoy free-flowing champagne and wine, the sushi course, a plate of oysters and a plate of pastries as well.
Now, when it comes to seating arrangements, some strategy is crucial as well. When choosing seats, determine what is more important to you: enjoying a great view while eating or enjoying a great backdrop for your pictures or selfies. Seats 1-8 (where I was seated) would give you a great view of Solaire and the neighboring skyline, but there is not much of a view behind as, of course, the crane used to lift you up is there. Seats 12 - 19 would be great seats for pictures as Solaire and the skyline is behind you but you will see the crane as you eat. Meanwhile, seats 9-11 and 20-22 would be great for pictures and views, although you won't have as nice a view of the kitchen at work. In the end, though, each seat still makes for a lovely experience.
Back on solid ground with a full tummy, I could look back and assess. The experience was priceless. Dangling from 50 m. up with the bay and the Manila skyline as the backdrop, you couldn't beat that ambience. The food didn't take a backseat either and, at such close quarters, you could easily talk to the chef and get more insights on the food and menu they are preparing.
In fact, I loved the experience so much that I want to let the people behind Dinner in the Sky and Solaire know that I would love to take a turn in the kitchen to do a charity event up in the sky if they would be interested. Just let me know!
* * *
Follow Sharwin's food adventures on Instagram @chefsharwin and for questions, reactions, recipes and column suggestions, contact him at www.sharwintee.com.