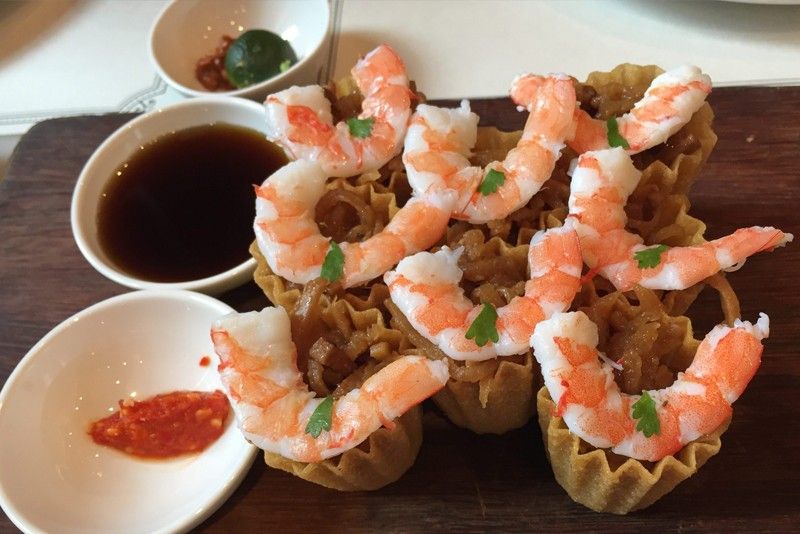 National Kitchen's bright and lively kueh pie tee
The art of food-tripping in Singapore
Singapore has become a haven for foodies, with over 100 Michelin-star restaurants and about a dozen of the World's Best Bars on its shores. Celeb chefs are hugely popular, too: walk through Marina Bay Sands restaurant row and seemingly every other resto is owned by Wolfgang Puck, Gordon Ramsey or Mario Batali.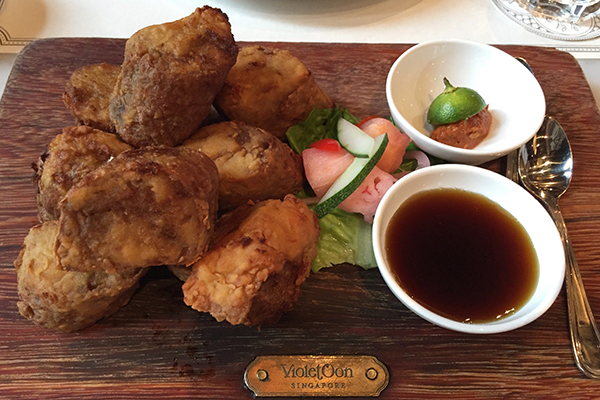 Chicken scrawlings
During Singapore Art Week, guided by Singapore Tourism Board (STB), we recently learned how both young and innovative chefs, as well as established and awarded culinary creators, add to the city's creative mix.
Artichoke and salted & hung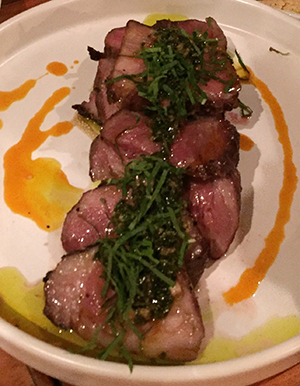 Artichoke's Iberico pork
It's a combination of travel, training abroad, a youthful urge to mix it up, and a receptive foodie scene that results in such hybrids as Artichoke and Salted & Hung.
What happens when you take a Singapore foodie, train him in Australia, and have him reimagine Middle Eastern food? Artichoke is chef Bjorn Shen's nouveau-hip eatery at 161 Middle Road, an attempt to refire our imaginations when it comes to humus, babaganoush and tabbouleh. Contrary to its name, Artichoke is no vegetarian haven: dishes like shish taouk (Lebanese grilled chicken with a grape vinegar), Iberico pork and hot skillet prawns will make you put aside your vows (for one night, at least). Shen is a celebrity himself, with his own TV appearances and cookbook, so it was a treat to have him walk through his dishes and, well, basically serve us everything on the menu. In chef Shen's world, Middle Eastern is a concept that can be married with Australia's finest meats: he serves black onyx short ribs that taste like they were grilled right on the ranch: 250 grams of Rangers Valley MBS3+ Angus, spiced up with shawarma. Shen does incredible things with lamb, too, such as his slow-roasted lamb shoulder with Turkish pepper sauce, and a dish he calls "Lambgasm." (Sadly, we did not try that one.) How did Singaporean Shen come about this love of Middle Eastern food? A roommate in Australia hipped him to the best restos there. In food, after all, there are no walls or borders.
Another young chef making a mark on Singapore's downtown food scene is chef Drew Nocente, whose contemporary Australian restaurant Salted & Hung (12 Purvis Street) made us think differently about dry-aged beef. Nocente's heritage is Italian, so you can imagine there's an Old World spin to his cuisine. Sure enough, his popular charcuterie platter shows off techniques absorbed from Italian parents and grandparents growing up in Brisbane: think salt-cured salamis, homemade sausages, pâtés and fermented tripe, all made in-house. With its rough-and-ready décor, it's the kind of place for those who like to eat every part of the pig or cow, but there's also a refined palate behind his cured salmon, resting on a layer of kelp oil; or the exquisitely grilled lamb neck with baby carrots. Chef Nocente takes the farm-freshness of Australia and reimagines it for savory Asian tastes.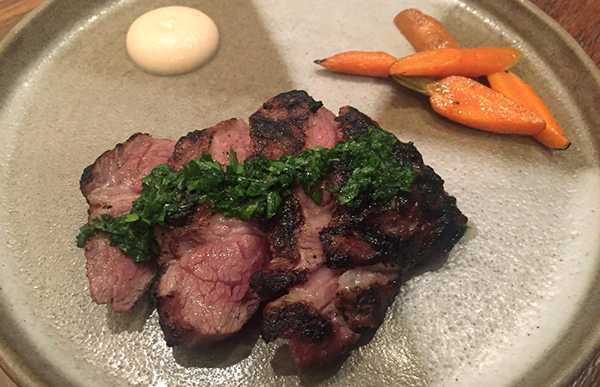 The grilled lamb neck with baby carrots at Salted & Hung was exquisite.
National kitchen and Candlenut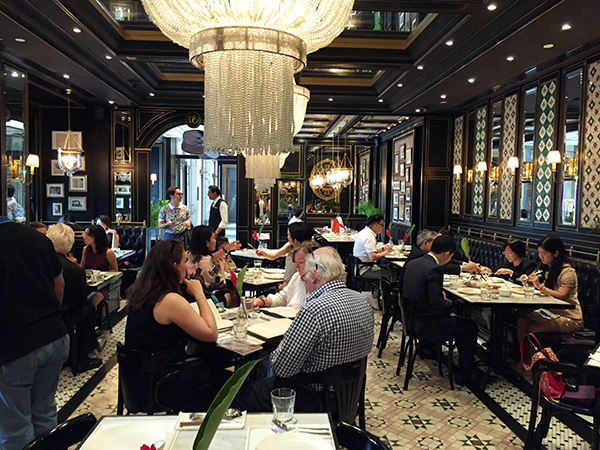 National Kitchen, at the National Gallery in Singapore, is an elegant, 1920s-style classic restaurant.
Leave it to the Chinese-Malay chefs of Singapore to find many delicious ways to prepare a nut that can easily kill you.
Fact: The buah keluak nut is a staple of many Peranakan dishes, despite containing a toxin — hydrogen cyanide — that can leave you dead if cooked improperly. No matter: it's found in Buah Keluak Ayam, a spicy and tangy Nyonya chicken curry dish served at Violet Oon's National Kitchen inside National Gallery, as well as the chocolate ice cream dessert served at Malcolm Lee's Michelin star restaurant, Candlenut, in Dempsey Hill.
No one's really sure how buah keluak became a main attraction of the Peranakan menu. It must be boiled thoroughly — and preferably buried in ash for 40 days — before serving. It's a hard, almost black nut with a lush fruit inside that one scoops out.
Perhaps discovery lies at the heart of Singapore's imported cuisine, and maybe danger lies at the heart of discovery. After all, not everyone in Japan probably thought eating Fugu pufferfish was a great idea, because it's so risky. But it's also considered an exotic delicacy. People are weird that way.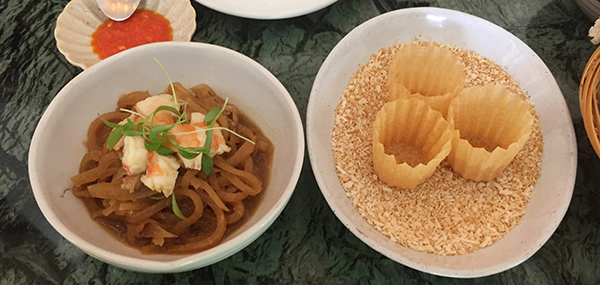 Candlenut's "make your own" kueh pie tee is tee-licious.
At The National Kitchen, one of chef Oon's prized restaurants in town, we enjoyed a popular array of Peranakan dishes like kueh pie tee (with its distinctive filo pastry cups and prawns), the above-mentioned buah keluak served with chicken, pong tauhu soup and udang goreng chili — chili being an operative ingredient, as Peranakan cuisine prides itself on its home-crafted chili recipes. Typically, families come up with a powder consisting of fresh chilis or powder, shallots, kaffir lime, some grape seed oil and other bits. It all adds zest and an amped-up verve to chef Oon's National Kitchen, an elegant, 1920s-style dining room (the vintage black and white photos lining the walls seal the deal) located upstairs at National Gallery.
Chef Lee's Candlenut, the world's first Michelin-star Peranakan restaurant (a fact that reportedly does not much please chef Oon), is by contrast, located in an open-court setting atop Dempsey Hill (17A Dempsey Road). His menu is somewhat milder, spice-wise, and a somewhat more traditional take on Peranakan cuisine. The setting may be unpretentious, but the flavors linger: the Ocean Barramundi assam pedas is an Australian whitefish is a supple, soft fish on the palate, the wok-fried tiger prawns dance on the plate, while his own take on the Black Nut Sambal (using the deadly buah keluak) is as intriguing as chef Oon's. I'm still not sure I'm a big fan of the deadly nut, but was willing to try — and thoroughly enjoy — its final appearance in Candelnut's buah keluak ice cream, drizzled with Valrhona chocolate, chili and warm chocolate espuma.
* * *
Check out #PassionMadePossible for more takes on Singapore Tourism Board's food and art campaign for 2018.