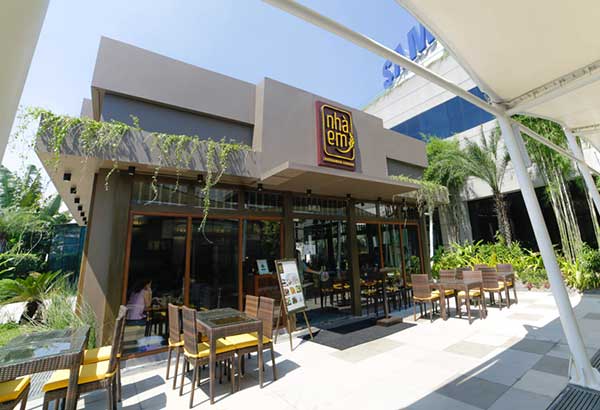 Nha Em goes beyond banh mi, pho and iced coffee with condensed milk.
Why dining at Nha Em feels like home
Welcome to our 'home,''' said Mel Isaguirre, general manager of The Saigon Food Corp., as she ushered us inside Nha Em, the newly opened Vietnamese restaurant at the Sky Park, SM Aura Premier in BGC, Taguig.
Indeed, walking into Nha Em feels like entering a countryside, Vietnamese home. The "house" is decked with wood banisters ingeniously used as wall decor, traditional water puppets, which resemble little wooden dolls, as well as porcelain jars.
"Nha Em means 'my home' in Vietnamese," shared Isaguirre. "Some of the owners are Vietnamese, some are half-Vietnamese and half-Filipino. "The restaurant, which is designed by Unique Saigon, is their way of bringing their 'house' — and their pantry — from Vietnam to Manila."
Nha Em is a resto brand that's well thought of. The Saigon Corp., the same company behind Banh Nam, brought the entire team — from the chefs, sous chefs, and training head, to its brand manager — from Vietnam to Manila to be sure that every food item they serve adheres to Vietnamese standards.
"Once you get busy with operations, there's a tendency to get lost in the middle — from Vietnamese, the food gets Filipinized. And that's what we wanted to avoid," explained Isaguirre. Here, the meals are carefully prepared with a mother's love. No shortcuts. I guess that also explains why the main entrees — the ca kho to (braised fish in clay pot), the thit kho to trung cuc (braised pork with eggs in clay pot) — fall under the "Mom's Finest" section of the menu.
The beef bones, which are used for the pho bo (beef noodle soup), for instance, are simmered for almost 24 hours in a thick pot to bring out their natural flavor.
"If the broth is clear, that means the pho is authentic. If it's brownish, that means something artificial was added to it," noted Isaguirre.
Nha Em had me at banh xeo, a savory crepe filled with meat, shrimp, and mixed fresh veggies and herbs. Though it's fried, you can still savor the freshness of the ingredients with each bite. The mustard leaf, which is quite bitter, balances out the salty crepe.
"The crepe is very hard to make — it has to be thin yet crisp. The pan that we use to make it was imported from Vietnam. Our executive chef and sous chefs trained in Vietnam for a month just to master everything," she added.
My knowledge of Vietnamese cuisine is limited to pho, spring rolls, banh mi, and iced coffee with condensed milk. It's nice to dine in a Vietnamese restaurant that goes beyond the usual fare.
It's a wrap!?
Nha Em also boasts fish dishes presented in a special way — wrap and roll!
It's like eating Korean barbecue, but instead of thin slices of beef, you have to choose between steamed and fried fish — or both!
Here's how you wrap and roll: Gently dip the rice paper in water. Lay out the veggies. Add fish and top with herbs. Roll, dip, and enjoy!
"We have to import almost all of the ingredients from Vietnam — even the nuoc mam (sweet fish sauce). It was quite a challenge really, but we can't compromise quality and flavor," noted Isaguirre. "Fresh and delicious. That's what Vietnamese cuisine is all about."
Well, she's right. In Vietnam, farm-to-table is very convenient. Most of the ingredients the locals use are actually grown in their backyards.
"The Vietnamese have been through a lot. They were colonized by the Chinese, the French, and the Americans. At that time, they had to make do with what they had. So the ingenuity of the Vietnamese cooks came in," said Isaguirre.
So, whatever you'll taste here at Nha Em is the closest you'll ever get to dining in the warmth of a Vietnamese home.
* * *
Nha Em is on the fifth floor, Sky Park, SM Aura Premier, Bonifacio Glboal City, Taguig.