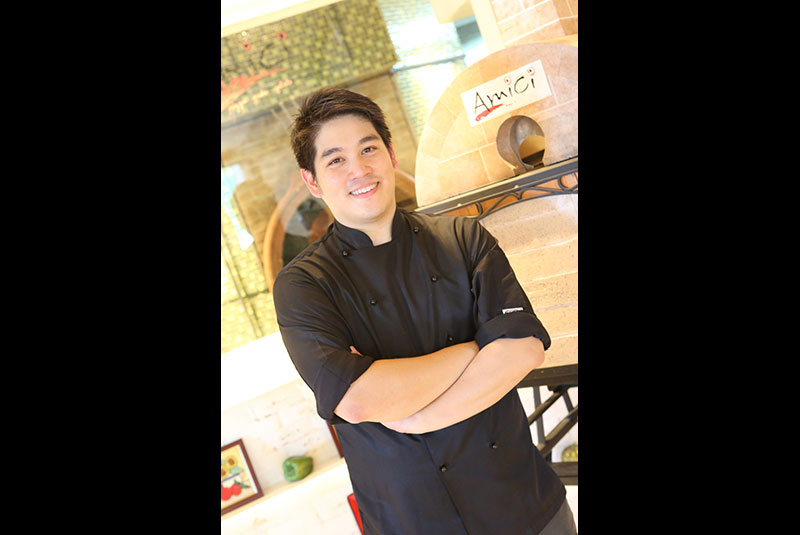 Commander in chef: Amici executive chef Paolo Moran
Chef Paolo Moran spices up Amici's menu
Young, dynamic and amiable chef Paolo Moran can pinpoint the exact moment when he realized he was meant for the kitchen rather than the corporate world.
"That was after I cooked my first dish — scrambled eggs. I was in grade school then. I remember being mesmerized by how fast and high I could whip an egg in a bowl with a fork without it spilling out," he shared.
It doesn't sound like the most appetizing meal for someone who loves to eat. But, other than its taste, Paolo was amazed by the egg's versatility — it could thicken sauces, bind ingredients together, leaven, glaze or garnish other dishes. The same qualities a budding chef must have.
That experience stirred his interest in cooking. But it was only in college that he realized he wanted to be a chef. It was the time the Food Network channel became popular and kitchen geniuses had attained rock-star status.
"That's when I decided to try a career in culinary," related Paolo, a Liberal Arts graduate of Ateneo de Manila University.
Those who know Paolo personally wouldn't be surprised by his sudden career shift, because it's something they've seen coming.
"Paolo loves to cook for friends and family," enthused Paolo's brother Philip Moran, COO of Amici, an Italian restaurant that serves delicious Italian fare minus the hefty Euro price tag. "He loves to host barbies. But, more than anything, he really likes to eat. He would go out of his way to try a certain dish, be it in a dampa, a five-star resto or holes-in-the-wall. And we're happy that he's finally on board."
The chef is in
Asked what took him so long to finally join the family business, chef Paolo hastily replied, "I wanted to get experience first — working in different kitchens, learning as much as I could outside my comfort zone."
After college, Paolo flew to the US, where he lived for seven years. There he worked in various restaurants, starting out as a prep cook, then working his way up.
"I actually didn't go to a culinary school," he admits. "But what I learned from my mentors — the determination, discipline, and hard work — fueled my passion even more."
From the US, Paolo moved to Italy, where he reconnected with his good friend, chef Francesco Mansani, an Italian chef with great experience and an even greater passion for life.
"He was a consultant for Amici, but he became a good friend of mine who would eventually introduce me to all the places I worked in while living in Italy," Paolo says. "He and his wife always brought me along to try good food and good wine. The experiences became my practical training in understanding food and Italian cuisine in general."
What's on Amici's new menu?
Armed with the knowledge and cooking techniques he learned from experience, chef Paolo confidently spices up Amici's menu with his juicy and spicy Italian burger, pizza and pasta dishes.
"I love spicy food, so expect some of the dishes to be fiery," he says with an impish grin. "Those who can't take the heat can ask the wait staff to go easy on the chili."
Burger munchers would surely fall for chef Paolo's Italian Burger. Sandwiched in a butter-toasted brioche bun, the delicious patty is mixed with spicy Italian sausage topped with fried onion rings and cheddar cheese, and served with a side of potato wedge fries.
There are three new pasta dishes: the pleasantly spiced yet creamy Seafood Diablo; Pasta Nero, chef Paolo's take on squid-ink pasta — done the Sicilian way — with squid ink and pomodoro sauce topped with calamares; and the Bacon and Cheese Gnocchi.
Personally, I love the Bacon and Cheese Gnocchi. No frills, no complicated ingredients, just bacon and cheese.
"This dish was inspired by my niece," the chef says. "I decided to include it in the menu because gnocchi is her favorite. But making this potato-based pasta is time-consuming, so we met with a supplier. A few days before the launch, they ran out of stock. So I ended up making the pasta and, yes, we're making gnocchi in-house." Due to the limited supply, the Bacon and Cheese Gnocchi is available only at Amici's branches in Greenhills, Ayala Triangle, and Venice Piazza, McKinley Hill.
Another surefire treat is the Spicy Italian Sausage Pizza, which is topped with Italian sausage, Asiago cheese, mozzarella, cream, and caramelized onions served with honey to balance out the spiciness.
"Through these dishes, I hope I could share my culinary experiences in the US, especially in Italy," Paolo enthuses. "It's through my passion for cooking and love of Italian cuisine that I want to continue the tradition of Fr. Gianluigi Colombo, the founder of Amici when it was still with Don Bosco, of serving good pizza and pasta to our guests."
#Bestwhenshared, these dishes are reflective of the time chef Paolo spent working in traditional Italian restaurants like Maga Mago in Florence and Montalcino in Siena.
A portion of the sales of these new dishes, which will be offered for a limited time only, will go to Don Bosco's Tuloy Foundation.
With his heart in the right place and his passion for cooking, chef Paolo has certainly found his calling! Photos by WALTER BOLLOZOS
* * *
Amici has branches at Alabang Town Center, 403-9373; Ayala Triangle Gardens, 621-6111; Don Bosco, 818-4444; Greenhills, 724-4804; SM Megamall Atrium, 636-1340; Tomas Morato, 376-6458; UP Ayala Technohub, 709-0999; Venice Piazza, McKinley Hill, 555-1000; and SM North EDSA, The Block, 709- 5545.