Everything cooked fresh at Ippudo
MILLIE: I must admit, I am not really a ramen fan, except for an occasional craving, like when I am not well and need a bowl of soupy noodles to fill my belly and keep my spirit warm. Karla, on the other hand, just like my Dad, loves noodles in every form.
But when we heard the buzz about Ippudo coming to town, we were both excited and really looked forward to the day when Ippudo's doors would finally open at the SM Mega Fashion Hall. Last Saturday, we had the pleasure of a sneak preview and tasting and, I must say, it's the best ramen I've ever tried!
KARLA: Like what mom said, Lolo Joe and I share a love for noodles. I remember how Lolo Joe would sniffle and get all flushed while devouring a bowl of noodles, especially when it was of the spicy variety. He always said that we could tell if he was enjoying his food when he sniffled, which was true in most cases.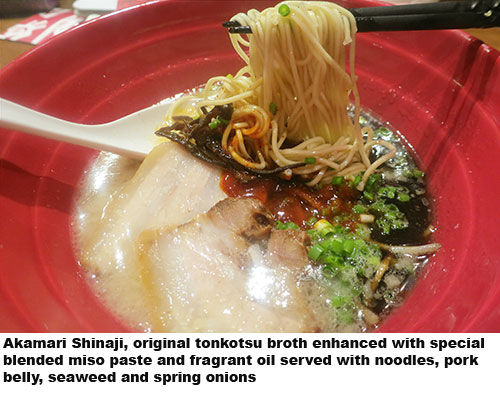 Although he would occasionally share his bowl of noodles with me, I really only started to appreciate ramen during my trip to Japan last March with some friends. It was so cold that I was happy having ramen every day. On one day it snowed and on another day it rained so hard, we were literally soaked, and all we wanted was ramen to keep us warm; that and, well, we had sake, too. Ha ha!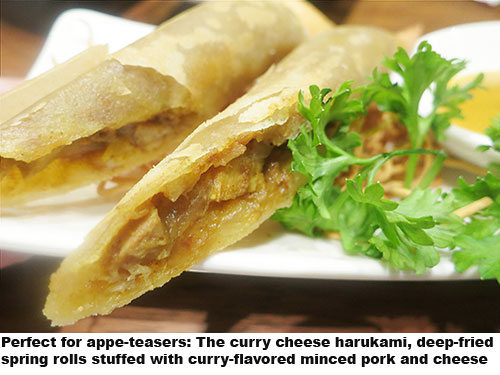 After the trip to Japan, I tried to get my mom to start enjoying ramen but I was a bit unsuccessful. We honestly haven't been to all the ramen spots in Manila for us to say which is best, but when mom tried Ippudo, I was surprised at her reaction. Even until the next day we were talking about how complex, flavorful and creamy the broth was. At other ramen spots we've tried we can taste soy or sometimes I would get dizzy with the vetsin. When it comes to ramen I guess it mostly depends on how good the broth is.
Shigemi Kawahara, the founder of Ippudo, isn't called the Ramen King for nothing. He has earned his title from winning competitions on Japanese television. All great stories come from humble beginnings and Kawahara's was that he first worked and trained in a number of European restaurants in Japan. At the age of 27 he finally opened his first restaurant in Fukuoka City, Kyushu. Six years later when he opened his first Ippudo, he went back to his roots in his hometown of Fukuoka.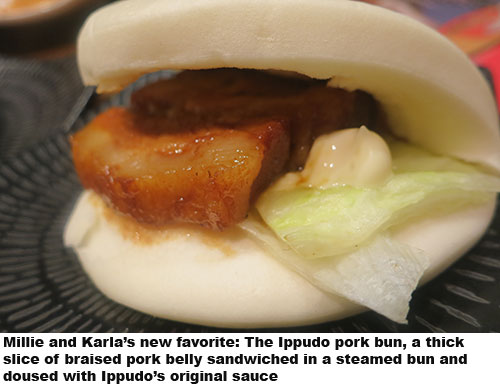 From then, Ippudo has grown to 80-plus branches in Japan and 40-plus ramen stores worldwide. Aside from Manila, they plan to open branches in London and other parts of Asia within the year.
Another thing I enjoy aside from food is knowing the person behind the dish.
MILLIE: I was quite impressed with the service as well and how our server inquired about my preference for the doneness of my ramen noodles. I don't think I have ever been asked this before, except for when I am ordering a piece of steak. I specified I don't like my ramen noodles soggy, preferring them quite al dente, like when I eat a pasta dish.
Anticipating that Karla would order the spicy ramen, I ordered the Akamaru Shinaji. I first took a sip of the soup — it was creamy and a bit spicy but perfect with pork slices that practically melt in your mouth. The rich broth was very tasty and full of flavor, and is said to be cooked for long hours with many ingredients. With my pair of chopsticks, I managed to pick up some noodle strands and, with the aid of a Chinese spoon, twist and twirl the strands so I could savor a mouthful.
But it wasn't just ramen. For starters, we were served Goma Q, which were fresh cucumber slices with a unique Japanese sesame dressing. Next came the Dashimaki Tamago, an omelet roll with mentaiko mayo made of spicy cod roe and mayonnaise.
KARLA: For appetizers, my favorite was the curry cheese harumaki. It was surprisingly good. They look like deep-fried spring rolls and are stuffed with curry-flavored minced pork and cheese. All I could think of was, "This would totally be really good with a cocktail on the side."
We also got to try Ippudo's Hakata-style gyoza, an Ippudo classic. The original pan-fried dumplings are P195 per order of five pieces and the Oroshi Ponzu gyoza are P210, which I have yet to try.
My favorite would be the Ippudo pork buns. I tried this in Ippudo New York with some friends. I could not understand what the fuss was about at first but when I saw how good it looked and after the first bite, I was convinced I could eat five of those. Ha ha! The pork bun is a thick slice of braised pork belly sandwiched in a steamed bun and doused with Ippudo's original sauce.
Ippudo features three varieties of ramen distinguished by the color of the bowls: Shiromaru Motoaji (white bowl), Akamaru Shinaji and Karaka-Men (red bowls). The Shiromaru Motoaji is the classic Hakata-style ramen with ultra-thin noodles, pork loin, bean sprouts, seaweed and spring onions.
Mom ordered the Akamari Shinaji, which consists of the original tonkotsu broth enhanced with special blended miso paste and fragrant oil served with noodles, pork belly, seaweed and spring onions. Just as expected, I ordered the Karaka-men, which is almost the same broth as my mom's order with added fragrant garlic oil, which gives it a deeper color and wavy noodles with spicy minced meat.
MILLIE: The ramen noodles are freshly made every day and one can view chefs preparing them on the spot. Karla was thrilled to watch and stood up five times during the meal to watch what they were doing and take pictures. As a little girl, she would always watch intently whenever there was tableside cooking or if there was any action in an open kitchen, so I was not surprised. I learned that guests can order another serving of the noodles called kae-dama for an additional P70 … if they have enough soup left in their bowl.
As we drove home, we were comparing taste-bud experiences and agreed we would definitely be back to savor the many more interesting dishes Ippudo has to offer, such as the unagi on rice, which is one of my favorite Japanese dishes, and the Ippudo Bakuretsu tofu, another favorite.
* * *
Send e-mail to milliereyes.foodforthought@gmail.com and karla@swizzlemobilebar.com. Find us on Facebook and read articles you might have missed: Food for Thought by Millie & Karla Reyes.