Miss Universe Philippines 2021: National Costumes explained
September 24, 2021 | 1:17pm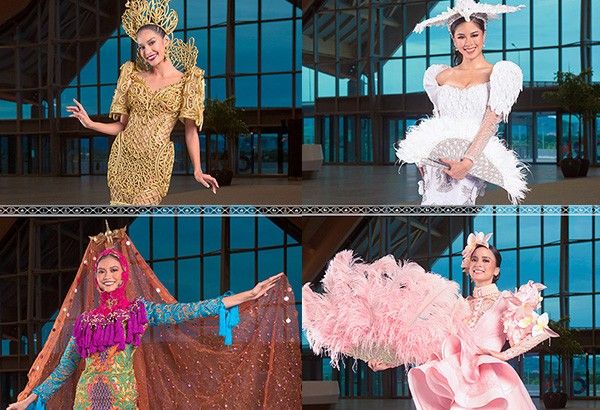 MANILA, Philippines — Clocking at six minutes and 52 seconds, including end credits, the Miss Universe Philippines national costume competition was over before one can appreciate, even scrutinize, the details of the fabulously created ensembles.
Harkening back to the beauty of the past, this year's theme centered on the Manila Carnival queens of yore. While the presentation was rather swift, I still salute the organization for coming up with a concept that was truly Filipino; and not stray into fantastical creations that do not, in anyway, reflect our glorious patrimony.
The candidates were presented by major regions, as well as a grouping of aspirants from the national capital region. Beautifully photographed, the ladies gracefully glided around the spacious confines of the Clark International Airport.
Luzon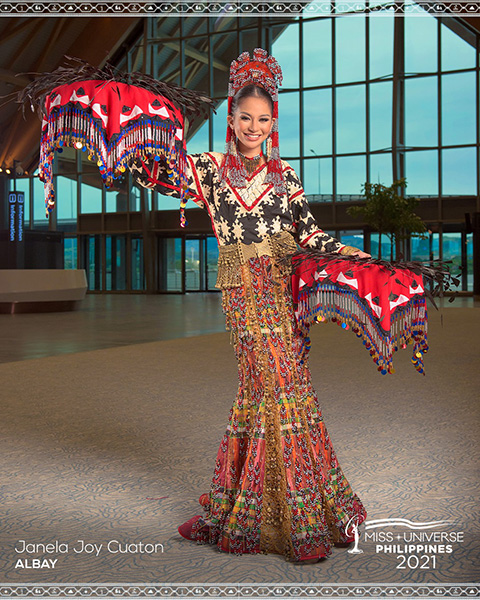 Janela Joy Cuaton of Albay opened the Luzon delegation with an Ifugao-inspired ensemble with feathered fans from Jearson Demavivas.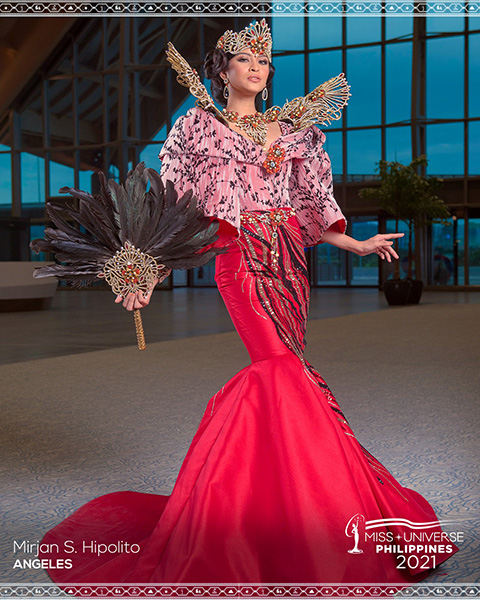 Angeles City's Mirjan Hipolito looked like a real belle of the Kahirup Ball in a stylized mestiza dress and interesting crown from the team of Frederick Policarpio and Cholo Ayuyao.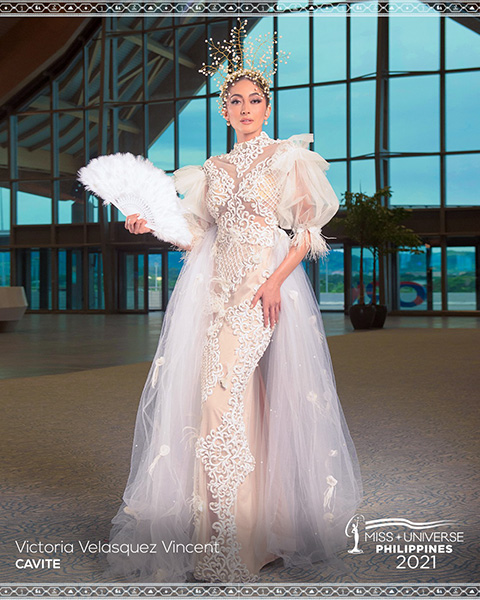 Cavite's Victoria Velasquez Vincent wore an immaculate gossamer Filipiniana-inspjred ensemble with a noteworthy headpiece by Nat Manilag.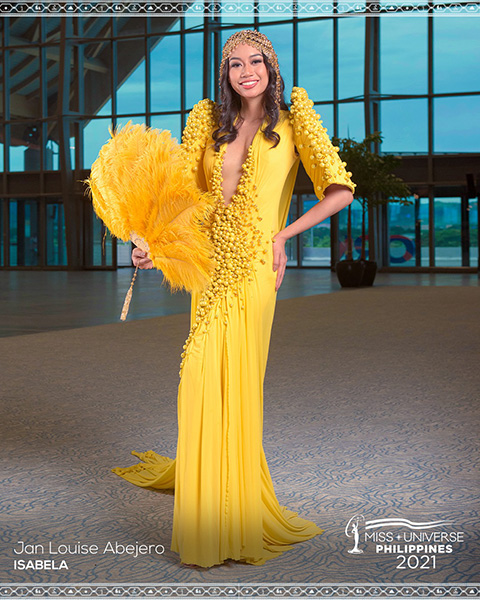 Isabela's Jan Louise Abejero was garbed in a chrome-colored terno with a plume fan by Roel Rosal.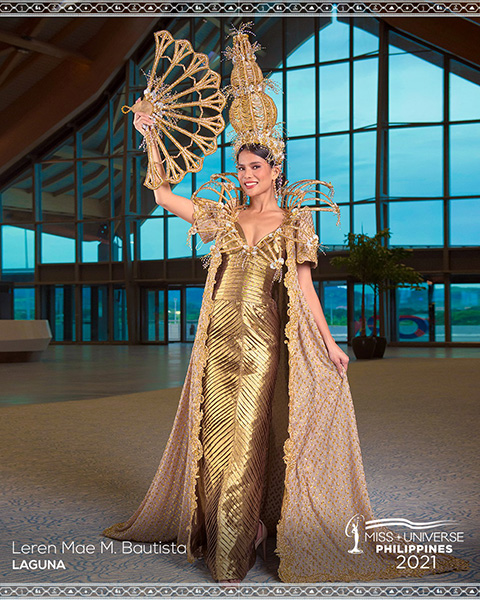 Laguna's Leren Mae Bautista was dressed up by the formidable duo of Renee Salud and Chico Estiva. Her golden terno came with a layered ball headdress that mimicked the beehive coiffure that was so prevalent in the '60s and '70s.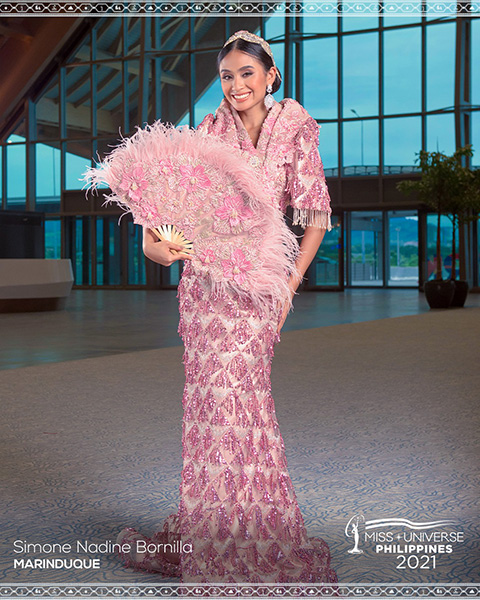 Marinduque's Simone Nadine Bornilla looked like a sagala in a Maria Clara gown with plume fan by Oliver Tolentino.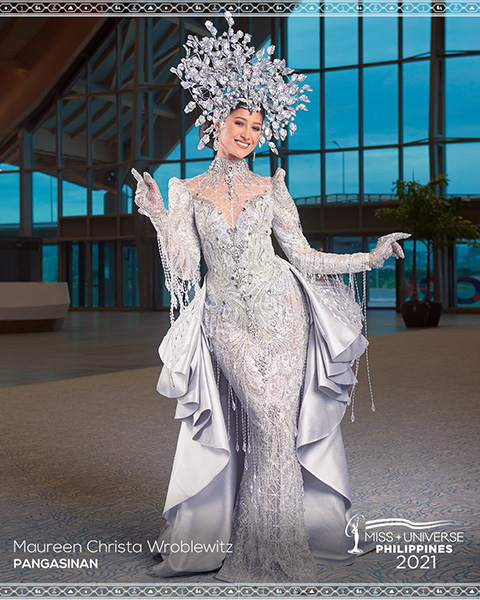 Pangasinan's Maureen Christa Wroblewitz sizzled in a Louis Pangilinan stylized terno with an eye-catching crystal headdress that echoed her province's bangus industry.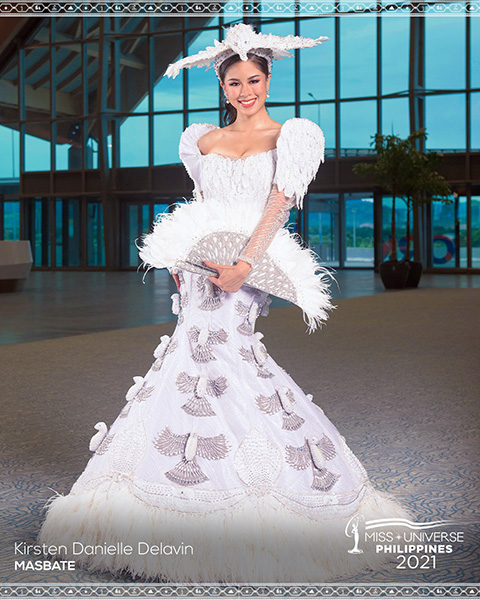 And my winner for this group is Masbate's Kirsten Danielle Delavin who sparkled in Polly Lagyap's white terno decked with a Spanish fan and a lapay seagull headdress that spoke of her province's heritage and history. The seagulls of Brgy. Bantigue beautiful adorned her skirt, too!
Visayas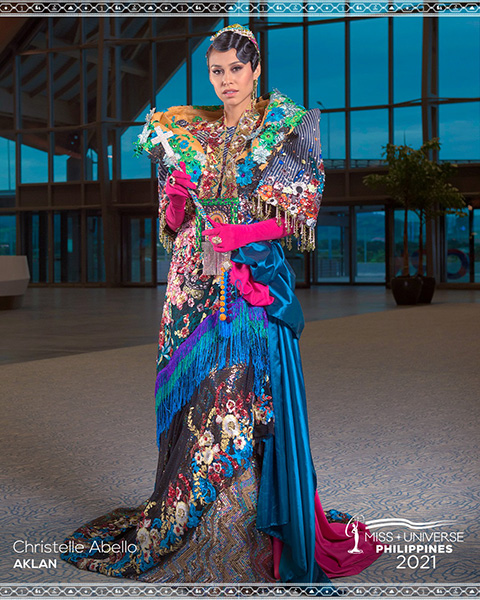 Returning aspirant Christelle Abello of Aklan beautifully opened the Visayas group with a multi-colored vaudeville-inspired mestiza dress with fuchsia opera gloves by Ryan Lopez.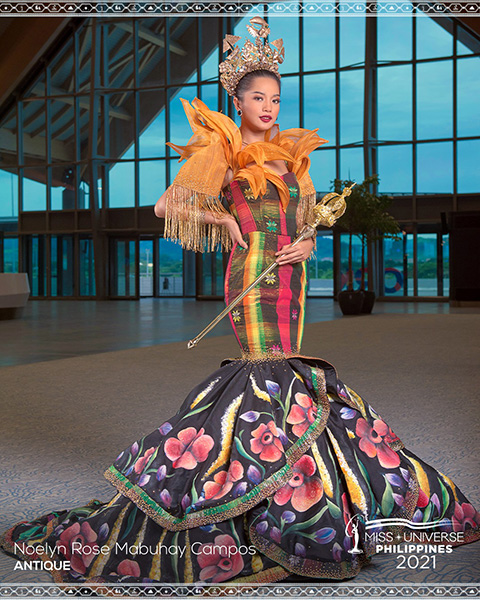 Antique's Noelyn Rose Mabuhay Campos wore a floral-designed ensemble with a scepter by June Rei Occeña.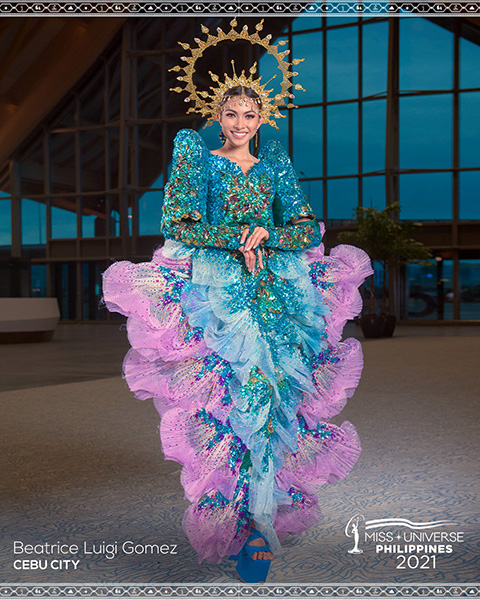 Cebu City's Beatrice Luigi Gomez is a vision in a teal-blue terno with book-leaf flounces on the hemline and sun headdress. The 'Bakunawa' concept ensemble was created by Axel Que.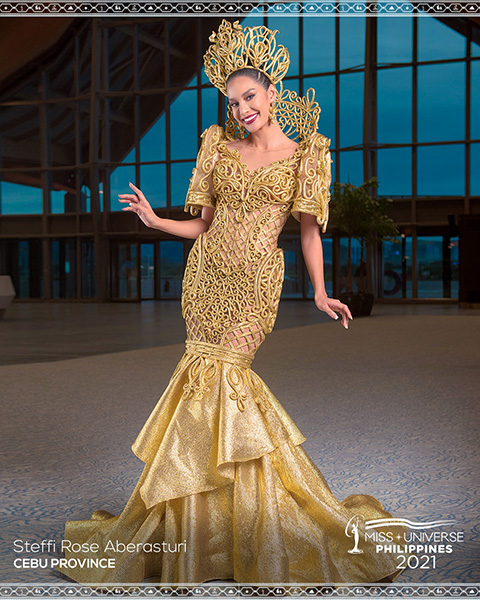 Cebu Province's Steffi Rose Aberasturi is truly golden in a gilded terno and equally gilded collar and crown by Malayka Yamas.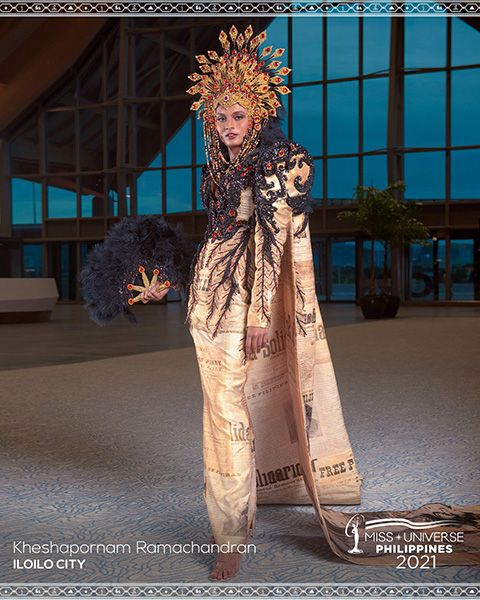 Iloilo City's Kheshapornam Ramachandran tried a different route wearing a tribal-inspired outfit by Alfie Desamparado.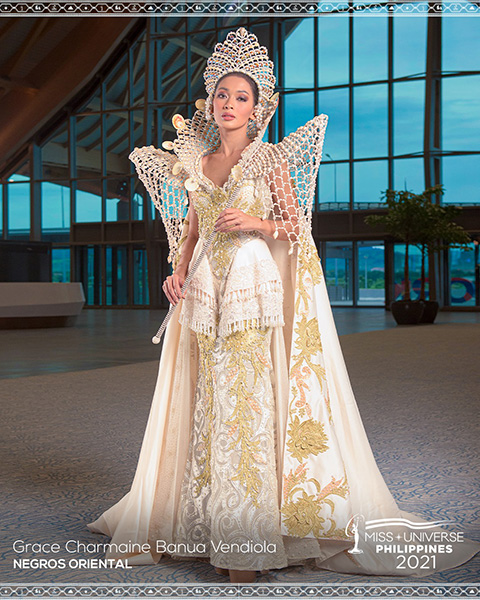 And my winner for this group is Negros Oriental's Grace Charmaine Banua Vendiola who is every inch a carnival queen in a terno created by Gerry Fernandez, with a fabulous shellcape and crown by Marc Calumpang and Tingting Delfin.
Mindanao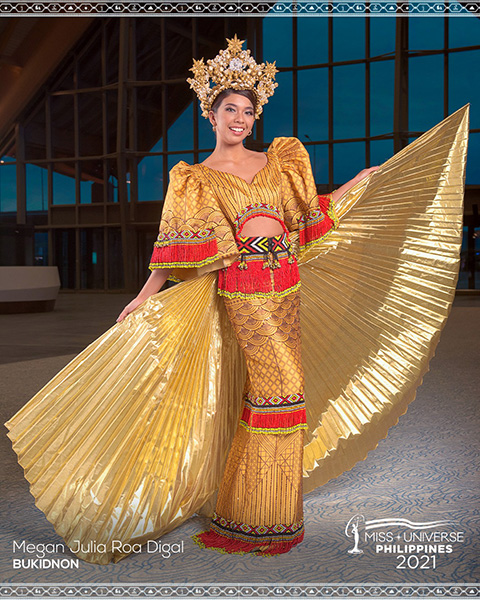 Megan Roa Digal of Bukidnon opened the region's presentation in a Maria Clara dress with a pleated train by Boogie Musni Rivera.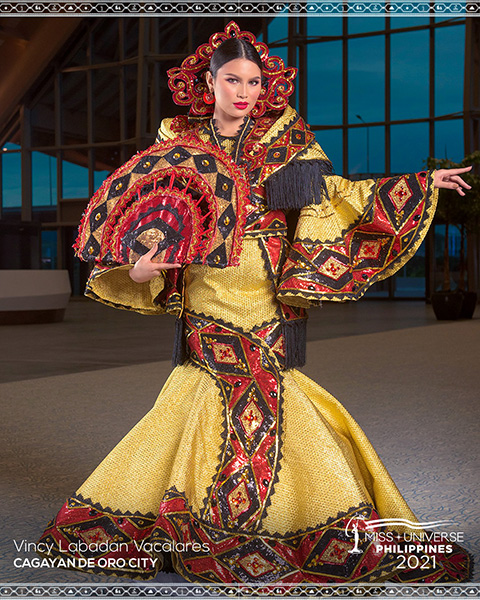 Cagayan de Oro's Vincy Labadan Vacalares is resplendent in a mestiza dress with an interesting headdress and fan detailing by Jiejie Aisa.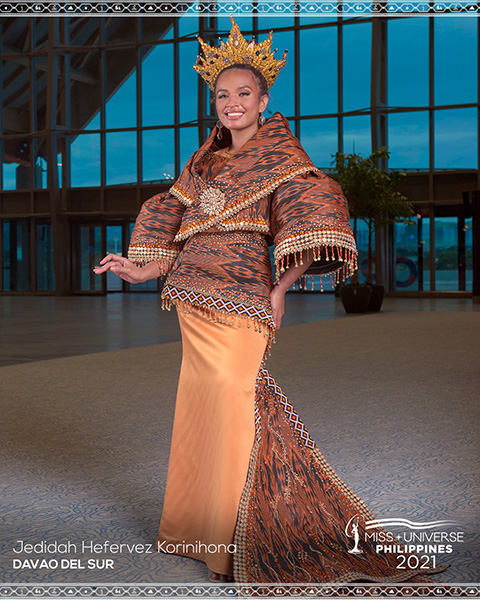 Davao del Sur's Jedidah Hefervez Korinihona channeled her queenly vibe into a panuelo-decked ensemble by Nina Ricci Geffe.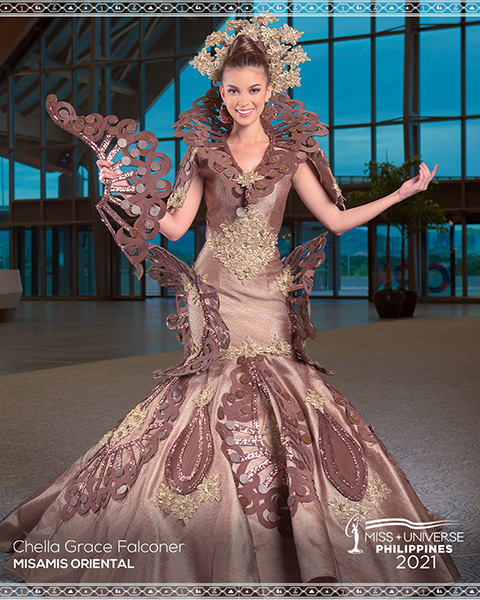 Misamis Oriental's Chella Grace Falconer wears Jiejie Aisa's second creation featuring an ingenious collar detail.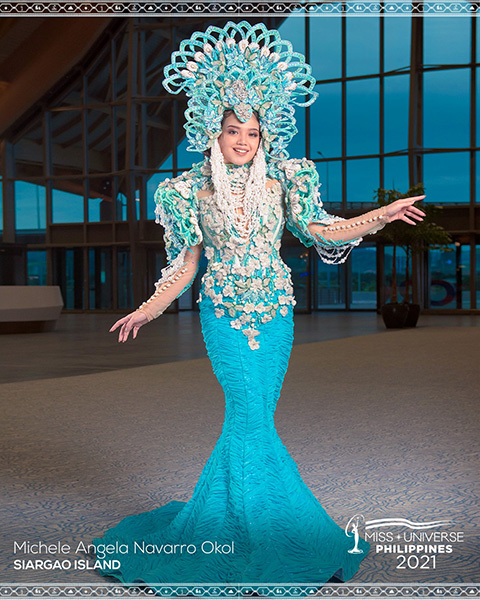 Siargao Island's Michelle Angela Navarro Okol wears Eva Martinez Havel's creation with its eye-catching headdress.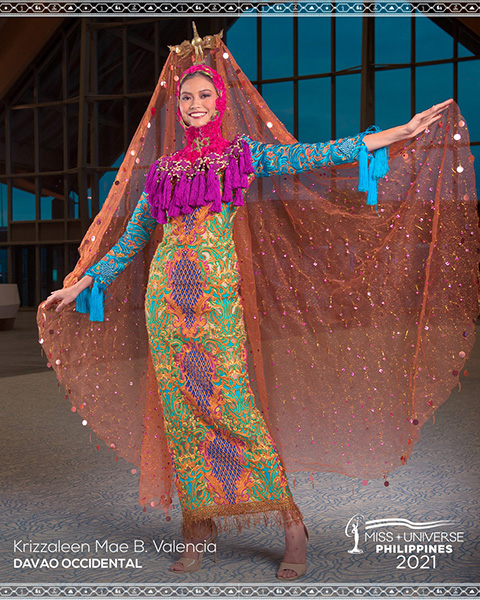 And my winner for this group is Krizzaleen Mae Valencia of Davao Occidental in a vinta-inspired ensemble by Silverio Anglacer. Her veiled headdress, culled from Portuguese and Morrocan influences, speaks of her Moslem faith and ancestry.
National Capital Region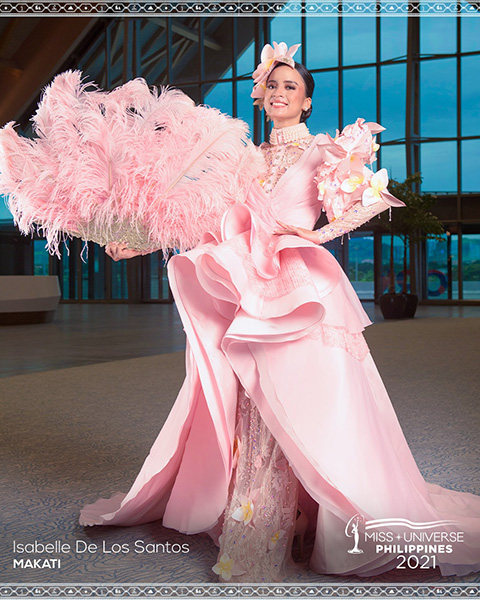 Makati City's Isabelle delos Santos is decked in a beribboned terno ensemble with a peacock plume fan by Oz Go.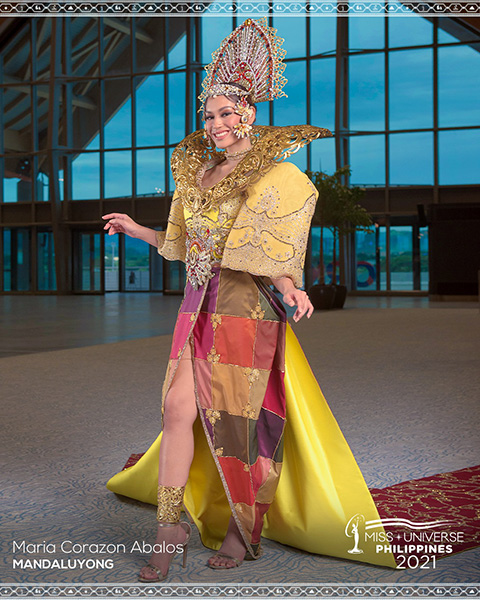 Mandaluyong City's Maria Corazon Abalos was garbed in a multi-colored Maria Clara dress accentuated by a collar and headrests by Joji Aguilar.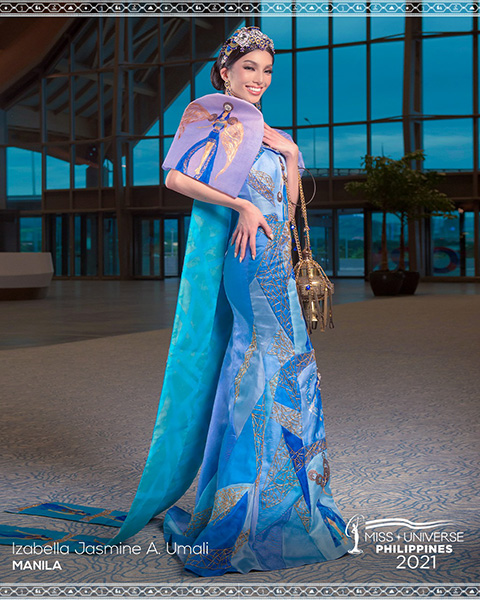 Manila City's Izabella Jasmine Umali looked picture-perfect in a chino-collared terno with a curios-looking hand lamp by June Pugat.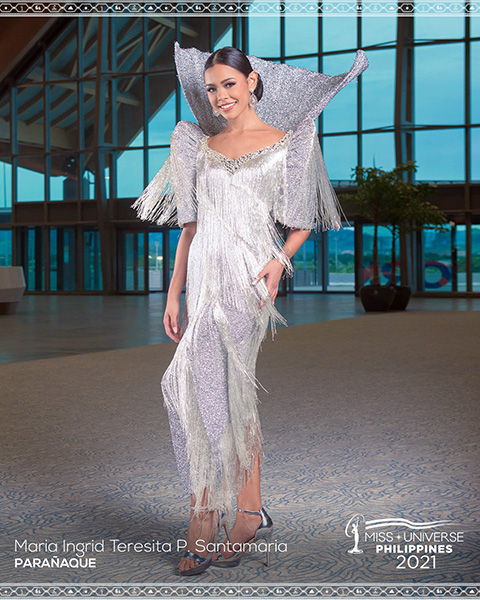 Parañaque City's Maria Ingrid Teresita Santamaria was wrapped in a metallic terno with bead fringes and an oversized collar by Rajo Laurel.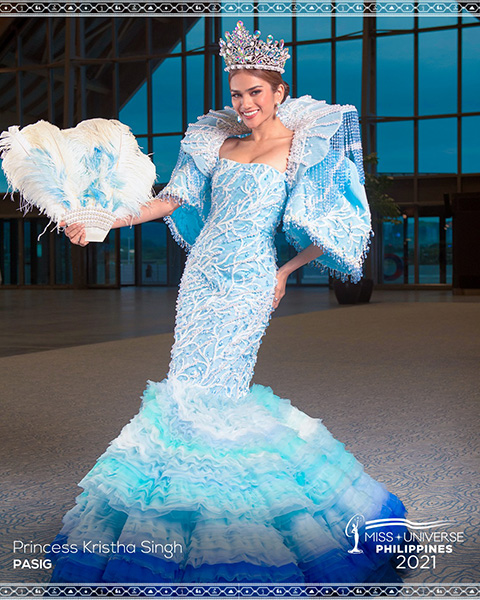 Pasig City's Princess Khrista Singh was dressed in a trumpet-skirted layered terno with a beautifully-executed collar and fan details by Armand Marco.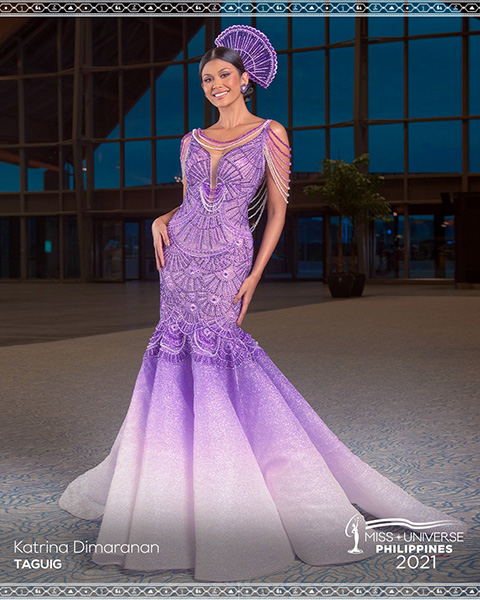 Taguig City's Katrina Jayne Dimaranan is a modern-day sagala in a lilac and amethyst shoulder-baring ensemble with a purple-colored paeneta as headpiece by Val Taguba.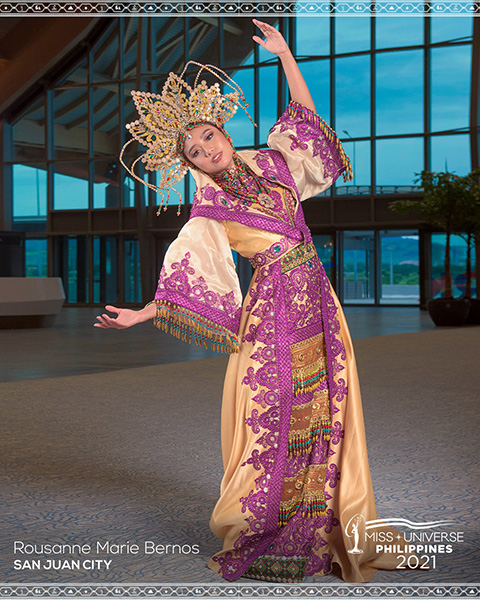 And my winner for this group is San Juan City's Rousanne Marie Bernos in an ensemble that, at first glance, is a period piece but, when the outer layers are removed, alters as a modern tribal get-up created by costume meister Edwin Uy.
MUPH artistic director Jonas Gaffud, in a social media post via @jonasempire.ph, wrote: "It was meant to be that we were able to do our shoots at the Hilton in Clark. Since we were not yet allowed to convene in arenas or big venues, I just wanted to shoot the preliminary competition on a long runway. The Clark International Airport is really the best option. Excited for all pageant fans to witness a different take on the swimsuit, evening gown, and national costume preliminaries. We can't wait to show it to you."
Catch the interview preliminary tonight on the KTX.ph platform. — Photos from Miss Universe Philippines via Facebook
RELATED: Miss Universe Philippines 2021 candidates showcase national costumes