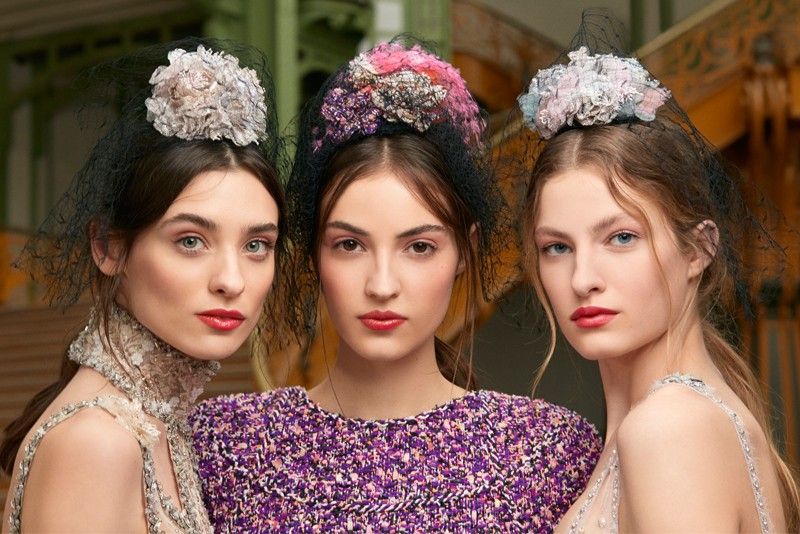 Couture beauties: Chanel's spring/summer 2018 makeup looks, as seen in the SS18 haute couture show
How to get Chanelís #vdaygoals look
If Rembrandt were alive today, he'd be the hottest lodi in the beauty world, because he was all about light and shadow. He knew how to highlight and contour a face — the current obsession of the beauty industry, with all its highlighters, strobe creams, radiant foundations and contouring products.
French brand Chanel has got it all covered because it has multiple ways of bestowing light on the face: its Le Blanc skincare range has wonderfully named "Healthy Light Creators" to instantly brighten the face, and, thanks to Chanel's modern-day Rembrandt Lucia Pica, Chanel's global makeup and color designer, the brand's spring 2018 makeup collection has products that impart light like nobody's business, creating a luminous look you'll definitely want to flaunt this Valentine's Day and beyond.
Rustan's The Beauty Source recently held a makeover session to introduce the S18 collection, and I have to say Pica has outdone herself.
Before any great makeup look the canvas has to be prepped, and Le Blanc, Chanel's brightening skincare collection, does the job perfectly.
First, the Chanel makeup artist prepped my face with Le Blanc Brightening Moisturizing Lotion, a hydrating toner that readied my skin to absorb the benefits of the other Le Blanc products.
Then came Blue Serum Eye, with ingredients like green coffee from Costa Rica to reduce the appearance of my dark circles.
The Le Blanc regimen started in earnest with the three-in-one serum to revitalize, brighten and restore my complexion.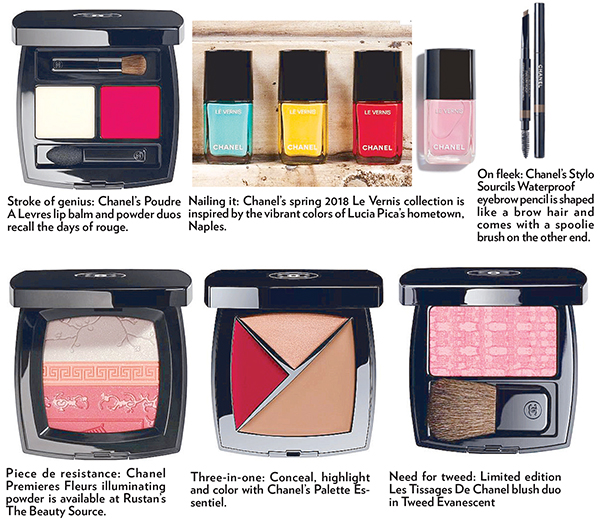 Chanel's contender in the popular face-oil category is Le Blanc Healthy Light Creator Oil, another three-in-one product that hydrates while brightening and revitalizing skin.
To plump up my skin even further this was topped with Le Blanc Brightening Moisturizing cream with TXC. Chanel Laboratories in Japan developed this signature ingredient, which delivers 12 hours of brightening benefits. They also added Two-Year Pearl Extract from Japanese Akoya pearls to give skin a luminous, smooth appearance.
Next came sunscreen to seal in all that goodness and shield skin from UVA, UVB, free radicals and pollution — Chanel UV Essentiel Multi-Protection Daily Defender SPF 50+.
Now my skin was ready for makeup.
To correct any unevenness there's Le Blanc Light Creator Brightening Makeup Base SPF 40/PA+++, which comes in a yellow or pink tone. My skin is more suited to yellow-toned Mimosa, an oil-free sheer base that helps foundation last all day and provides a glow to boot.
Over that the makeup artist applied Sublimage Le Teint, a radiance-generating cream foundation with light to medium coverage. If Le Blanc has pearls, Sublimage has diamond powder to enhance your face with luminous brilliance.
She mixed pink- and yellow-based Longwear Colour Correctors before applying concealer to my ever-present dark circles.
Then we got started with the color: Chanel Les 4 Ombres eyeshadow palette in limited-edition Premiere Eclosion. She defined my eyelids subtly with the peachy-coral shade, then brightened the inner corners of my eyes with the mint-green hue.
Then she curled my lashes before applying a nourishing mascara base, Beauté Des Cils, which volumized Chanel's Dimensions De Chanel mascara.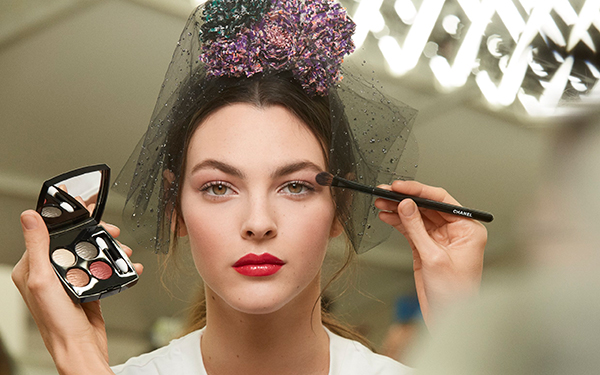 A Chanel makeup artist uses the Les 4 Ombres eyeshadow palette in Eclat Enigmatique to create a runway look.

One product I immediately fell in love with was Chanel Stylo Sourcils Waterproof Longwear eyebrow pencil, which, with its forward-slash shape, mimics brow hairs when you draw it on. It conveniently has a spoolie at the other end to brush out your brows, which is an essential step to get your eyebrows on fleek.
Chanel's limited-edition items this season are drool-worthy: Les Tissages De Chanel, the brand's oh-so-collectible tweed-effect blush duos that weave together a sheer blush with shimmering powder, this season comes in a universally flattering peach-pink shade with gold flecks called Tweed Evanescent. It's a healthy glow in a compact.
But the piece de resistance of the collection has to be Premieres Fleurs, an embossed illuminating powder that looks like a Neapolitan fresco in the compact. The artist used the pearl-white powder on top to highlight my cheekbones, then swirled the light peach and soft pink powders below to add a supernatural glow to the Tweed Evanescent already on my cheeks.
Lastly, the ultimate stroke of genius: Pica has created Poudre A Levres Lip Balm and Powder Duos that evoke vintage glamour back in the day. Remember when ladies of status would put rouge not only on their cheeks but also their lips? This cunning product reminds me of that. It just feels so decadent and luxurious to prep your lips with the balm and then add a hint of rouge, building it up till you achieve your desired subtlety or intensity, and just using your fingers though there is a small brush provided. And, though I find poppy-red Rosso Pompeiano to be the prettiest shade, there's also coral Rosa Tempera for those intimidated by red.
As Coco Chanel did say, "If you're sad, add more lipstick and attack." Which is the most perfect mantra I've ever heard to embolden us meeker souls this Valentine's Day.
* * *
Chanel Le Blanc and Chanel's spring 2018 makeup collection are available at Rustan's The Beauty Source.
* * *
Follow me on Facebook (Therese Jamora-Garceau), Twitter @tjgarceau and Instagram @theresejamoragarceau.