No more brownouts, thanks to solar energy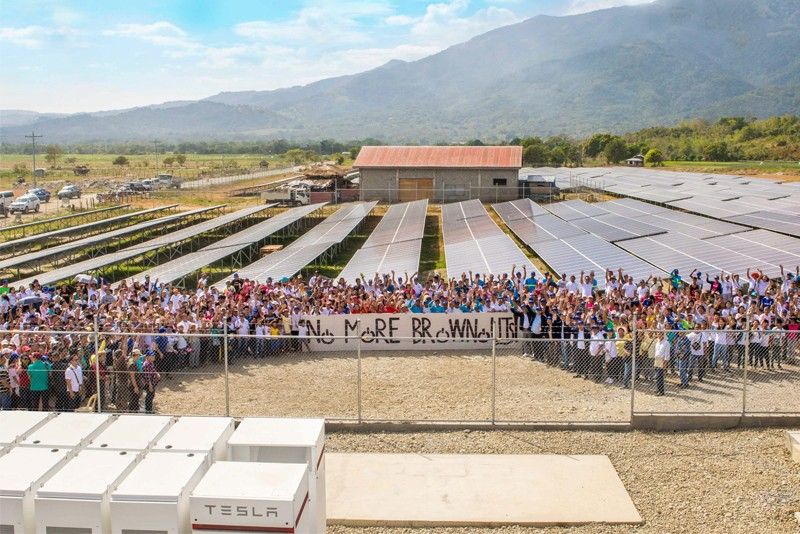 MANILA, Philippines — While the national economy is as vibrant as ever, millions of Filipinos have been left behind in the dark.
According to the Department of Energy (DOE), 12 million Filipinos lack electricity and millions more lack 24/7 electricity. A World Bank study notes that lack of electricity results in poor health and education, more criminality, and lower incomes. It is no coincidence that our country's 30 poorest provinces are also among the 30 with the most brownouts.
But as millions suffer from brownouts, the town of Paluan, Occidental Mindoro, is now brownout-free.
In 2018, Solar Para Sa Bayan (SPSB) completed the largest Solar-Battery Microgrid in Southeast Asia at zero cost to government. With solar panels, Tesla batteries, and backup diesel generators, it serves Paluan 24 hours a day, 365 days a year, at 50 percent below the full cost of the local electric coop.
At the project's inauguration, residents raised a banner proclaiming "No More Brownouts!" and recognized the event as a turning point for Paluan, which never before in history had 24/7 power.
In his welcoming remarks, Mayor Carl Pangilinan shared that Paluan first received four hours of daily service in 1978 from the Occidental Mindoro Electric Cooperative (OMECO), which later abandoned its services given the difficulties of serving the town. In 2014, National Power Corporation (NPC) resumed service for an average of 16 hours a day, with outages sometimes lasting several days.
Mayor Pangilinan further noted that since Solar Philippines began operations in December 2017, Palueños enjoyed their first-ever Christmas without brownouts; students can study at night and use computers at school; families can use electric fans amid the summer heat; sari-sari stores can sell refrigerated drinks; and an ice plant is now being planned to support local fishermen.
SPSB is now serving 24/7 power in over 12 towns, benefiting over 200,000 Filipinos. It has developed projects in 18 provinces and aims to support the Department of Energy's (DOE) goal for the Philippines to achieve 100 percent electrification by 2022.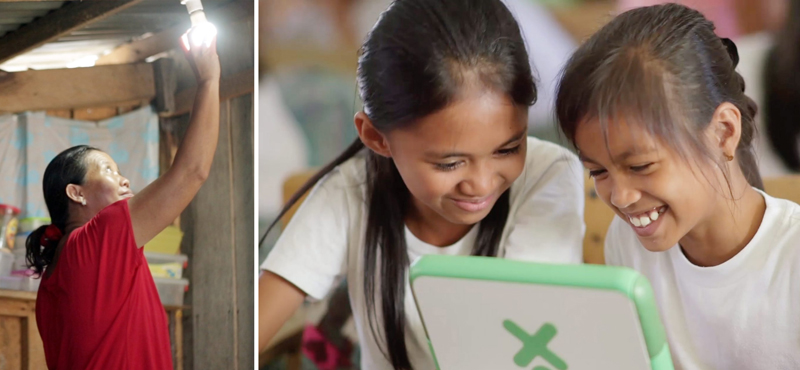 Solar Para Sa Bayan has brought 24/7 power to Filipinos in over 12 towns for the first time, including in the MIMAROPA, Bicol, and Davao regions, to help achieve the DOE's goal of 100-percent electrification of the countryside by 2022.
Two of these provinces, Aurora and Cagayan, were among the worst affected by last year's Typhoon Ompong.
In Dingalan, Aurora, evacuation centers were powered by SPSB's Minigrid system, ensuring the town center was energized even at the height of the storm and helping the town achieve zero casualties. Even if the town is connected to the national grid and is only four hours from Metro Manila, Dingalan has suffered decades of worse outages and higher-cost electricity than even island municipalities.
"We thank Solar Para Sa Bayan for fulfilling the dream of Dingaleños, by solving our power crisis and reducing the cost of electricity," said Dingalan Mayor Shierwin Taay. "This is a great help for a town like ours to achieve a stronger economy and better life for our people."
In Calayan, Cagayan, SPSB established a Minigrid to bring 24/7 power for the first time in the town's history, to help the town recover from the typhoon's devastation.
In Claveria, Masbate, a municipality of over 45,000 people that is this week receiving 24/7 power for the first time in its history, Mayor Froilan Andueza said, "Thank you, Solar Para Sa Bayan for choosing our town, which we are proud will now have the best electricity in the entire Masbate."
In Dumaran, Palawan, a town that has never been reached by an electric cooperative, Mayor Medwin Pablico said, "We do not need to say more about this project. The smiles of our people who are now enjoying 24/7 electricity for the first time speaks for itself."
In Lubang, Occidental Mindoro, Mayor Roberto Sanchez said, "For years, investors have had difficulty developing resorts here because of the expensive and unreliable electricity, and we have appealed to the government to give us better alternatives to our electric co-op. Solar Para Sa Bayan has answered our call, and we hope it will be able to serve more people very soon."
Carlo Alcano of the Solar Energy Association of Davao Oriental wrote: "So many Filipinos have never seen a light bulb, most of all in Mindanao. Now we can end this humanitarian crisis and finally give our people what they have long deserved."
These sentiments are consistent with the results of a Pulse Asia survey indicating that 82 percent of Filipinos favor new options for electric service. According to Pulse Asia director Ana Maria Tabunda, support for new options for electricity is consistent across all demographics in Luzon, Visayas, and Mindanao.
For decades, Philippine presidents have tried and failed to reach 100 percent nationwide electrification. Now we have a solution with the potential to energize the entire country and add to the list of reasons why this administration will be remembered as the one that did the most to improve the lives of ordinary Filipinos.