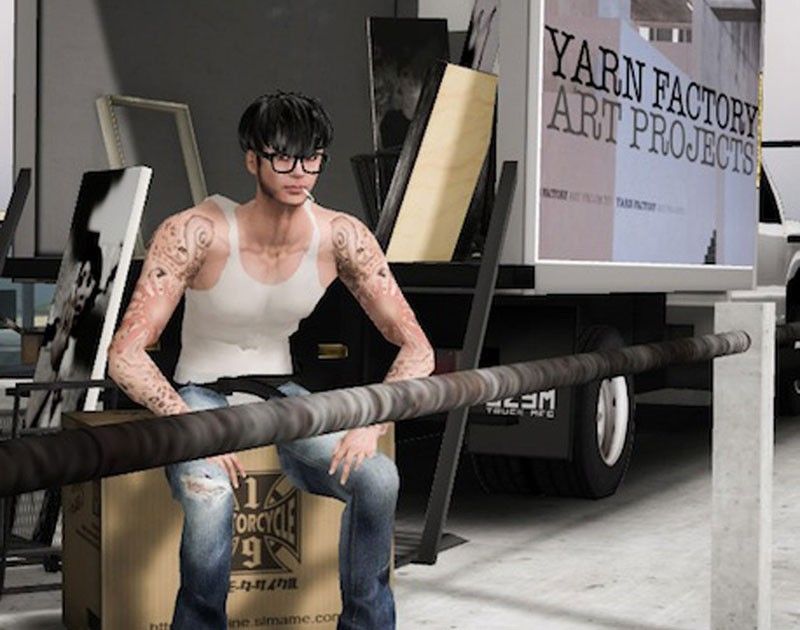 Tatong Tores' work for Yarn Factory Art Projects' blog.
Flesh and code: The internet as art space
You don't need to leave your desk to see the "Mona Lisa." At present, The Museé du Louvre, along other museums such as the Museum of Modern Art and the Guggenheim, have immersive 3D experiences of their exhibitions on the internet. This year's Art Basel Hong Kong also launched online viewing rooms in light of their cancellation, so that business proceeds as usual. Yet the internet itself holds a world of art that uses technology as a platform to circumvent galleries and museums, opening avenues for experimentation, participation, and exhibition to online communities.
Cyberspace has assumed unprecedented levels of embeddedness in the physical word, from the carbon footprint of Bitcoin farms to humanoid robots in the Uncanny Valley. The art of the internet has similarly grown at a breakneck pace, encompassing wildly varied formats by utilizing forms and languages that are inextricable from our humble World Wide Web. From multimedia group shows to generative algorithms and virtual participatory performances, the net holds works that defy categories that are traditionally applied to art.
This rapid development of technology presents interesting challenges to artists. The possibilities are seemingly endless considering the multimedia tools at one's disposal, plus the interactive nature of the user experience. Initiatives have a multitude of tactics with which they can execute mind-boggling projects on a scale that may be limited by finances or logistics in the real world, or respond to concerns present within their immediate geographic vicinity. The circumstances of the Philippine art market and the internet converge and diverge.
Curare Art Space, operating out of Manila since 2019, has adapted the formality of galleries with scheduled programming and public engagement programs. In installing the work, nails and hammer are swapped for web development tools. Rent is paid to website hosts instead of landlords. However, comparisons between the internet and exhibition spaces can only be made to a certain point; the internet as a body not separate from our physical world life, but an extension of public space in itself.
Second Life is a 3D virtual world closely based on our flesh and bone reality, minus the mortality. People create their own human avatars and enact the elements of a functioning society, including tribute band concerts, D&D, and real estate agents. It's the home of the Yarn Factory Art Projects, a contemporary art space built by Tatong Torres in 2011. In reaction to other galleries in-game — where people can build anything they want, and still choose white walls, — Torres built a brutalist concrete structure with high ceilings and generous degree of natural sunlight. One can almost smell the sea breeze of the nearby ocean.
"Imagine, I'm the artist, the curator, the architect and the staff all in one," Torres writes on Yarn Factory Art Projects' blog. His solo exhibition "MAKE_MY_DAY_!" (2011), which was shortlisted for the Ateneo Art Awards, comprised installations made out of items acquired for free in-game. The readymade is not an object, but code; it is nonetheless found. In the nature of games being interactive, your embodied avatar can navigate the space in first person perspective at will.
There are works that also live within existing services such as email. The nomadic initiative Kiat Kiat Projects mounted the exhibition "How to Prevent Hair Loss" (2019) via a newsletter that contained hyperlinks to works across writing, sound, and assemblage. The email can be forwarded on, harkening back to chain mail characteristic of the that was mid-2000s. It's pseudo-public, more accessible by word-of-mouth than by search engine. That curatorial decision allows the show to remain archived across sporadic inboxes.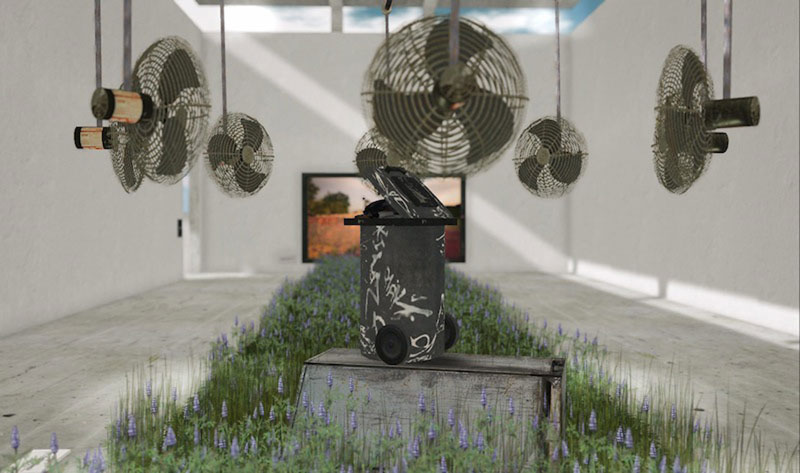 The internet is also a potent platform for political engagement like WALA's online group exhibition titled "Saging Lang Ang May Puso" (2017) in Slaverlands Gallery, which brings to light the blind spots that are absent, whether deliberately or not, from contemporary art. Through the use of .gif aesthetics, augmented reality, and razor-sharp satire, the website is wielded as a megaphone to express indignation regarding the plight of our cultural and agrarian sectors.
All of the above, except for Kiat Kiat Projects' newsletter, are a quick engine search away as of today (the writer strongly recommends DuckDuckGo.com to prevent your data from being sold to advertisers), and there are countless more spaces and platforms out there. Yet the net also presents its own issues, such as issues of piracy, anonymity, censorship, and privacy. Not to mention that the internet is not accessible in the Philippines. It's still a precarious luxury afforded by a few — more than a utility that everyone has the right to. But one has to concede its power to bridge geographically distant artists and viewers, and build communities outside of institutional and commercial forms of appraisal. The internet itself challenges our notions of art: as an object, commodity, tangible cultural artifact, and more; and that circumstance makes today's information superhighway ripe for artists to respond to.
* * *
The next installment of the "Flesh and Code" series looks at context-specific artworks concerning the internet in the Philippines and its revolving concerns in a time of throttled bandwidths.
* * *
M.C. Reodica is the winner in the 2019 Purita Kalaw-Ledesma Prize in Art Criticism.