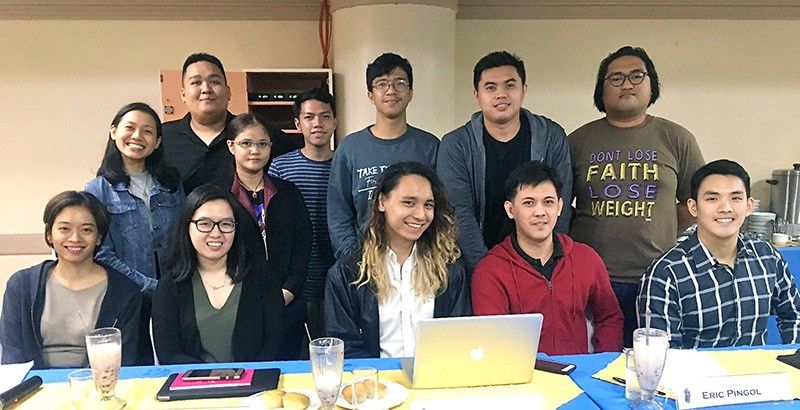 The UP Workshop Fellows for the Novel: (front row, from left) Angela Velasco, Angeli Dumatol, Miguel Santiago, Erik Pingol and Pichai Theamtusana; (standing) Katrina Martin, Ernie Angeles, Jane Kharen Miriano, DJ Ellamil, Rommel Bonus, Boon Lauw and E.J. Villena
One ambitious work intrigued me for having the makings of an 'airport novel,' that is, a Tom Clancy-type page-turner of an international thriller. It involves American troops e gaged in a kidnapping situation in Mindanao.
The 3rd Amelia Lapeña Bonifacio Writers Workshop held on July 11 to 15 at UP Diliman focused on the novel. Over 30 submissions were received in the form of synopses and chapter descriptions, plus what the applicants chose as chapter excerpts.
A dozen young Fellows were selected. The seven writing in English were: Ernie Angeles (Lies We Tell Our Parents), Angeli Dumatol (A Sky of A Thousand Colors), Jane Kharen Mariano (Like Earth), Katrina Martin (At Home with Crazy), Lukas Miguel Santiago (Seeing Red), Pichai Theamtusana (Between Titans) and Angela Velasco (Between the Both of Us).
The five Fellows writing in Filipino were: Rommel Fábros Bonus (Ang Pagbabalik ng Bagong Hitanong-Dagat), Danilo Ellamil Jr. (Sa Huling Pagkahulog ni Totoy), Boon Lauw (Malaya), Erik Pingol (Agaw Anino), and E.J. Betita Villena (Kinubli ng Anino ng Mindanao)
Workshop director Charlson Ong led the panelists: Dr. Genevieve L. Asenjo, Glenn L. Diaz, Ramon Guillermo, Jun Cruz Reyes and this writer.
Craft lectures were presented by two of the panelists: "A Short History of Tractor in Ukrainian ft Galaw ng Asoge" by Dr. Asenjo and "Of Plot and Polyphony: Notes on Novelistic Structure" by Diaz, last year's Palanca Grand Prize winner for the Novel in English for his first book, All the Quiet Ones, published by AdMU Press (and which we'll be reviewing in this space one of these days).
Dr. Cristina Pantoja Hidalgo, who joined us in paneling for a day, also gave a craft lecture, titled "On Writing the Fragmented Novel." Lectures were also given by publishers J. Neil Garcia for UP Press and Andrea Pasion Flores for Anvil Publishing.
With the lectures alone, the kids were fortunate to be provided essential pointers on the demands of the novel. In Diaz's presentation, key ideas were shared regarding structure, story, plot, and "resistance to plot." Some bullet-point excerpts:
"Structure — or form — tends to be 'obtrusive' when they veer away from, violate, or resist 'conventional' narrative structure. Otherwise the story — or content — can render it superficially invisible.
"… Structure thus is as much a source of meaning in reading a text as the story or its 'social dimension' because it dictates how actively a reader may or can participate in the reading of the text, making the reading experience also a source of meaning.
"Structure can be harnessed to add meaning to the text, even in less obvious ways. Whether unseen or obvious, structure and design govern the many ways that a novel creates meaning, either via narrative or in other ways.
"… Because of its sprawl and capaciousness, the novel as a genre is alert to the 'sensitivities' of the time, an aspect that its structure can reflect and enact. Not taking advantage of this can be a missed opportunity."
These invaluable insights found significant complementation in Dr. Hidalgo's own remarks.
"… (M)y interest is in the form of the novel, and in how the content—i.e., the story—gives rise to the form, or seems imposed upon it. Obviously, the novel's effectivity is very much affected by whether or not the form seems to grow naturally from the story, and thus invest it with a kind of inevitability.
"… I've been asked several times why I chose to write in what is basically a fragmented form, and the only answer I can give was that I tried writing them using the conventional structure and it didn't work. I'd like to think that the subject matter eventually found the right form….
"… In each book one attempts to find the right form for the idea, the emotion, the experience. With each book, one brings to bear everything one has learned regarding the craft upon the material, hoping thereby to produce something that will approximate the dream."
The dream goes on for the highly promising writers. Most of the submissions were YA or Young Adult fiction, but the final selection represented a variety of genres, such as speculative fiction, horror, the quasi-mythical, and the traditional.
In one of the first sessions, I acknowledged the generally high quality of language, and the conscientious decisions made on the choice of POV or point-of-view that serves a story best. The more demanding third-person POV, for instance, allows for a more cinematic treatment during scene-setting, and authorial-voice techniques like editorializing within an expository passage without obtruding into the narrative, but rather enhancing it.
Examples of these were fairly evident in the young writers' works, while thematically, they introduced fresh conflicts such as between futuristic technology and homegrown myths. A story in Filipino utilized the first-person POV of a fetus in a womb!
Most of the pieces only needed compression, or a brisker pace to sustain readability. With one story, I cautioned against having to introduce a multiplicity of characters in one go, and stressed the need to assign different verbal registers when it came to dialogue, to render all characters, even peripheral ones, distinct.
One ambitious work intrigued me for having the makings of an "airport novel," that is, a Tom Clancy-type page-turner of an international thriller. It involves American troops engaged in a kidnapping situation in Mindanao, and includes well-written scenes that take place in the Oval Office in Washington DC. I'm hopeful about the prospects of the author making it work.
As it is, we could only evaluate and comment on the brief excerpts provided. Still, it was a delight to recognize talent in terms of imagination and early cognizance of technique. What we received was affirmation that our young writers are taking on the demands of long-haul creative writing. Indeed, it's been a gratifying discovery.