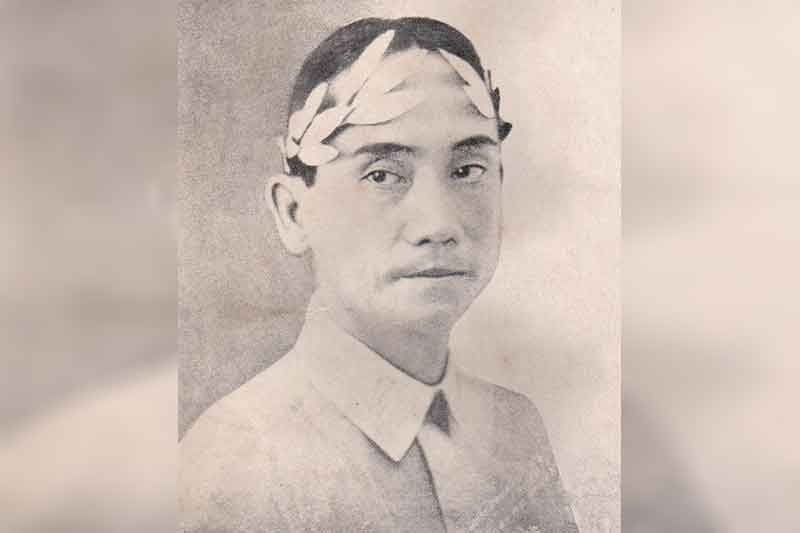 Jose Corazon de Jesus, using the penname "Huseng Batute," wrote thousands of poems in Filipino, in his column "Buhay Maynila" for the newspaper Taliba.
The afterlife of Balagtasan according to today's poets and rappers
'Ang talagang origin at core (ng rap), nanggaling sa Balagtasan,' defends rapper Negatibo. ''Yon ang ginagamit namin sa pag-rarap, because it's almost the same thing. As the years go by, nagkakaroon ng evolution.'
Some of us may have probably seen Respeto, Treb Monteras' film which introduced fiery Pinoy rap battle to virgin ears — such as Butch Dalisay's, as he wrote in his column last year — or which reintroduced the oft-forgotten practice of Balagtasan to millennial ears like mine.
Here's the thing, indie films like these are never wanting of mainstream audiences, nor are galleries, or theaters. At least if you compare them to Philippine literature today. Elsewhere, print is facing a crisis. Or in the digital realm, there is likely a tweet or two railing at how great literature is still resting in inaccessible ivory towers. Multi-awarded poet and performance artist Vim Nadera—who made an appearance in Respeto —even quips, "Ang music, may Philharmonic Orchestra. Ang theater, may Tanghalang Pilipino. Sa mga larangan ng sining, parang panitikan lamang ang walang resident company, hindi ba?"
In an effort to contemporize Philippine literature, or simply to give it the attention it's due, Nadera along with Louise O. Lopez, will be the host of "Pagbabalik-Tanaw sa Unang Hari ng Balagtasan," honoring the 86th death anniversary of Jose Corazon de Jesus. Spearheaded by the Cultural Center of the Philippines (CCP), it's slated on May 26 at CCP's Huseng Batute Theater, the black box aptly named in memory of the poet.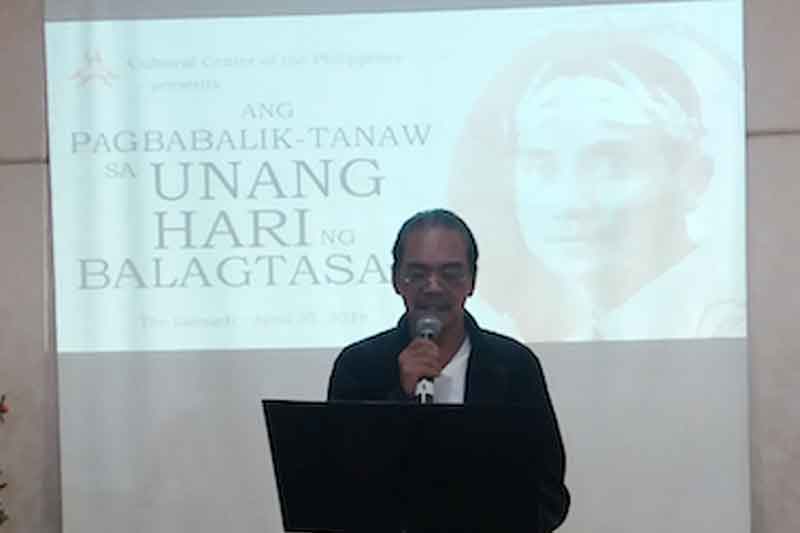 Actor Lou Veloso performs one of Huseng Batute's verses.
Born in 1894, De Jesus, or "Huseng Batute," wrote 4,000 poems in his "Buhay Maynila" column at the Taliba newspaper. In the Balagtasan, a dramatic debate in verse where two poet-performers are pitted against each other, Huseng Batute was often proclaimed the winner of the match, earning his undying title "Hari ng Balagtasan." He had also translated the song Nuestra Patria to Bayan Ko.
Following a forum discussing his works and their relevance today, 10 of his pieces — both the poems and the songs he penned — will be performed. Actors John Arcilla, Ronnie Lazaro and Lou Veloso, will recite his poems, as will ventriloquist Ony Carcamo, and a number of traditional mambabalagtas from Bulacan. The Makatas from Rio Alma's Linangan sa Imahen, Retorika at Anyo (LIRA) will perform some of their original pieces, done in the style of Balagtasan. The Philippine Opera Company will breathe new life to Batute's lyrics. And rappers will lend their beats to Batute's pieces.
"Noon panahon ng Hapon," says CCP president Arsenio J. Lizaso, "kapag inawit o pinito o hum ang tono ng Bayan Ko, kayo po ay makukulong o mapapatay." Lizaso adds that Bayan Ko was a song that the guerrillas would sing in the mountains, even adding a stanza to its original lyrics. It was also one of the most powerful anthems during the 1986 Revolution.
There is power, then —as we, writers, would of course want to believe — in the written word, whether it's penned, printed or performed. And this was proven by the man who unfortunately lost his life too early in his 30s. Nonetheless, there was a question looming in the room: Didn't Balagtasan die along with its king? Beyond the academe and beyond Manila's smaller and smaller literary circles, does it still hold an influence?
"Ang talagang origin at core (ng rap), nanggaling sa Balagtasan," defends rapper Negatibo. "'Yon ang ginagamit namin sa pag-rarap, because it's almost the same thing: may tugma, may sukat. As the years go by, nagkakaroon ng evolution. Nagkakaroon ng variation sa rhyme schemes. Pero ang origin namin sa form, sa balagtasan nanggagaling."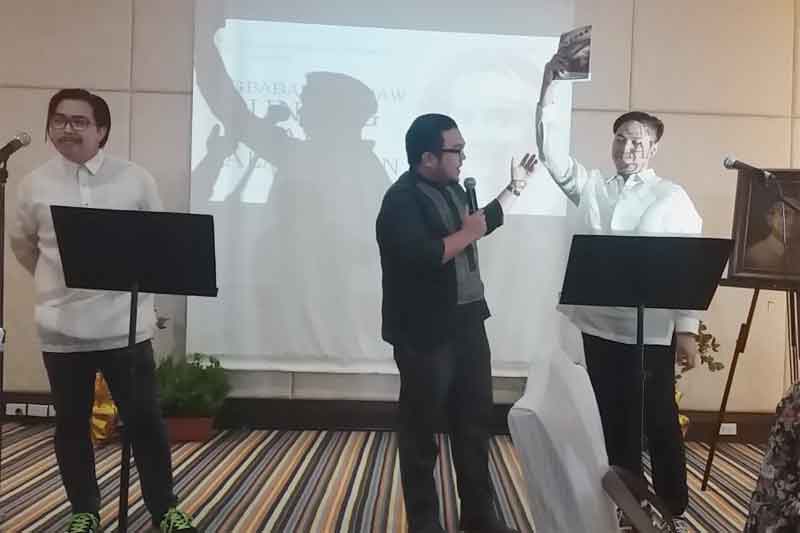 In the style of Balagtasan, The Makatas from LIRA hold a debate over books and e-books.
Apart from similarities in form, rap's subject matter also shares poetry's irreverent spirit. Negatibo and Beware point out how rap also holds up a mirror to today's uncomfortable realities. "'Yong mga sinusulat nila, mga nangyayari, mga nakikita ng mga tao. Ganoon din naman sa rap, hindi naman kami sci-fi," says Beware who started rapping 25 years ago along with the likes of Francis M. and Andrew E. Negatibo adds, "'Yong poetry na rap, para siyang storytelling… and you don't tell a story na alam mong make-believe lang. Isa siyang salamin ng lipunan and it's our freedom of expression."
Traditions are revived when they evolve. For some, it's a way to make literature more accessible. When the old engages with the new, it can serve, at the very least, as an introduction to younger audiences. "The form is already there. All we have to do is contemporize the subject matter, the content," says Vim Nadera, who promotes unconventionally merging art and literature with pop culture. "What's my stand on rap or flip top, or any other Western form? Sa tingin ko, if that's their entry point eh — to love poetry, to love literature — then go ahead!"
We may no longer be in the period where Balagtasan is a regular act in the nearby theaters, but on May 26, we'll get a chance to watch how, across genres and generations, Batute's words can still make their echoes.