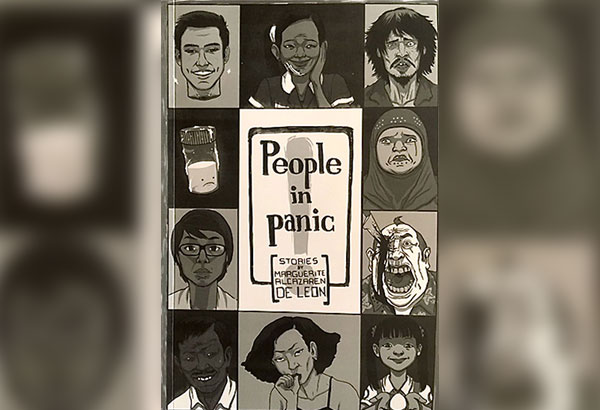 Stories that define the now in us
A collection of short fiction quickly reveals the quality and breadth of a writer's skills, not much less the personality that treats a reader to that special gamut of selected themes and concerns.
Marguerite Alcazaren de Leon's People in Panic, consisting of 11 short stories, initially assures us of the young writer's exceptional craft. Then it can't help give us the gravy of appreciation with regard her narrative playlist.
"The Head" has mysterious heads of men suddenly appearing in women's closets, floating around upon discovery, then engaging in secret rites that apparently center on their need to consummate a kiss.
"Yaya" is told from the point-of-view of a young girl, whose naivete and sing-song tell-all don't exactly turn her into an unreliable narrator.
"The Man, the Pit, and the Dismantling of Metro Manila" features an urban survivor who makes his home in a pit alongside the MRT tracks. Despite his desperate efforts to preserve it as his secret haven, he is eventually forced out of this wild sanctum by the official project that is the deconstruction of the metropolis.
"Frozen Delight" takes place inside a freezer, where the leading character, a reusable gel ice pack, enjoys exemption as an inedible item, until the other, ephemeral contents are joined in by a curious new arrival.
"Hunters" is about a young couple that has to sort out their relationship amidst the challenge of having to compete for free-lance opportunities against others of their millennial generation, with everyone tracking the spoor of possible "rackets."
"Good Girl" is flash fiction set in Dumaguete, where a woman who decries the number of expats in town turns out to have one for a partner.
"I Bet You Think This Story's About You" is about writers competing for the Hiraya Awards (in lieu of Palanca prizes).
"Ride" has a pretty young lady from a well-off family enjoying her privilege of a taxicab ride home to a gated village, until a visual disruption punctures her world of self-satisfaction and brings her to rampant tears. A larger tragedy brought by the TV news assures her that she is still a glorious survivor.
"Sucker" is about a young woman who is a certified expert on blowjobs.
"Eggs" involves a school exercise on values formation that requires two-person teams to protect the individual eggs assigned them, until the dynamic of competition leads to the resignation of the teacher who thought up the idea.
"Cross" is told through three points-of-view: a smartly dressed woman is eyed by a man who is in turn desired by another woman. This potential if unrealized triangle is far from the ordinary, however, transcending as it does physical attraction as well as the class distinctions.
But these encapsulations are necessarily simplistic, as each story weaves more than what is rendered on the surface, and the writer often breaks off into tangents of what else can be peripherally possible or portentous.
The narrative ellipses enhance the uniform strength of story-telling, drawn from a remarkable feel for structural integrity, recognition of how vital graphic description leads to character discernment, and of course the writerly craft that lofts all these to memorable exposition, however quirky or unconventional.
Here's a sample passage, from "Frozen Delight":
"The moment the Daughter closed the Freezer door and everyone took on that soft, pulsing luminescence for seeing each other in the dark, we stared at it, astonished by the strength of its glow, keen to begin the interrogation.
"Everyone's thrown a few basic queries the moment they're brought in — where they came from, what they're made of, the day they begin to expire. And while Semen — that's how it wanted us to call it — was able to answer these, it was the first time that we had to know more. I didn't do any of the asking, though. The others were already possessed, crowding around the newbie with wary fascination."
And here's another, from the even more fascinating "Sucker" (chosen carefully, in avoidance of decidedly more graphic eloquence):
"… Then my tongue begins to reassure it, lightly licking its head with a certain friendliness, followed by the careful embrace of my mouth around its body. That's when it realizes that things will be okay. That's when it knows it can be honest with me, can be brazen, violent about its needs. So it toughens up. It is bolstered by the sinew of its demands. And then, as if it had never been bashful to begin with, the roles are quickly, happily reversed: it becomes more articulate, and I dependent on its messages…."
De Leon offers stories that are so now, so Metro Manilan, so millennial in their arcs and parameters, so knowing of how imagination can untrack us from the direst of realities, while providing more than a thumbprint of the author — as a well-educated, liberated lady whose passion is writing.
She says in her Introduction that most of these stories were written some time ago, but were published independently only recently.
"I got to put this collection out now because it was hard to find a way to do so. Writing is taxing work, but finding a way to be read is harder. (I dare say there's a good chance the person holding this copy writes too, and knows what I'm trying to say, because who are we kidding; we're an insular little group, aren't we?)"
Canny self-deprecation, irony and droll humor also characterize the storytellers in these stories. But we can hope that avid readers of the right stuff can join fellow-writers in enjoying these stories that define the now in us — no matter how wildly or warily we may affirm the value of disruptions.
You may get a copy only from the author, who works as a Social Media Producer for Rappler.