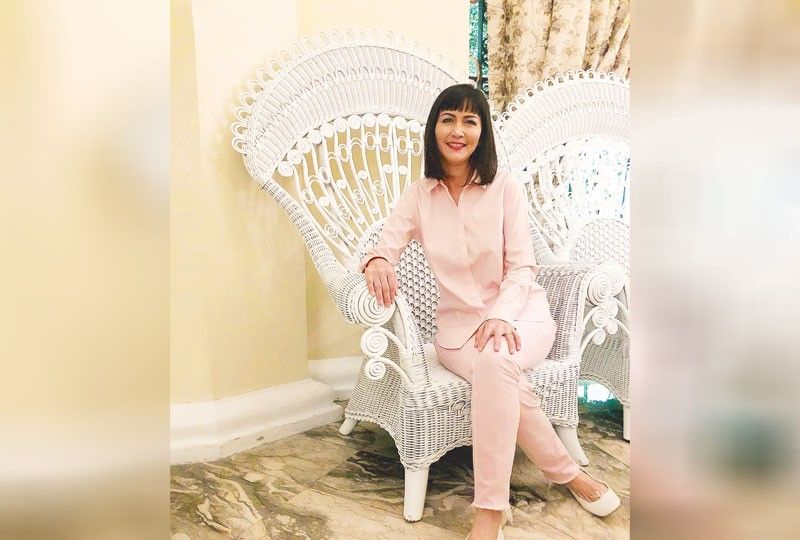 Savonille's Pia Sy.
Büm Tenorio Jr
Soaps, scents & sensibilities
The break she was looking for was right under her nose. She sniffed it, literally, and voila, she found a business she could call her own.
Before Pia Sy, pretty like a doll and statuesque like a mannequin, launched her soap-making business called Savonille in January 2018, she was a "happily devoted homemaker for 24 years." The joy of being mother to three children and wife to the man she dearly loves is premium to her existence. Her world stops for her children Jay, 24; Sage, 22; and Annika, 18. Her moral support for her husband Jun, an entrepreneur involved in healthcare ventures and agribusiness, is beyond measure.
When empty nesting became apparent for Pia and Jun, Pia found so much time on her hands. One by one, their children left for the US to study. Jay is now in Berklee College of Music in Boston taking up Music Engineering. Sage is enrolled in an Entrepreneurship degree in Northeastern University in Boston. Annika, on the other hand, is a freshman at Tufts University taking up a Bachelor's degree. The more she misses her children, the more she wants to have her own venture.
"I have always wanted to have a business of my own because my husband comes from a family of entrepreneurs. Being surrounded by them, you kind of like that entrepreneur vibe. And you somehow long to try to do things that you wanted to do, even if it's small. Nothing intimidating. Nothing that will give me so much pressure. Nothing that will keep me away from my family," Pia says.
The business opportunity that she was looking for was presented to Pia when her husband, because his hands were tied to other bigger ventures, decided to let go of his skincare business that included the soap that Pia had been using for her self, the same soap that she had been giving to her friends as gifts for their birthdays, for Christmas and other occasions.
"I asked Jun if I could continue the soap business. He agreed," Pia recalls.
Next thing she knew, she was setting up her own small business, giving it its own name, Savonille, making her own branding, getting her own business permit.
When Savonille came along, a fresh start blossomed, a fragrant new beginning dawned. Finally, Pia has a new "baby" to take care of.
"The soap is a reflection of me. It's simple, mild, natural. It has licorice extract," she says.
Pia swears by the efficacy of licorice. "I found out that licorice is very good for the skin. Licorice is an old ingredient but it is very potent. It is antioxidant, anti-inflammatory, antibacterial. All the more I keep using the soap," she says, adding that her products have allowed her to make lesser visits to her dermatologist.
"It took a year for me to establish my own business because my kids were very busy in school," she recalls.
She found a business partner in Julie Bonifacio, a biochemist who is in charge of research and development for Savonille. Together, they began their "scent-ful journey" in January 2018. By October of the same year, they launched the soap at the American Women's Bazaar. Just for one day at the bazaar, Pia says, and their products were sold out, replete with "the positive feedback from those who bought the products." Then they began to join other bazaars. The same feed back, the same sold-out result.
Savonille started with one scent for the soap. Then the clamor began for other lines. Aside from the bar soap, the brand now has handwash, hand sanitizer, cologne and the fragrance line. Soon, Pia and Julie will venture into other products like lotion.
Their products come in fragrances like classic mild, floral fresh, citrus boost, tea tree and unscented fragrance.
Aside from bazaars, Savonille products are sold in retail stores like the Retail Lab in Rockwell and Frankie and Friends in SM Aura. But the bulk of orders are transacted online.
"We source our ingredients from abroad (like in the south of France) and some locally. What we are using in our products are superior, standardized extracts, hence the quality is the most superior," says Julie, adding that Savonille ingredients are tested by the FDA and are non-synthetic, paraben-free, and sulfate-free.
Pia says her business principle is to use only natural and best quality ingredients in her products. "I always want to do business ethically: to be compliant. I always want to be fair and I always want to do the right thing. I want to sell products that I am proud of and would use for myself and my loved ones."
"The way I am as a mother is the way I am with this business. This business is also my baby," says Pia, who took up Business Management at Silliman University in Dumaguete. She lived in Mindanao (Zamboanga, Davao and Butuan) from the age of five because of her father's work as operations manager for a logging company.
Pia was raised by a mother who was also good in business on occasions that allowed her to show her entrepreneurial savvy, on top of raising well her six children. Her father came from a family of sales people so selling is in Pia's DNA, too.
Pia is very happy with her "new baby." But, of course, she misses her three children every day.
"The best lesson I taught my kids is to be passionate with what they believe in and just have simple needs. Love, love yourself, be humble. I always tell them that. And wherever your life takes you, always go back to your roots," she says.
Her words have the fragrance of a woman. *
(Visit www.savonille.ph or Savonille Skincare Essentials on Facebook.)
(For your new beginnings, e-mail me at bumbaki@yahoo.com. I'm also on Twitter @bum_tenorio and Instagram @bumtenorio. Have a blessed Sunday!)