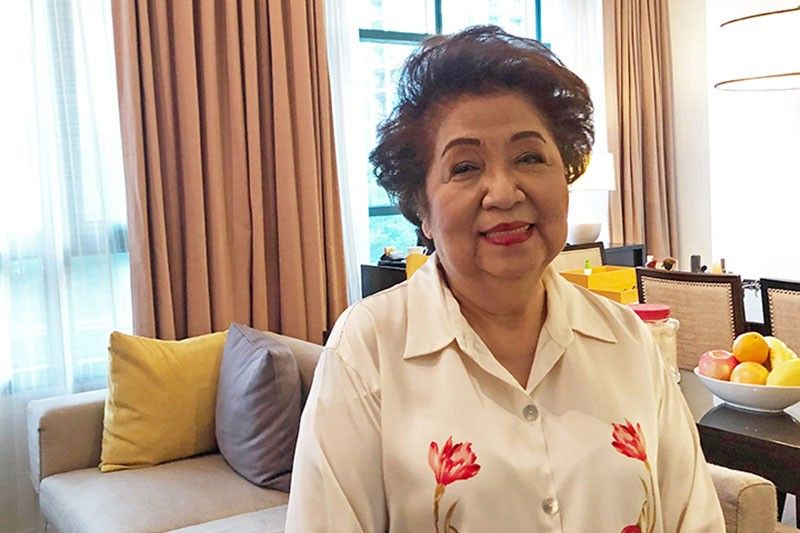 Former Supreme Court Justice Consuelo Ynares-Santiago turns 80.
'A blessed, beautiful life'
NEW BEGINNINGS
-
Büm D. Tenorio Jr.
(The Philippine Star) - October 20, 2019 - 12:00am
What more can one ask for at 80?
"Nothing more," says Tita Elo, or former Supreme Court Justice Consuelo Ynares-Santiago to the public.
Clad in a flaming red Paul Cabral ensemble, she sizzled in joy as she celebrated her 80th birthday at Palm Grove in Rockwell, Makati City in the company of her loving family and closest friends. She entered the party venue to the tune of Isn't She Lovely and true enough, she displayed what lovely is — full beautiful smile, coiffed hair, elegant moves, happy disposition. She was filled with joy, bliss, contentment. Even the little black tassels on her blouse were dancing as she moved from one table to another.
"At 80, there's nothing more I want in life. My life is filled with beautiful memories. I thank God for this life, for the opportunity to celebrate each day that will come with a smile because, really, I have lived a blessed, beautiful life," Tita Elo says.
A great part of Tita Elo's blessings are her children: Gina, Jonas and Jenny. Her eldest Chinky, a no-nonsense lawyer like her and her late husband Tito, passed on four years ago. In moments when she misses her the most, for example on her birthday, she turns sadness to happiness by finding beauty and joy in Chinky's life. Then she smiles.
Tita Elo is the main lifeline of her children. When they want to find happiness, they turn to her. In times of trouble, they look for her and even before their mother opens her mouth, they already find peace. When they want to find Santa Claus, they go to her — to her closet, to her pantry, to her heart.
"She is very generous. You never leave empty handed whenever you visit her house. Para kang namalengke, nag-grocery. She is very galante," says Dr. Gina Santiago-Aquias, credentialing and privileging head of Medical City's department of obstetrics and gynecology.
"Mommy always shares her blessings be it food, shoes, clothes or jewelry. And most importantly, whenever she underwrites our foreign travels," laughs Jenny Santiago-Sia, chief of staff to the chairman of ABS-CBN.
"At a time when I was searching for myself and my purpose in life, Mommy was always there. She is always there," says Jonas Santiago, chairman of St. Luke's Hospital's department of nuclear medicine and positron emission tomography (PET).
Tita Elo taught her children the value of commitment, the value of family.
"I remember when I was growing up and even when I was already working, she never let a slight fever be a reason not to go to school or to work. That ingrained in my mind the importance of showing up and being dedicated to your work and to the people who depend on you," says Jenny.
"She taught us that we in the family should always love each other, look out for each other and have a good harmonious relationship. That we should always make time for family traditions and gatherings. Now that we are older, I realize that truly, family is love," adds Gina.
Jonas shares, "When my personal life was in shambles and my career on hold, I decided to take a 3,000-mile road trip to clear the cobwebs in my mind and see the United States. I had no money then but it didn't matter. All I needed was to call my mother in the Philippines and to ask if she knew of a relative, whether close or distant, or an acquaintance who lived along my route. She could always find somebody. This was before the time of cheap cellphones and Viber so it meant calling up the person overseas and then telling me the name and address of the acquaintance. These people who I met and lived with for a day or two, some of whom I have never met, would be so friendly and would extend utmost hospitality to me. I know they were not doing it for me. They were doing it because she was my mother. And it is still happening up to now.
"She has been retired for almost 10 years and yet people I don't know are still being nice to me, extending extreme politeness and courtesy, because of my affinity to my mother. She probably helped these people for some personal problems in the past and they could not find a way to repay her enough. Helping her children through life was probably their little way to show appreciation for the genuine caring and help they got from her when they needed it."
In a commemorative book titled In the Highest Court that I co-wrote for Tita Elo's retirement at the Supreme Court in 2009, Chinky said: "Growing up, Daddy was the disciplinarian and there was no pleading for clemency with him. You violate the rules, you pay the price. As simple as that. It was Mommy who tried to soften up Daddy — pleading our cause, promising in our behalf that we would never repeat the prohibited act. Which is not to say Mommy was a pushover. She was also very strict."
But with one push of the button, Tita Elo would be there for her children.
"When I studied abroad, I was calling my mom and crying practically every night because of homesickness. My mom, who never travels alone, flew to the States to stay with me for a week so I wouldn't miss home so much," Jenny recalls.
Elo's BFF
Now that she's 80, Tita Elo finds a new best friend in 20-year-old Cessie Aquias, her only apo who studies Communications Research in UP Diliman. Cessie, who is constantly on the Dean's List, will follow the footsteps of her "Mamita" and become a lawyer.
"Mamita took care of me as a child and played with me all the time. As I grew older, the roles have reversed. I am now her designated 'chaperone' whenever we go out. When we travel, she becomes my roommate and I get to spend more one-on-one time with her. I have learned to admire the woman that my Mamita is because she is always ready to share her love and blessings to her family and friends. I wouldn't be the young woman that I am today without the guidance of my Mamita," Cessie says.
What else do her children love about their mother? Hands down, her love for life, her being funny without trying to be.
Her children know their mother is coming because of her favorite scent: Annick Goutal eau d'Hadrien. In the past, they summed up her beauty regimen in one word: Zeny! Zeny was Tita Elo's all-around makeup artist since 1973, when she was still a municipal judge. They say their mother went to Zeny almost every day to have her signature coiffure. This was true even if they had a flight to catch at 6 a.m. — that would just mean that Tita Elo would be in the parlor at 3 a.m.
To this day, even when they are abroad, her children know how not to give her a bad-hair day by literally treating her to a salon fix. And if language becomes a barrier between the hairstylist and their mother when they are abroad, Tita Elo will just bring out her passport and show her photo so the stylist can copy how she wants her hair to be styled.
Gina shares, "My mom is such a Doña. She always has someone — whether a secretary, a friend, a relative, or us to assist her and do things for her. One time on a tour, we brought her to the elevator and asked her to go ahead down to the hotel lobby as we were doing a last-minute check of the room. When we were done, we were surprised to see her still inside the elevator! She was busy texting and didn't even bother to press the elevator buttons!"
On her 80th birthday, Tita Elo's children did all the work to make it very special for her. Love was the main motif of the night. And it is the same love they shower their mother every day.
Happy birthday, Tita Elo! Cheers to your "blessed, beautiful life." *
(E-mail me at bumbaki@yahoo.com. Im also on Instagram @bumtenorio and Twitter @bum_tenorio. Have a blessed Sunday!)