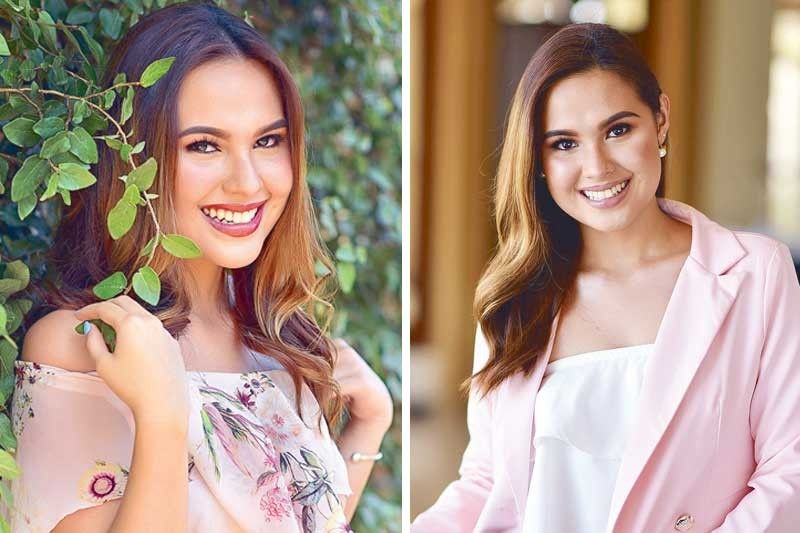 MANILA, Philippines — Jean Agatha Cash-Uvero's heart and mind cradle her hopes and dreams. But it is in her soul where her passions and memories of beautiful summers reside.
Agatha surrenders to the call of the sun and the waves whenever time permits. The 21-year-old stunner shares that being one with nature is her way of meditating and listening to herself, a welcome respite from the busy life she leads in the bustling city. When Agatha is on the beach, she is in her element. The touch of salty breeze on her skin and the feel of hot sand on her toes ignite a fire in her heart.
"Every time I go to the beach, I am recalibrated. That's the time when I meditate. Meditation comes through different activities for me, like surfing, which is therapeutic. It changes my perspective. On a daily basis, when you have so much to handle, you sometimes forget to look at the bigger picture. When I surf, my thoughts surprise me. It gives me so much focus and direction in life," says Agatha, a third-year Journalism student at the University of the Philippines.
Aside from surfing, Agatha also loves snorkeling and open diving. She shares that given a choice of where to go for a vacation, she'd always choose the beach like her favorites La Union, Palawan and Caramoan.
Being away from city life refocuses Agatha, who is now busy in school. She also help run several of her and her mom's nail salons. "When I'm in the city, there's so much going on because I like to take so much on my plate. People say I am stressing myself out but I get more stressed when I am not doing a lot of things," she shares.
Nowadays, one of her passions is promoting self-care and empowering others through social media platforms like Curious Cat, a Q&A social network. By giving her followers advice, it teaches her to listen to her own words and apply them to her own life. "When I tell them to be confident and to take care of themselves, I am also reminded that I have to listen to my own advice."
It's not only through social media that Agatha helps empower others. For her nail salons, she and her mom recently partnered with the Department of Social Welfare and Development to hire deaf workers who are trained for the job. "People actually love their services. They have the biggest tips! There is fulfillment when I know that I can help others."
* * *
With her cheerful and positive disposition, Agatha tackles every day with a sense of purpose. With that, she begins with taking care of herself.
Aside from surfing, she plays tennis and goes to the gym whenever possible. Having time for herself is another way for her to have a clear perspective of what's ahead — may it be having a long, unrushed breakfast, going to the movies by herself or driving somewhere far to eat good food. She also indulges in her beauty routine.
"The way I see it is when you take the effort to look good, which will make you feel sure about yourself and have that confidence, it is a way of telling the people you meet or people you are with that they are important," says Agatha, a model, events host and former UAAP courtside reporter.
"Many believe that self-care is just putting on a mask, but I think there will always be days that you will not feel so good about yourself. On those days, when you just put on a little lipstick, you'll be surprised at how much more better you will feel. It's like magic."
As she believes that the power of makeup can do wonders to one's mood, personality and self-confidence, Agatha swears by her go-to everyday look. "I use BB cream and mascara. For blush, I use the Ever Bilena Lip and Cheek Tint in Uptown Red," says Agatha, who loves the lip-and-cheek tint that has a buildable formula that gives off sheer to high-impact color. Its roller ball tip makes dispensing easy while preventing leakage. The long-lasting reddish brown shade of Uptown Red suits most skin tones.
For school days, Agatha's no-makeup makeup is best for her. Foundation like the EB Matte Two Way Cake in Matte Fair Oriental is a perfect product for this type of look. This compact foundation provides light to medium coverage. Its matte formulation absorbs excess oils leaving the skin flawless yet oil-free.
With her no-makeup makeup look, it is also important to highlight the eyebrows, which beautifully frames the face. For this, there is the EB Pro Brow Duo in Play, which is both a retractable pencil and brow powder on opposite ends. Used together, the product allows for brows to look softly defined and filled in.
"Some people would think that putting makeup is just vanity. But it's more than that, especially if you're doing it not for anyone else but for you. For me, it's not really the outcome of looking good, it's the process of doing makeup, which helps you meditate in a way," she shares.
* * *
The season of sun brings forth vivid colors that provide inspiration. And those who seek beauty in the much-awaited season, like Agatha, almost always find it.
"There is beauty in the process. I also think happiness is the process more than the outcome. When one is passionate about something, and one is actively working towards the goal, for me, that is beauty. The perseverance of people achieving something, the search for happiness, the process towards getting that goal, that for me is beauty," she concludes. *
Photography by Claudine Cervantes Callanta of Larawanmo • Makeup by Martin Orosa and hairstyling by Petchi Ombrosa of Ever Bilena • Fashion styling by J-em Sta. Ana, assisted by Niña Fabian • Floral dress by
@djourshop, blazer dress from
@fashiongrandeurdavao and white top from
@clothesforbreakfast