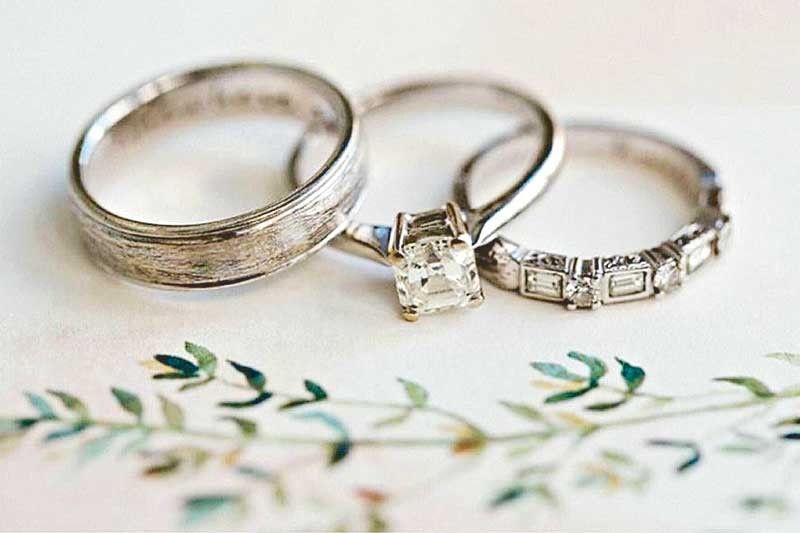 Mismatched wedding rings with textured polish.
MANILA, Philippines — The joy of luxury comes when the gift of a precious jewel not only brings a twinkle to a loved one's eye, but also creates an impact on others.
Inspired by their par-ents' family business of 30 years, husband-and-wife team Erick and Ria Olonan launched Joyería Jewellery in 2014 to cater to the fine jewelry requirements of friends. Somehow, the friends Ria grew up with remembered her jeweler parents and knew they would be getting a good deal if they purchased fine jewelry from her.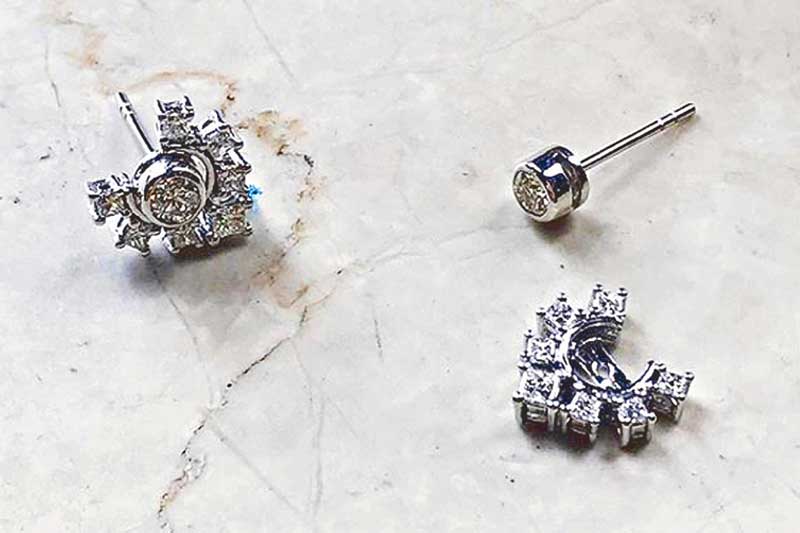 Edgy + classic convertible jackets.
But unlike Ria's parents' straight-off-the-factory packaging (blue jewelry foam and plastic), Joyería upped its presentation to have the luxurious look despite its friendly price, which brings about the joy and the heart of the brand.
Joyería's clientele grew through word of mouth as the brand has built a good rapport with clients. Its transparency is its currency to building more lasting relationships and becoming part of a family's legacy: engagement, weddings, birthdays, anniversaries, graduation, and many more milestones.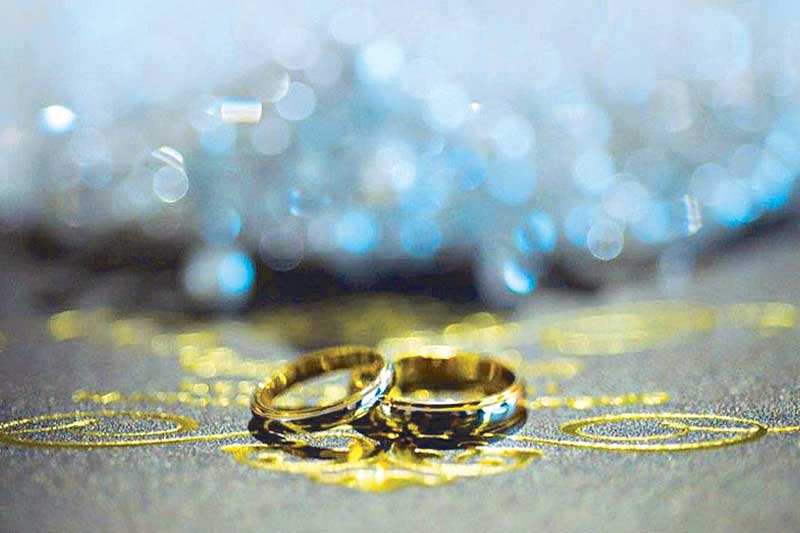 Classic two-toned wedding rings.
The brand takes the cue from the jewelry industry innovations around the world to marry modern and romantic twists in designs, and be updated with the latest techniques and services.
It believes in continuous learning and development. Besides having an in-house GIA (Gemological Institute of America)-certified gemologist grading and ensuring the quality of stones, its "webroom" in Rockwell Ortigas echoes the experiential showroom practiced by the largest online jewelry store in the world. This is the brand's way of embracing the digital world. The webroom is an extension of the digital transaction where clients can safely see, touch and wear the jewelry before purchasing. But unlike its traditional retail counterpart, the webroom fosters a relaxed and non-commission environment.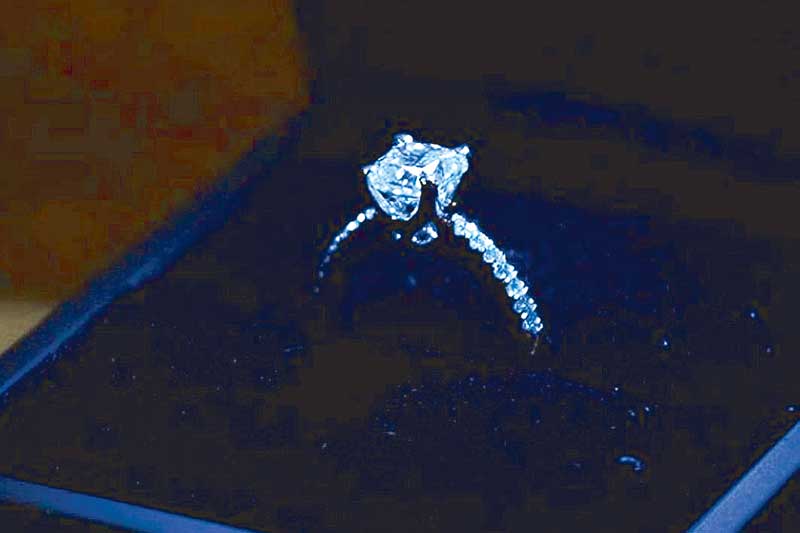 Shining under Joyeria's lighted jewelry box.
Using an array of beautiful precious stones and metals, Joyería, which literally translates to "jeweler" in Spanish, works with talented artisans from Bulacan to design homegrown pieces that are one-of-a-kind. From rings to necklaces, pendants, bracelets and more, find inspiring, even multi-way pieces that further fuel your love for the luxe.
Furthermore, Joyería has curated "The Perfect 10" Collection specifically for the Joyería Gift Card, worth P10,000 to help individuals and its corporate clients give fine jewelry to their loved ones, loyal employees, even VIP clients.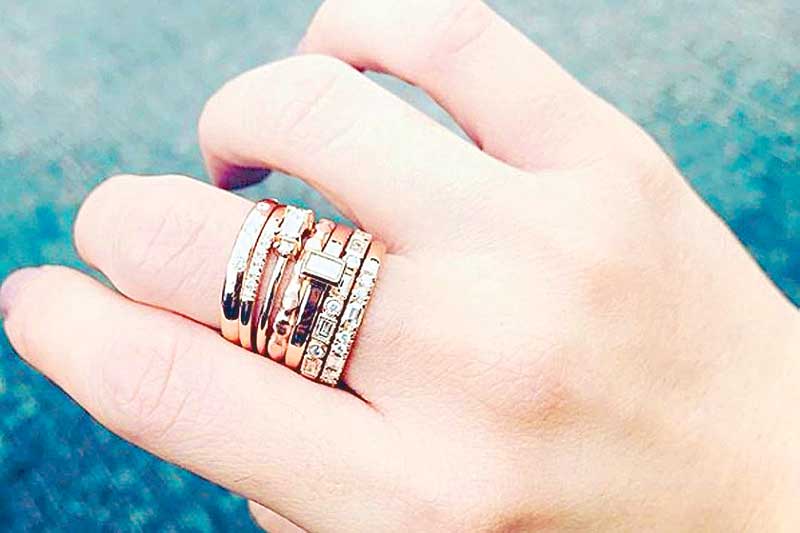 Stacks with multishaped diamonds with polished, hammered, milgrain finish.
What's more is the ripple effect that comes with every purchase of Joyería's exquisite range of tasteful everyday essentials and ornate jewlery pieces. This is the real moving force behind Joyería. It is certainly one of the main reasons why Ria shifted from her flourishing corporate career to entrepreneurship. It is wonderful to be able to share the joy (with clients) of being able to support more youth and elderly programs, church reconstructions, mass weddings, NGOs such as Sagip Buhay Foundation, Bureau of Corrections, and recently, United Nations Women campaign for Safe Cities.
(For more information, call 906-6010 or visit www.joyeriajewellery.com, @joyeriajewelleryph on Instagram and Joyería Jewellery PH on Facebook. Its webroom is located at 8F Rockwell Business Center, Ortigas.)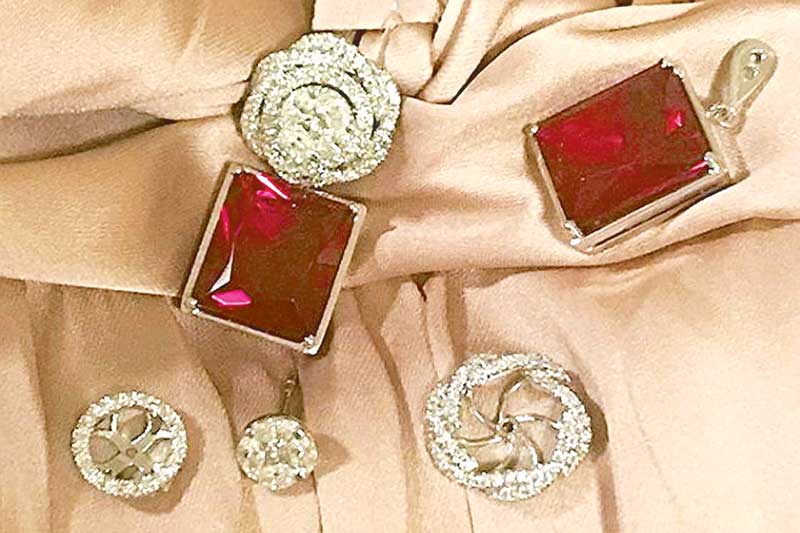 Multiway 4-looks-in-1 jacket in diamond and ruby rose earrings.