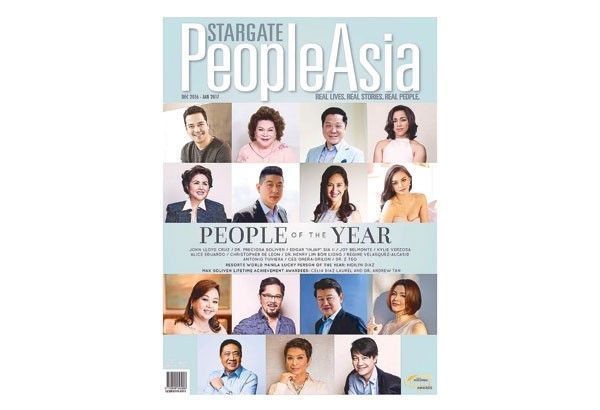 Lesson learned from this year's 'People of the Year' awardees
(The Philippine Star) - January 22, 2017 - 12:00am
The most interesting story always has something to do with the success of people — the kind that serves as an inspiration to many, the kind that warms the heart, the kind that warrants an approving nod or a silent applause from the one who reads or hears the story.
Award-winning PeopleAsia magazine presents its People of the Year awards for 2017. On its December 2016-January 2017 pages is a parade of names and faces of people who have made a difference in their lives and in the lives of others. They have made their country proud, and to some extent, they have made humanity a race to be loved, nurtured and celebrated all the more.
The two Max Soliven Lifetime Achievement Awardees lead the list of this year's People of the Year: tycoon Dr. Andrew Tan and artist Celia Diaz Laurel.
Tan, chairman of Emperador, is without letup in expanding his brandy empire with the acquisition of Spain's Fundador and Mexico's Presidente, among others. The course of his success is not without potholes.
He tells PeopleAsia in the interview: "You cannot expect things to run smoothly all the time. There are ups and downs. What matters most is how you manage yourself and get back on your feet again."
Laurel, whose story as a painter, actress, singer, and wife of the late Vice President Salvador "Doy" Laurel was recently immortalized in Days of Our Years: The Laurel Legacy, continues to write her own story. Her tale is peppered with her love for her country. She reveals in the interview with the magazine: "Whenever I have the chance to do significant for the country and people, even if I don't know what it is, I would still try to do it. Right now, I have to finish my books, and then maybe in that book I can initiate something."
Interesting stories abound in this year's batch of People of the Year. Edgar "Injap" Sia II turned Mang Inasal, a barbecue fastfood he started in 2013 with a capital of P2.4 million, into a billion-peso empire. Injap, whose favorite pastime is to "overanalyze and overthink" tells the magazine: "I don't believe in failure. Failure is too subjective. What other people may classify as failure, for me it's just a hump, a bump, a turbulence. When faced with challenges, I try to work harder to turn them around. That's why I don't have a failure bag."
Vice Mayor Joy Belmonte (daughter of former Speaker Quezon City Rep. Feliciano "Sonny" Belmonte Jr. and The Philippine STAR founder Betty Go Belmonte) is also awarded the People of the Year for her signature brand of inclusive leadership that makes waves in Quezon City. She says, "My mother fought for good values, and believed in only telling the truth; while my father believes deeply in fairness. So I was raised under that context of seeking truth and living in integrity. Both their ideals helped mold me and balance me out."
Former UNESCO-Philippines Secretary General Dr. Preciosa Soliven marks a milestone in the field of education as her OB Montessori schools celebrate their 50th year in the country. The seasoned educator and diplomat gives equal opportunity to the staff who serve her educational institution. "Our teachers, and even our janitors, are encouraged to travel. After a few years of service, they can avail themselves of incentive travel. We organize groups to go to countries like Singapore, Thailand, China and as far as Turkey, Spain and Italy," she says.
Alice Eduardo, also known as the Woman of Steel (the sobriquet is courtesy of PeopleAsia's no-nonsense and beautiful editor-in-chief Joanne Rae Ramirez), is one dynamic innovator who virtually built the foundations of the fast-rising Entertainment City with her Sta. Elena Construction. In the mantle of her success is an obvious humility when she tells PeopleAsia, "If you give me trillions and the right equipment, I can build Paris or Rome. But only God could have created the Alps."
Acclaimed broadcast journalist Ces Oreña-Drilon, who continues to be a voice of truth as both a netizen and a news anchor for Bandila, is another deserving People of the Year awardee. Her words to live by: "Credibility is the currency of journalists; in the end, you have nothing else to offer but your credibility. That's what we all aspire for, so we have to somehow continue to protect it."
Also pacesetters in this year's batch of People of the Year are Dr. Z Teo, who now serves as the CEO of the Aivee Group, one of the leading authorities when it comes to beauty; and Dr. Henry Lim Bon Liong, whose company SL Agritech helped transform the local rice industry through the development of hybrid rice varieties suitable for Philippine soil.
Entertainment and showbiz also take center stage on this year's list. Leading man John Lloyd Cruz makes the list for his critically acclaimed performance in Lav Diaz's Hele sa Hiwagang Hapis, and Ang Babaeng Humayo — both of which took the 66th Berlin Film Festival and the 73rd Venice International Film Festival by storm last year. Other awardees from the showbiz sphere are the uncrowned king of Philippine drama, Christopher de Leon, who has starred in over 130 movies, and first made history by winning the coveted Filipino Academy of Movie Arts and Sciences Best Actor award at age 17; Asia's Songbird Regine Velasquez-Alcasid, who was the first Asian solo performing artist to stage a solo concert in Carnegie Hall; and TAPE Inc.'s president and CEO Tony Tuviera, the man behind the country's longest running noontime show Eat Bulaga!, and the phenomenal AlDub love team.
Also making this year's list is beauty queen Kylie Verzosa. A previous PeopleAsia "Woman of Style & Substance" awardee and "Women of Allure" awardee, Kylie made waves when she bagged the coveted Miss International crown in Japan last year.
Taking her rightful place among the awardees is Hidilyn Diaz, who receives the Resorts World Manila's "Lucky Person of the Year." Aside from her hard work and determination, Hidilyn admits that luck also played a crucial role in her ending the country's 20-year medal drought, when she bagged the silver for weightlifting in the Rio Olympics. Her Chinese rival, then poised for a gold win, miscalculated and therefore lost her slot in the Top 3, resulting in Hidilyn's rise from bronze to silver.
People of the Year awardees will be honored in a glittering awards night at the Sofitel Philippine Plaza. Congratulations! *
(People of the Year 2017 is supported by Sofitel Philippine Plaza, Volvo, Aboitiz, ICTSI, San Miguel, Philex Mining, GAOC, Resorts World Manila, SL Agritech, Megaworld, Shell, Philippine Airlines, Coca-Cola and Jewelmer. PeopleAsia's December 2016-January 2017 issue is available in leading bookstores and newsstands nationwide. For more information, call Bong at 892-1854.)
(E-mail me at bumbaki@yahoo.com. Have a blessed Sunday!)
Photography by Sara Black, Mark Chester Ang, Mau Aguasin, Rita Marie and Dan Yusay Harvey