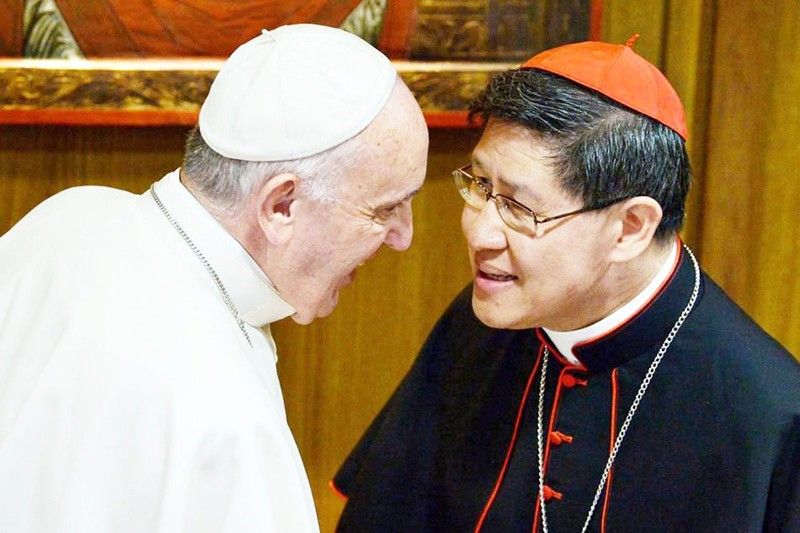 In this October 2015 photo, Pope Francis speaks with then Manila Archbishop Luis Antonio Cardinal Tagle at the Vatican.
AFP
Pope appoints Tagle to inter-religious dialogue council
MANILA, Philippines — Pope Francis named on Wednesday former Manila Archbishop Luis Antonio Cardinal Tagle as a member of the Pontifical Council for Inter-religious Dialogue at the Vatican, more than two months after he was elevated to cardinal bishop in May.
The Vatican said Tagle will be working for the promotion of inter-religious dialogue and will be responsible for promoting mutual understanding, respect and collaboration between Catholics and members of other religious groups.
It added that Tagle will also be responsible in encouraging the study of religions and promoting the formation of persons dedicated to dialogue, among other responsibilities in the Vatican.
Tagle, who became a cardinal in 2012, was appointed member to at least 10 offices in the Vatican, including the Dicastery for the Laity, Family and Life, Pontifical Council for Migrants and Itinerants and the Pontifical Council "Cor Unum," which works closely with charitable activities around the world.
Pope Francis has appointed Tagle as prefect for the Congregation for the Evangelization of Peoples in the Vatican.
Manila Auxiliary Bishop and Apostolic Administrator of the Archdiocese of Manila Broderick Pabillo said they are happy with his new appointment as a Filipino cardinal in the Vatican.
"Now that he is in Rome, he can participate more in the work of the dicastery there," Pabillo said.
Retired Sorsogon Bishop Arturo Bastes said Tagle is a good choice for the position as someone who came from Asia that is home to major religions of the world.
Bastes added that Tagle's position in the Vatican is also a factor for his appointment.
"He is in charge of bishops in 'mission territories' where non-Christians are the majority of the population. Hence, as Cardinal of this Vatican Congregation, he must be a member of the Pontifical Council on Religious Dialogue," he added.
Retired Archbishop Antonio Ledesma said that Tagle's new role sends a message to the Philippine church for the new evangelization.