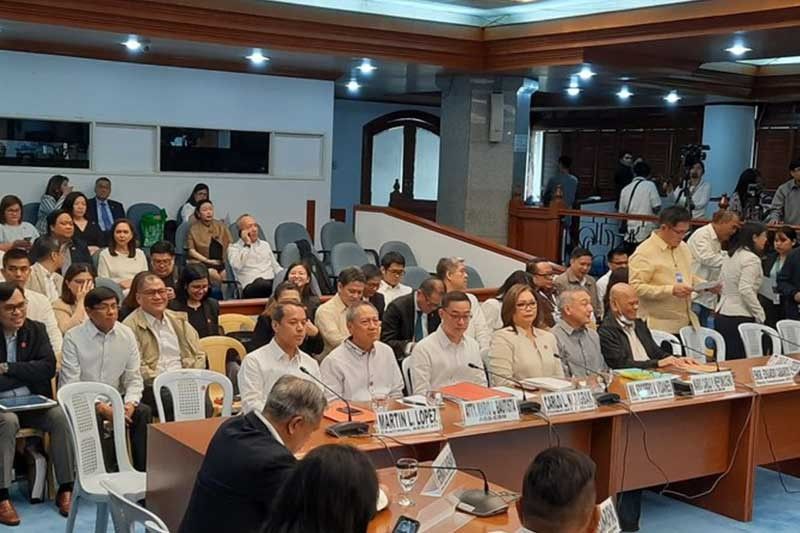 This Feb. 24, 2020 photo shows executives of ABS-CBN Corp. attending the Senate hearing on the broadcasting giant's franchise.
The STAR/Paolo Romero
Senators maintain nothing wrong, unconstitutional with ABS-CBN franchise hearing
MANILA, Philippines — A Senate panel proceeded with its own hearing on the legislative franchise of ABS-CBN Corp. and the network's supposed violations Monday, maintaining that there is nothing wrong and unconstitutional with the inquiry.
"Madaming gustong pumigil sa pagdinig na ito o kinukuwestiyon ang pagdinig na ito. Naninidigan ang Senado sa kapangyarihan nito bilang kapantay na sangay ng gobyerno," Sen. Grace Poe, chair of the committee on public services, said as she opened the inquiry.
(Many want to stop the conduct of this hearing or are questioning this hearing. The Senate stands by its authority as a co-equal branch of the government.)
She added: "We need to know the truth and we need the public to hear it."
Senators took turns explaining why the hearing is in order while the matter is still pending in the House of Representatives.
Earlier, Speaker Alan Peter Cayetano said the Senate would violate the Constitution should it hold a hearing on ABS-CBN franchise without waiting for the House of Representatives.
It was not until Monday morning that the House started its proceedings on the franchise renewal of ABS-CBN. The House committee on legislative franchises will start gathering position papers on the media company's franchise renewal.
Senate Majority Leader Juan Miguel Zubiri said the Senate panel, under its oversight function, may listen to the complaints or possible violations of franchise.
"By practice, by tradition and by precedence we have discussed and debated on committee level issues on the budget which should emanate from the House as well as tax measures that can be discussed on committee level simultaneously with the House provided that we do not approve committee report ahead of the House," Zubiri said.
Senate Minority Leader Franklin Drilon cited the case of Tolentino v. Secretary of Finance, which said that Constitution does not prohibit the Senate from hearing a proposed legislation in anticipation of its receipt of the bill from the lower house.
He also noted lawmakers have few session days to deliberate the matter before the franchise of ABS-CBN expires on March 30.
"It is for that reason both from the legal and practical standpoint that we're holding his hearing," Drilon said.
Jurisdiction issues
Sen. Francis Tolentino, a member of the administration PDP-Laban party, cautioned the hearing may violate the separation of powers.
"The Supreme Court has already assumed jurisdiction of the petition filed by the solicitor general. Dahil meron na isang kasong dinidinig at sumagot na ang ABS-CBN. Hindi ba po kaya tayo ay sasalungat doon sa prinsipyo ng sub judice, separation of powers?" Tolentino said.
(Because there is already a case being heard, wouldn't we going against the principles of sub judice and separation of powers?)
"Out of respect to a co-equal branch of government, the Supreme Court for that matter. Isn't it correct and judicious to defer to the highest tribunal in so far as the ABS-CBN issue is concerned?" he asked.
Solicitor General Jose Calida accused the network of violating its franchise law and had asked the Supreme Court to revoke its franchise in a quo warranto petition.
Citing various decisions, Poe stressed that judicial proceedings do not preclude Senate hearings in aid of legislation.
"We should have more confidence on our justices. The reason why there is probably an issuance of gag order is supposedly they would not be unduly influenced," Poe said.
She added: "But let us also trust they have good judgment. That it doesn't mean that discussions are going on and they hear it, they will immediately forego what's actually written in law or replace it with popular opinion."
The committee chair also said SC justices were resource persons in the House hearings to impeach Chief Justice Maria Lourdes Sereno. The high court later voted to void her appointment.
As It Happens
LATEST UPDATE: March 5, 2020 - 11:42am
President Duterte threatens not to renew ABS-CBN's franchise, his latest in what critics call a string of verbal attacks against dissenting media.
March 5, 2020 - 11:42am
Labor unions with Bukluran ng Manggagawang Pilipino will march to the ABS-CBN compound in Quezon City on Friday, March 6, in a show of solidarity with the network's employees and talents, BMP says in a release.
Among those marching will be union members from St. Luke's Medical Center Bonifacio Global City and University of Santo Tomas Hospital, who BMP says "will extend their support and called on the Duterte administration to protect the workers facing job insecurity."
BMP "calls on workers to unite against the threat of unemployment as it may lead to desperate and futile actions such as the hostage-taking by former security guard Alchie Paray, which could only amplify the sorry plight of contractual workers but would not put an end to the anti-labor scourge of contractualization."
March 4, 2020 - 3:42pm
Speaker Alan Peter Cayetano announces that the House committee on franchises will start a hearing on the legislative franchise of broadcast giant ABS-CBN on March 10.
The hearing is set four days before the lower chamber of Congress goes on a recess on March 14. ABS-CBN's franchise will expire on May 4.
February 27, 2020 - 4:38pm
The House of Representatives missed its chance to lead the initiative to renew the ABS-CBN franchise, a think tank says.
"Today it can be said: The entire Duterte establishment except Congress has already endorsed the renewal of the ABS-CBN franchise. Its major pillars are now openly supporting the renewal for the sake of the network's employees —Senator Bong Go and Davao City Mayor Sara Duterte," Terry Ridon of Infrawatch PH says.
"President Rodrigo Duterte has also declared that the onus is on no one else but Congress. There is thus absolutely no more reason for Congress to delay deliberations. It is now time to decide whether to approve or reject the franchise. It has dropped the ball far too long, and it is now time to pick it up," Ridon a former House member and member of the panel on legislative franchises, says.
February 27, 2020 - 3:48pm
Media giant ABS-CBN says they are grateful to President Rodrigo Duterte for accepting their apology.
"We will coordinate with the President's office as it relates to his guidance on donating the refund to a charitable institution," the Kapamilya network says.
"ABS-CBN remains to becoming a better organization and to provide a more meaningful service to Filipinos," it adds.
February 27, 2020 - 1:47pm
The Department of Justice tells the National Telecommunications Commission that "there is sufficient equitable basis to allow broadcast entities to continue operating while the bills for the renewal of their respective franchise remain pending with Congress."
The NTC earlier sought guidance from the Justice department on the congressional franchise of ABS-CBN.

News5 reports that DOJ's legal guidance, signed by Justice Secretary Menardo Guevarra, adds that a "more stable legal environment could be created if Congress, by a concurrent resolution, would authorize the NTC to issue a provisional authority to these broadcasting companies."