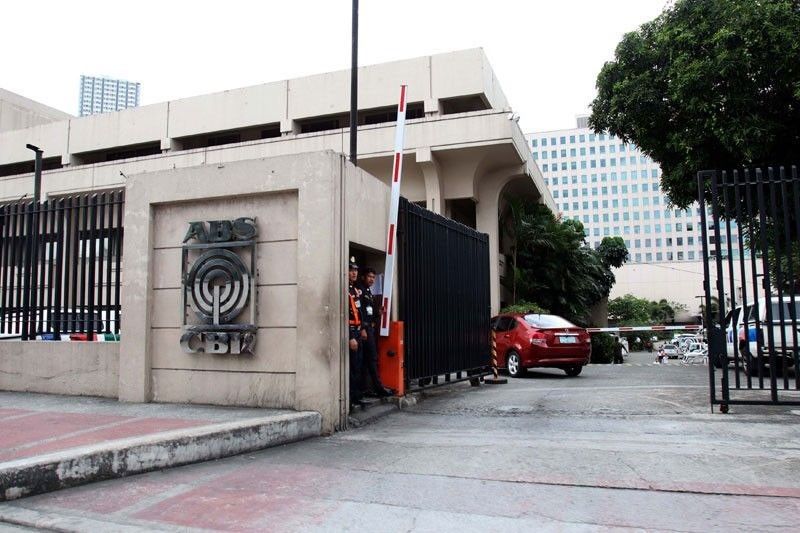 This Feb. 10, 2020 photo shows the Sgt. Esguerra gate of broadcast giant ABS-CBN in Quezon City.
The STAR/Boy Santos
House studying position papers to begin ABS-CBN franchise proceedings
Franco Luna
(Philstar.com) - February 24, 2020 - 11:03am
MANILA, Philippines (Updated 11:27 a.m.) — A committee at the House of Representatives will begin proceedings on the ABS-CBN Corporation's long-delayed franchise, a lawmaker said Monday.
As the lower chamber finally starts the much-anticipated hearings, Rep. Franz Alvarez (1st district Palawan), who chairs the Committee on Legislative Franchises, said the panel would first have to study position papers on both sides.
"Pagkatapos ng konsultasyon natin kay Speaker Cayetano at sa ibang liderato, umpisahan ngayong araw 'yung proceedings," he said in an interview on morning show "Umagang Kay Ganda."
"Pagkakuha ko ng position papers, pag-aaralan. Tulad ng sinabi ni Speaker Cayetano May o August po talaga. Marami po ito hindi po kayang matapos agad."
(After consulting with Speaker Cayetano and other leaders, we will begin the proceedings today. After getting the position papers, we will study it. Like Speaker Cayetano said, we can tackle it May or August. These are many so we can't finish it right away.)
Alvarez said that the House was coordinating with the National Telecommunications Commission to ensure that the broadcast giant could continue its operations for the time being as its franchise renewal bid is tackled.
In an earlier interview with ANC's "Early Edition" Alvarez was quoted as saying that the pending bills could not move forward because, "in exact words, wala pang clearance sa itaas (there is no clearance from above)."
"That's why he's restrained from these bills," Rep. Rufus Rodriguez (Cagayan de Oro) said.
The Senate, meanwhile, already set a hearing on Monday to discuss the measure, which angered House Speaker Alan Peter Cayetano, who said it was unconstitutional.
On February 10, the Office of the Solicitor General accused the network of "unlawfully exercising their legislative franchises under Republic Act No. 7966 and Republic Act No. 8332" by, among other allegations, operating the Kapamilya Box Office pay-per-view service.
In December 2019, Cayetano announced that Congress would no longer be tackling the pending bills within the year, saying they would still have enough time to do so in 2020.
Despite admitting he had a personal vendetta with the network, Cayetano promised that he would ensure the issue would be given a fair and impartial hearing.
Congress only has until March 11 left to tackle the many bills, while ABS-CBN Corp.'s legislative franchise is set to expire on March 30, at which point they would possibly be forced to close up shop.
As It Happens
LATEST UPDATE: March 5, 2020 - 11:42am
President Duterte threatens not to renew ABS-CBN's franchise, his latest in what critics call a string of verbal attacks against dissenting media.
March 5, 2020 - 11:42am
Labor unions with Bukluran ng Manggagawang Pilipino will march to the ABS-CBN compound in Quezon City on Friday, March 6, in a show of solidarity with the network's employees and talents, BMP says in a release.
Among those marching will be union members from St. Luke's Medical Center Bonifacio Global City and University of Santo Tomas Hospital, who BMP says "will extend their support and called on the Duterte administration to protect the workers facing job insecurity."
BMP "calls on workers to unite against the threat of unemployment as it may lead to desperate and futile actions such as the hostage-taking by former security guard Alchie Paray, which could only amplify the sorry plight of contractual workers but would not put an end to the anti-labor scourge of contractualization."
March 4, 2020 - 3:42pm
Speaker Alan Peter Cayetano announces that the House committee on franchises will start a hearing on the legislative franchise of broadcast giant ABS-CBN on March 10.
The hearing is set four days before the lower chamber of Congress goes on a recess on March 14. ABS-CBN's franchise will expire on May 4.
February 27, 2020 - 4:38pm
The House of Representatives missed its chance to lead the initiative to renew the ABS-CBN franchise, a think tank says.
"Today it can be said: The entire Duterte establishment except Congress has already endorsed the renewal of the ABS-CBN franchise. Its major pillars are now openly supporting the renewal for the sake of the network's employees —Senator Bong Go and Davao City Mayor Sara Duterte," Terry Ridon of Infrawatch PH says.
"President Rodrigo Duterte has also declared that the onus is on no one else but Congress. There is thus absolutely no more reason for Congress to delay deliberations. It is now time to decide whether to approve or reject the franchise. It has dropped the ball far too long, and it is now time to pick it up," Ridon a former House member and member of the panel on legislative franchises, says.
February 27, 2020 - 3:48pm
Media giant ABS-CBN says they are grateful to President Rodrigo Duterte for accepting their apology.
"We will coordinate with the President's office as it relates to his guidance on donating the refund to a charitable institution," the Kapamilya network says.
"ABS-CBN remains to becoming a better organization and to provide a more meaningful service to Filipinos," it adds.
February 27, 2020 - 1:47pm
The Department of Justice tells the National Telecommunications Commission that "there is sufficient equitable basis to allow broadcast entities to continue operating while the bills for the renewal of their respective franchise remain pending with Congress."
The NTC earlier sought guidance from the Justice department on the congressional franchise of ABS-CBN.

News5 reports that DOJ's legal guidance, signed by Justice Secretary Menardo Guevarra, adds that a "more stable legal environment could be created if Congress, by a concurrent resolution, would authorize the NTC to issue a provisional authority to these broadcasting companies."