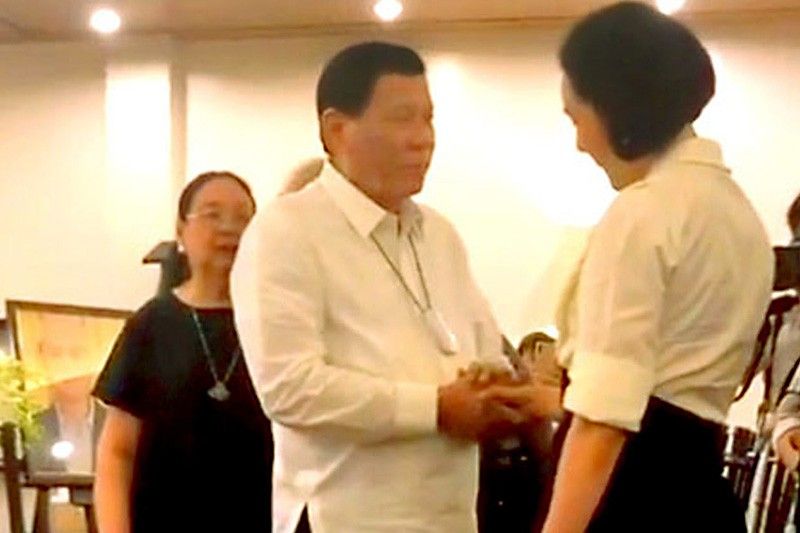 Instagram image posted by Claudine Barretto shows President Duterte condoling with Gretchen prior to a scuffle at the wake of the family patriarch at the Heritage Memorial Park in Taguig City last Wednesday.
No end in sight to Barretto family feud
Ricky Lo
(The Philippine Star) - October 19, 2019 - 12:00am
MANILA, Philippines – Even as the remains of Miguel Barretto, patriarch of the Barretto family, were cremated (as scheduled) last night at The Heritage in Taguig City where the wake was held, there appears to be no end to the long-running feud among the family members, waged in newspapers, TV and social media.
Miguel, who in his teenage years appeared in a few movies by Sampaguita Pictures, died last Tuesday at 82 after more than two weeks at the St. Luke's Medical Center (SLMC) in Bonifacio Global City where he was confined following a stroke he suffered while celebrating his birthday hosted by his daughter Marjorie Barretto at her home. Marjorie is fighting with sister Gretchen Barretto who has also been estranged from her parents, particularly family matriarch Inday Barretto who, at 80, is suffering from lupus. The protracted family feud could have been put to an end when Gretchen and company showed up Wednesday night at the wake in Heritage. Dressed in a white shirt with rolled-up sleeves over black pants, she walked quietly towards the flower-covered casket. Along the way, she greeted President Duterte who arrived with Sen. Bong Go and presidential spokesman Salvador Panelo, before giving mom Inday a tight hug, prompting their sister Claudine to rejoice on social media that they were one whole family again. She spoke too soon.
At this juncture, Duterte called Marjorie and tried to patch things up between her and Gretchen. Instead of obeying, an eyewitness told The STAR that the sisters engaged in a heated word war, unmindful of the presidential presence. Soon, the eyewitness added that other members of the family joined the scuffle, leaving the few mourners around (place was sealed off for the duration of the President's visit) helpless, with Gretchen and niece Nicole "pulling each other's hair" and Claudine "slapping Marjorie."
Inday was screaming "Stop it! Stop it!" along with other mourners, but the sisters wouldn't listen.
After only six minutes, Duterte was escorted out by the Presidential Security Group. Late that same night, he got involved in an accident when the motorcycle he was driving around Malacañang grounds skidded. He was reported to have sustained a mild hip injury that didn't stop him from attending to his schedule the following day.
Marjorie, on her Instagram account, later apologised to the President for dragging him into the mess.
It was reported Thursday night that Marjorie (on one side with her two children) and Claudine clashed again when Claudine was allegedly "barred" by Marjorie from entering Heritage.
During the commotion, Inday fainted and Edu Manzano comforted her. In a while, she got well and there was no need to rush her to a nearby hospital. Claudine was allegedly brought to the hospital for an undisclosed reason. That same night, Gretchen was spotted at a (wedding) party. She is scheduled to go abroad today, presumably to San Francisco to visit her daughter Dominique, her daughter by Tony Cojuangco.
As the patriarch was being laid to eternal peace, Gretchen and Marjorie yesterday continued their war on social media, swapping accusations that brought up dirty linen in public, promising to hit each other harder even as they threaten to file libel suits against each other.
Friends of the Barrettos are hoping against hope, praying that the sisters will come to their senses and bury the hatchet.