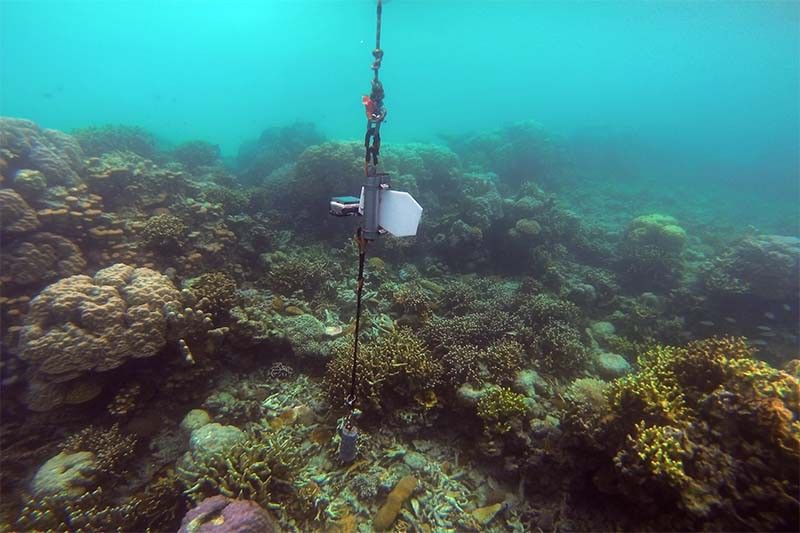 This image shows A Rapid Assessment Instrument for Coastal Benthic Habitats or ARAICoBeH, seen as an alternative to scuba diving method.
Photo from Patrick Lawrence Cadeliña
Filipinos develop 'painless' way to capture coral reefs images without diving, thanks to 'ARAICoBeH'
MANILA, Philippines — "ARAICoBeH is no longer your typical 'hugot' line," the Philippine Biology Conferences said Wednesday.
This after Filipino researchers from the Marine Science Institute of the University of the Philippines Diliman and Technische Universität München have developed a tool used to capture underwater images of coral reefs without the need to dive.
Researchers Caryl Benjamin, Patrick Lawrence Cadeliña, Aletta Yñiguez, Cesar Villanoy called this tool ARAICoBeH or A Rapid Assessment Instrument for Coastal Benthic Habitats.
Cadeliña this week also announced over social media that ARAICoBeH is "now an officially accepted scientific term."
This sparked interest from netizens as the Facebook post now garnered more than 1,500 shares and over 2,200 reactions. But what is ARAICoBeh?
ARAICoBeH, an alternative to scuba diving method
According to Cadeliña, the system is a low-cost tool used to collect lots of images underwater, primarily coral areas so they can assess their status and eventually visualize by mapping them out.
"ARAICoBeH System set of equipment that we aimed to be a low-cost, high area coverage for a short amount of time; but having almost the same accuracy with data collected using scuba diving method," Cadeliña told Philstar.com in an online interview.
To determine the tool's accuracy the researchers conducted a comparative study between ARAICoBeH and the frequently used underwater photo transect method.
The study showed that "there were no significant differences in estimates of percent coral cover and diversity of benthic functional groups for majority of sites while estimates of community structure were very similar."
The system was developed by the end of 2014 during the course of the two national reef assessment programs -- Coral Reef Visualization and National Assessment for Coral Reef Environments. These were funded by the Departments of Environment and Natural Resources and Science and Technology, respectively.
"During the said projects, we were tasked to map out as much as coral areas as possible. However, we're primarily limited by our dive times since we cannot stay underwater for that long (more than an hour) and that deep (covering 5-15 meters deep). We wanted to cut the time for us to collect data, hence we thought of this as an alternative," Cadeliña said.
The study stated that obtaining information on community structure and spatial distribution of benthic habitats are important in marine conservation and management.
"Coral areas, often monitored by trained scuba divers, are of importance for the ecosystem goods and services they provide," it added.
At present, Cadeliña told Philstar.com that they are the only ones who are using the tool for now since it is only housed at the UP Marine Science Institute. They are, however, looking into producing more of ARAICoBeH in the future.
"We're now developing other means of measuring coral reef health aside from the standard percentage cover. Also as I mentioned before, we're still developing a cleaner, more friendly companion code for data processing, as well as guides in using the system so that we can share this technology to everyone," Cadeliña said.
The ARAICoBeh study was published at a leading global scientific, technical and medical portfolio, Springer last September 14.