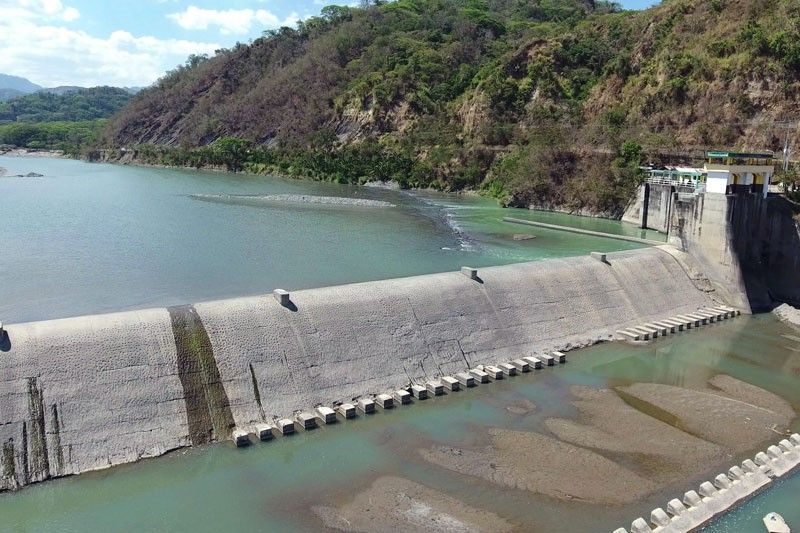 Photo shows the Chico River pump irrigation project in Kalinga.
Walter Bollozos
Duterte may discuss with Xi harassment of Pinoy fishermen
DAVAO CITY , Philippines — President Duterte may discuss reports of alleged harassment by Chinese coast guards of Filipino fishermen during his talk with Chinese President Xi Jinping at the Second Belt and Road Forum next month in Beijing.
"Most likely that will be raised as an issue if validated – the alleged new harassment," presidential spokesman and chief legal counsel Salvador Panelo said.
"Our fishermen were no longer being driven away. A video came out; now my
question is: is it the latest? If it's the latest, we will protest and tell them to correct, better to stop it. That's our position," he said over radio dzRH yesterday.
He was referring to a video documentary of Filipino fishermen in Masinloc complaining about Chinese harassment at Panatag Shoal. Bayan Muna chairman Neri Colmenares posted the video in his Facebook account.
"Government could not allow it that the fishermen will be treated that way," Panelo said. "Kailangang matuldukan iyan (We have to put an end to this)."
He said even if China appears to be in control of the West Philippine Sea, the Chinese cannot just do anything they want to Filipino fishermen as the latter have been fishing in the area even before the arbitral court ruling in 2016 invalidating China's massive maritime claim.
"We will not allow our fishermen to be harassed. We will not enforce it through war; we will not be risking the lives of our soldiers there. So maybe we can invoke the arbitral ruling through negotiation. That's what we will do," he said.
He added the coast guard has been asked to make a report on the alleged cases of harassment.
In a separate interview, Panelo said China cannot take over Recto (Reed) Bank in case of Philippine loan default, contrary to pronouncement made by Senior Associate Justice Antonio Carpio.
Panelo said he was citing a legal precedent raised by Carpio himself in the case of Chavez vs. Public States Authority to address concerns regarding a public property being converted into patrimonial property.
"Now, Reed Bank is public property, because it is the government's; and under the Constitution if it's inalienable property – it is a public property – hindi puwedeng ibigay yun, hindi puwedeng ibenta (can't be sold or given away)," Panelo said.
"So, (Justice Carpio's) claim cannot be done because there is no declaration that Reed Bank is patrimonial property," Panelo added.
Farfetched
Meanwhile, the likelihood of the country being forced to surrender potential gas and oil resources in Recto Bank to China in case of default in payment of its $63-million loan is farfetched, Justice Secretary Menardo Guevarra said yesterday.
"It's rather farfetched because there are usually mechanisms in the event of delay or failure to pay, such as loan restructuring, arbitration and other options," he stressed.
The Department of Justice chief also pointed out that international loan agreements should not be compared to ordinary commercial loan setups.
"Sovereign nations, especially this with bilateral economic cooperation agreements, don't behave like private loan sharks," he pointed out.
While he has not reviewed the loan agreement, Guevarra appealed to critics to give it a presumption of regularity as the Duterte administration would not allow agreements with another country to be disadvantageous to the government.
Guevarra issued the statement after Carpio warned last Friday that China could seize natural gas deposits in Recto Bank if the Philippines is unable to pay its loan with China under an agreement forged in April last year.
"In case of default by the Philippines in repayment of the loan, China can seize, to satisfy any arbitral award in favor of China, 'patrimonial assets and assets dedicated to commercial use' of the Philippine government," the magistrate explained.
Carpio presented photos of several paragraphs of the loan agreement at a forum.
He explained that the term "patrimonial assets and assets dedicated to commercial use" includes the oil and gas in the Philippine exclusive economic zone (EEZ) in the West Philippine Sea, such as the gas fields in Recto Bank.
The magistrate also stressed that the Philippines would be in a disadvantageous position in case of dispute because arbitration would be held in Beijing and conducted by the China International Economic and Trade Arbitration Commission using CIETAC arbitration rules.
Carpio also assailed the confidentiality clause in the loan agreement, saying it goes against the public's right to information and access to documents and papers on matters of public concern under the 1987 Constitution.
The Permanent Court of Arbitration ruled in 2016 that Recto Bank is within the Philippines' EEZ. China has refused to recognize the ruling.
A 2013 report from the United States Energy Information Administration stated that Recto Bank could hold up to 5.4 billion barrels of oil and 55.1 trillion cubic feet of natural gas.
Review loan deals
Critics of the Duterte administration's tapping Chinese loans are demanding a review of the loan agreement for the Chico River Pump Irrigation Project, with Sen. Risa Hontiveros calling it "grossly disadvantageous" to the country.
Hontiveros said Carpio was right in calling for greater public scrutiny of loan agreements with China.
"Calling these onerous provisions alarming is an understatement. Despite Malacañang's denials, it is clear as day that these loan agreements will have catastrophic results for our sovereignty, natural resources and economic security," she said.
Otso Diretso senatorial candidate Florin Hilbay, meanwhile, challenged Malacañang to provide other contracts that can prove that it is normal to use the country's natural resources as collateral for loans.
"As a constitutional law professor for 18 years, I am enraged by spokesperson Panelo's statement that it is a normal and standard practice to use our natural resources as collateral every time we borrow funds from China," Hilbay said.
He cited Article 12, Section II of the Constitution which states that "…all lands of the public domain, waters, mineral… and other natural resources are owned by the state."
"By logic, (these) should not be used by the government as collateral to get loans," the former solicitor general said.
"This is a basic concept taught in law school, which Panelo seems to have conveniently forgotten again," he added.
Another Otso Deretso senatorial bet Erin Tañada, for his part, called on the administration to look into the track record of the chosen contractor for the $211.21-million Kaliwa Dam project.
"If this administration will burden the Filipino people with this loan for this major project, the government should explain to the people: why give this job to a contractor that is blacklisted by major international agencies and organizations; why agree to submit to Chinese law and jurisdiction in case of legal disputes; why agree to allow Chinese workers to take away jobs from Filipinos in this construction project?" Tañada said.
"I ask that the government explain this to the Filipino people before proceeding with the contract," he said.
Meanwhile, film director Kip Oebanda has disputed the claim of Panelo that they used old footage in a documentary showing the harassment of Filipino fishermen by the Chinese at the Panatag Shoal.
"I am the filmmaker behind the video. Here is a behind-the-scenes footage of our shoot dated Feb. 16, 8:15 a.m. It is one month and one week old," he said. – With Edu Punay, Jess Diaz, Janvic Mateo, Christina Mendez, Cecille Suerte Felipe, Helen Flores