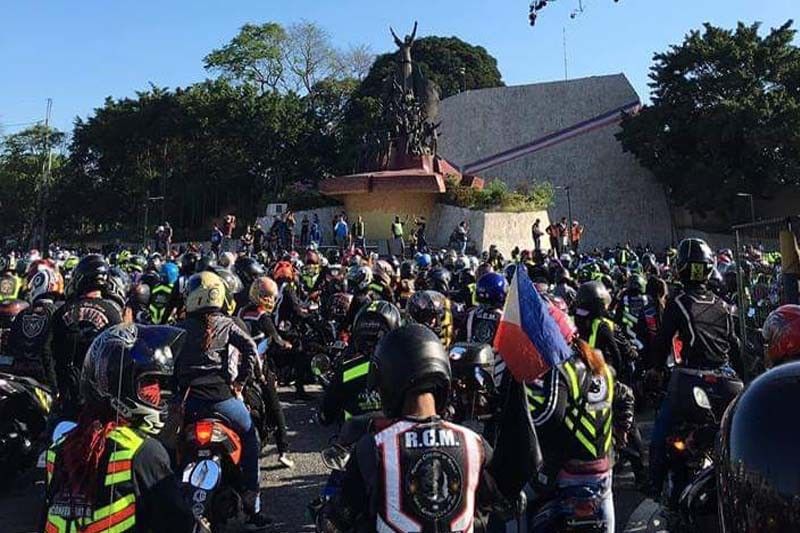 In this March 24, 2019 photo, thousands of motorcycle riders gather at the People Power Monument in EDSA, Quezon City
News5/Jen Calimon
'No to doble plaka': Thousands of motorcycle riders hold nationwide protest
(Philstar.com) - March 24, 2019 - 12:15pm
MANILA, Philippines — Thousands of motorcycle riders on Sunday conducted a nationwide simultaneous protest the implementation of the Motorcycle Crime Prevention Act (Republic Act 11235 ) or what they call the "doble plaka" law.
Around 10,000 riders joined the protest dubbed "Unity Ride" in Metro Manila.
LOOK | Lumahok ang nasa 10,000 riders sa unity ride ngayong araw para kontrahin ang batas ukol sa doble plaka. | via Jen Calimon pic.twitter.com/4TdANrRDKk

— News5 AKSYON (@News5AKSYON) March 24, 2019
The protest began in Pasay and also reached Quezon City. They gathered at the People Power Monument on EDSA. The large gathering, however, created a traffic buildup at the northbound lane from Ortigas to Santolan.
WATCH: Riders who join the Unity Ride pass along EDSA in Pasay City as an act of protest against the 'doble plaka' law that requires bigger and color-coded license plates both at the front and back of motorcycles. (Video by Edd Gumban/The Philippine STAR) pic.twitter.com/hnR51VJXG4

— The Philippine Star (@PhilippineStar) March 24, 2019
At least a thousand riders from Laguna, Batangas and Quezon also participated and held their protest at Tiaong, Quezon. Meanwhile, riders in Cebu and Zamboanga also gathered to condemn the policy in their respective cities.
LOOK: Motorcycle clubs in Cebu join Unity Ride against Republic Act 11235 which requires bigger front and rear license plates. | via Joy Torrejos pic.twitter.com/VtpP5861aa

— The Freeman (@TheFreemanNews) March 24, 2019
On March 8, President Rodrigo Duterte signed into law the bill seeking to prevent motorcycle riding criminals from getting away easily after committing a crime.
The Motorcycle Crime Prevention Act requires motorcycle riders to have bigger license plates that are readable from the front, the back and the side of the motorcycle from a distance of at least 15 meters from the motorcycle. This was to easily identify the registration of the motorcycle in a bid to curb crimes.
The Land Transportation office also ordered to devise a color scheme of the readable plate numbers for every region to determine where it is from.
The law was a consolidation of Senate Bill 1397 and House Bill 8419, which were passed on Dec. 13, 2018 and Jan. 14, 2019, respectively.
Riders, however, opposed the law saying is "discriminatory."
"We are riders, not criminals," a riders' placard read, adding that it is an abuse to them.
Motorist Motorcycle Rights Organization Chairperson Jobert Bolanos earlier expressed worry that the proposed bigger plates design may break at high speeds and pose a safety risk.
"When there's wind resistance there's bound to be failure. When there's failure, there's risk, and when there's risk may masasaktan at pwedeng makamatay (someone could get hurt and die)," Bolanos said in a DZMM Teleradyo interview last March 10.
The LTO last week said riders might still not be required to install metal license plates that riders have said may compromise the riders' safety. It added that the design for the license plates is not yet final.
Last December, riders also held a simultaneous ride protest against the law. — Rosette Adel