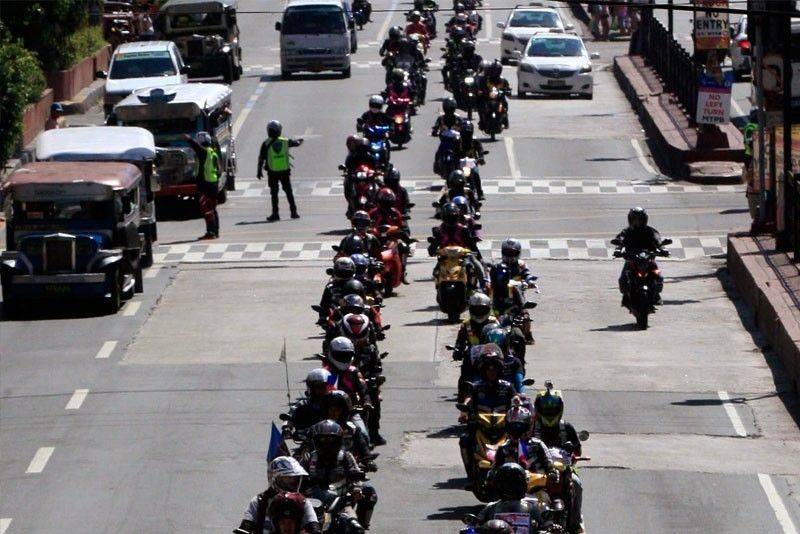 This file photo shows motorcyclists joining a unity ride from EDSA in Quezon City to Mendiola in Manila.
The STAR/Edd Gumban, File
New law requires bigger, color-coded plates for motorcycles
(Philstar.com) - March 14, 2019 - 2:50pm
MANILA, Philippines — President Rodrigo Duterte signed a law that would require motorcycles to have bigger license plates in a bid to prevent motorcycle riding criminals from getting away easily after committing a crime.
Duterte signed Republic Act 11235 or the Motorcycle Crime Prevention Act on March 8. A copy of the law was released by Malacañang on Thursday.
The new law mandates the Land Transportation Office to issue bigger and readable number plates for motorcycles. The contents of the number plates should be readable from the front, the back and the side of the motorcycle from a distance of at least 15 meters from the motorcycle.
The LTO is also ordered to devise a color scheme of the readable plate numbers for every region to easily identify where a motorcycle was registered.
Those who would drive without a number plate or a readable number plate would be punished by prision correccional (six months and one day to six years) or a fine of not less than P50,000 but not more than P100,000 or both.
A motorcycle driven without a plate number or a readable plate number would be seized by law enforcers and immediately surrender to the Philippine National Police.
Under the law, the owner, driver or passenger of the motorcycle who participated in a commission of crime would be punished by reclusion temporal (12 years and one day to 20 years) or reclusion perpetua (imprisonment for at least 30 years).
If a motorcycle is used in the commission of a crime constituting a light felony, the owner, driver, backrider or passenger would be punished by prision correccional (six months and one day to six years) to prision mayor (six years and one day to 12 years).
If the unlawful use of motorcycle would result in death or serious physical injuries, the penalty of reclusion perpetua would be imposed.
The law was a consolidation of Senate Bill 1397 and House Bill 8419, which were passed on Dec. 13, 2018 and Jan. 14, 2019, respectively.