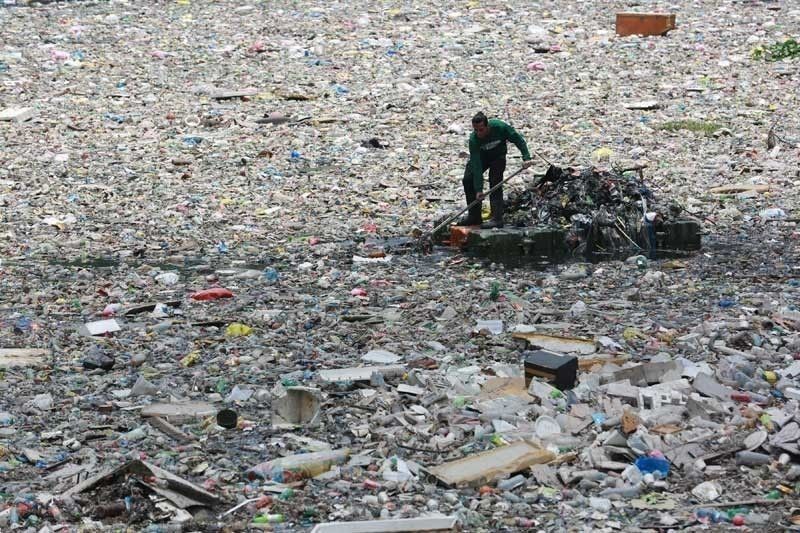 This file photo shows a man wading through the sea of trash.
The STAR/Michael Varcas, File
Filipinos throw away almost 164-M sachets daily — report
MANILA, Philippines — Almost 164 million pieces of plastic sachets are thrown by Filipinos daily, a study on the country's plastic pollution problem by the Global Alliance for Incinerator Alternatives revealed.
Annually, around 59.8 billion of pieces of sachets are used in the Philippines.
The study, which was released Thursday, also showed that an average Filipino uses 591 pieces of sachets, 174 shopping bags and 163 plastic labo bags yearly.
The use of shopping bags throughout the Philippines is at almost 57 million per day (around 20.6 billion pieces annually), while the use of plastic labo bags (smaller, thinner and often transparent plastic bags) is at 45.2 million per day (16.5 billion pieces annually).
Filipinos discard around three million diapers daily or 1.1 billion diapers per year, the report also showed.
"These figures show that the sheer volume of residual waste generated daily is beyond the capacity of barangays, cities and municipalities to manage: the problem is the huge amount of single-use plastics being produced, not the way the waste in managed," GAIA's report read.
The study also found out that organic waste comprised more than 60 percent of household waste in the country.
GAIA said that this confirmed that organic waste management is an "important" strategy that would create "substantial" waste reduction for local governments.
The data in the report was gathered through the waste assessment and brand audit tool developed by non-governmental organization Mother Earth Foundation.
The report compiled data from 21 waste assessments conducted in six cities and seven municipalities across the country. These sites are the project areas of MEF under its Zero Waste Cities project implemented by GAIA.
Call to government, corporations
The aims of the report include emphasizing the role of corporations in the global proliferation of plastic waste and reinforcing the need for these companies to accept liability for the impact of their product and the packaging in which their products are sold.
It found out that more than half of all unrecyclable residual waste discarded in the country is branded waste—with 10 companies responsible for 60 percent of all branded waste in the study sites.
"With the absence of policies mandating liability and accountability of the production of this problematic waste stream, cities and municipalities are left to deal with this problem using taxpayers' money," GAIA's report said.
It added: "This highlights the urgent need for interventions that involve manufacturers in taking responsibility for their plastic waste, primarily by drastically reducing production of throwaway plastic packaging."
The report also called on the government to institute a comprehensive national plastic bag ban that promotes reusable bags, regulate other single-use plastic products, mandate companies to redesign packaging, strengthen ban against waste incineration and order diaper companies to present viable alternatives to disposable diapers.
"Plastic is not a litter problem, it is a pollution problem, and it starts as soon as the plastic is made. Faced with no choice but plastic packaging, people are forced to be complicit in the plastic pollution crisis," it said.