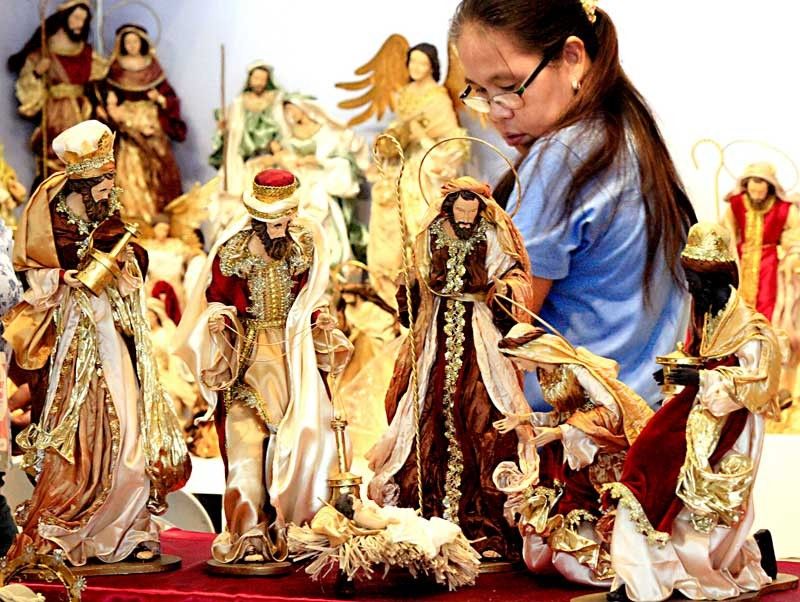 A woman arranges Nativity scene figurines at the belen booth of the World Bazaar at the World Trade Center in Pasay City yesterday.
Edd Gumban
Duterte: Hope, peace to the nation
DAVAO CITY, Philippines — President Duterte is calling on every Filipino to bring hope and peace to the country this Christmas season.
"Together let us bring hope and peace in our nation this yuletide season and we welcome the coming year with much hope and optimism," the President said in his televised Christmas message aired the other night.
The President said he is extending his heartfelt and sincerest greetings to all Filipinos, including those abroad, as the Christian world celebrates Christmas.
"Let the ideas of compassion, kindness and reconciliation guide us as we embrace our countrymen in this spirit of shared humanity," the President said.
Duterte cited the holidays as that time of the year when families and friends alike gather to celebrate the nativity of Jesus.
"Share the many blessings and demonstrate our love and gratitude for each other," the President also said.
The President said Filipinos taking part in the joyous occasion should also contemplate on the lessons from the narrative of Christ's birth.
The President is expected to spend Christmas here in Davao City as he has been doing since assuming office in 2016.