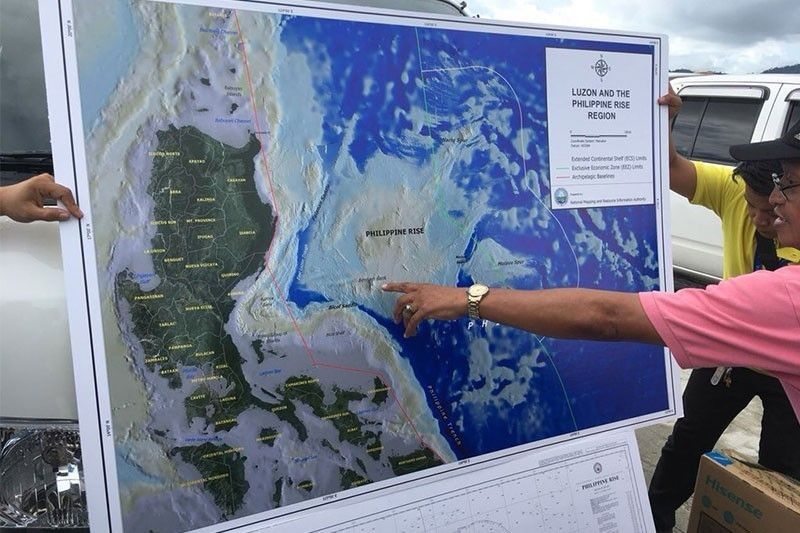 The Benham or Philippinen Rise is a seismically active undersea region and extinct volcanic ridge located in the eastern Philippine seaboard facing the Pacific Ocean.
Malacañang Pool Photo
Draft Charter asserts sovereign rights over Philippine Rise
MANILA, Philippines — Establishing clear and distinct sovereignty over the country's territory was among the highlights of the proposed federal Constitution.
The 22-member consultative committee (ConCom) tasked to review the 1987 Constitution has approved the final draft of the proposed Charter, which will be submitted to President Rodrigo Duterte.
One noticeable revision in the Article I (National Territory) of the Constitution is the inclusion of the Benham or Philippine Rise in the article.
The Philippine Rise is a 13-million hectare underwater plateau off the coast of Aurora. The region has never been subject to any maritime boundary disputes and claims.
Section 2, Article 1 of the draft federal Constitution states that:
The Philippines has sovereign rights iver that maritime expanse beyond ots territorial sea to the extend reserved to it by international law, as well as over its extended continental shelf, including the Philippine Rise. Its citizens shall enjoy the right to all resources within these areas.
The draft Constitution also asserts the Philippines' sovereignty over territories belonging to the country through historic right.
Section 1, Article 1 of the draft Charter states:
The Philippines has sovereignty over its territory, consisting of the islands ans waters encompassed by its archipelagic baselines, its territorial sea, the seabed, the subsoil, the continental shelf, and its airspace. It has sovereignty over islands and features outside its archipelagic baselines pursuant to the laws of the Federal Republic, the law of nations and the judgments of competent international courts or tribunals. It likewise has sovereignty over other territories belonging to the Philippines by historic right or legal title.
In 2012, the United Nations on the Limits of the Continental Shelf granted the submission of the Philippines to include Benham Rise as part of its extended continental shelf.
Earlier this year, Duterte ordered the halt of all marine explorations and studies by foreign scientists in the undersea region to prioritize Filipino scientists conducting research in the region.
The order, however, came after China finished its marine scientific research in the area.
While Duterte barred foreign exploration in Benham Rise, the Philippine lost its bid to reverse the approval of Chinese proposals to name undersea features as Haidongqing Seamount, Jinghao Seamount, Tianbao Seamount, Jujiu Seamounts and Cuiqiao Hill.
Related video: