Duterte wants foreigners out of Benham Rise
February 6, 2018 | 9:15am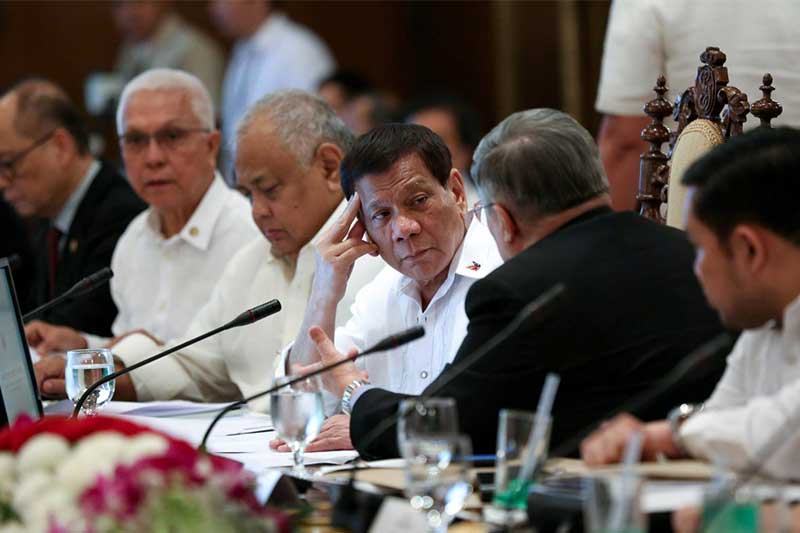 MANILA, Philippines — President Rodrigo Duterte has ordered the Philippine Navy to chase out any foreign fishing or research vessel in the Philippine Rise, also known as Benham Rise, a Cabinet official said Tuesday.
According to Agriculture Secretary Emmanuel Piñol, Duterte ordered the halt of all marine explorations and studies by foreign scientists in the underwater plateau east of Luzon during the Cabinet meeting Monday evening.
"Let me be very clear about this: the Philippine Rise is ours and any insinuation that it is open to everybody should end with this declaration," Duterte told his Cabinet members.
The Navy was ordered to deploy vessels while the Air Force was tasked to conduct flyovers in the region to check the presence of foreign groups.
The Bureau of Fisheries and Aquatic Resources was also ordered to dispatch multi-mission offshore vessels BRP Lapu-lapu and BRP Francisco Dagohoy to monitor the presence of foreign vessels in the area.
Duterte's order came after a statement from a "foreign low-level diplomat" that the Philippines does not own the whole of the undersea region, Piñol said.
"Henceforth, only Filipino scientists will be allowed to conduct researches and exploration in the Philippine Rise," Duterte said.
Aside from Navy vessels and Air Force aircraft, unmanned aerial vehicles controlled from military bases in Luzon will also monitor the developments in the region.
DFA: Research benefits Philippines
Controversy arose following reports that the Department of Foreign Affairs had allowed China to conduct marine scientific research in Benham Rise.
Foreign Affairs Secretary Alan Peter Cayetano was quick to defend this position, stressing that more research requests would be more beneficial for the country.
RELATED: DFA OKs Benham Rise study by US, Japan, Korea
Presidential spokesperson Harry Roque earlier drew flak for saying that Filipinos could not do research in the continental shelf without China's help. Roque, later on, denied saying that Filipinos do not have the financial means to conduct research in the area.
About 13 million hectares of Benham Rise has been declared as part of the Philippines' exclusive economic zone while another 12 million hectares are part of the country's extended continental shelf.
Under Paragraph 1, Article 77 of the United Nations Convention on the Law of the Sea, a state has sovereign rights over its continental shelf for the purpose of "exploring it and exploiting its natural resources."
"The rights referred to in paragraph 1 are exclusive in the sense that if the coastal State does not explore the continental shelf or exploit its natural resources, no one may undertake these activities without the express consent of the coastal State," the UNCLOS states.
RELATED: House probe into China's research in Benham Rise sought