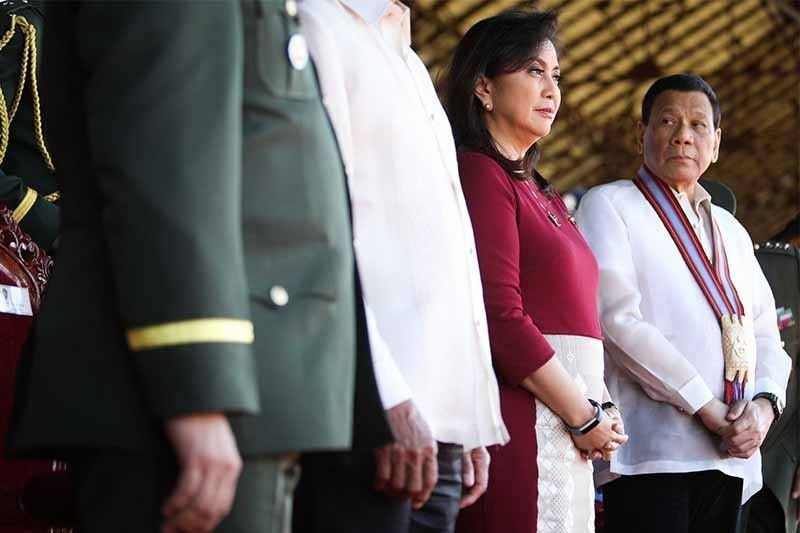 President Rodrigo Duterte and Vice President Leni Robredo attended the graduation rites of PMA Alab-Tala Class of 2018, held at Fort del Pilar, Baguio City on March 18, 2017.
Office the Vice President
Macalintal to Duterte: Yes, Idol President, Leni is VP
MANILA, Philippines — Leni Robredo is the country's vice president, and President Rodrigo Duterte should not be surprised by this as they were both elected in elections using the same ballots and counting machines, her lead election lawyer said on Wednesday.

Romulo Macalintal issued the assurance after Duterte wondered aloud on Monday if Robredo is really the vice president of the country.

Robredo is facing an election case filed by former Sen. Ferdinand "Bongbong" Marcos, who alleges that vote-counting machines were manipulated to favor her. Roredo ran under the Liberal Party, the administration party at the time.

Marcos has identified three pilot provinces where a recount of votes is being held and where the son of the late dictator must show a substantial recovery of votes for his case to proceed further.

It was reported that the vice president had supposedly lost votes because of the 50-percent threshold being observed the Supreme Court sitting as the Presidential Electoral Tribunal, a decision still being appealed against by Robredo's camp. Robredo and her lawyers argue that the 25-percent threshold used in the 2016 elections should also be used in the recount.

Speaking on Monday before government officials and congressional leaders, Duterte said" "Anyway I really want to resign from office. What is the latest count between Bongbong and (Robredo). Is she really the vice president?"

In response, Macalintal said, "Yes, Mr. Idol President, VP Leni is the vice president."

Macalintal disputed rumors that Robredo had shed thousands of votes in the election protest of Marcos and stressed that no vote for the vice president had been lost during the process.
Duterte and Robredo have had a rocky relationship.

Duterte has also expressed his preference for Marcos to succeed him as he considers the family close friends.