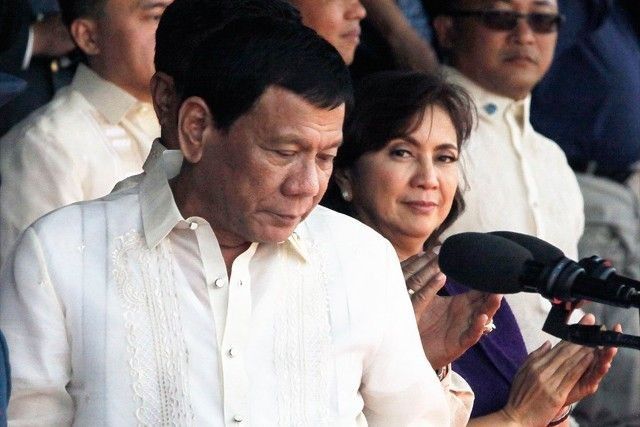 This will be the first meeting of the country's top two leaders this year. Philstar.com/File Photo
Duterte, Robredo sharing stage at PMA rites
Helen Flores
(The Philippine Star) - March 18, 2018 - 12:01am
MANILA, Philippines — President Duterte and Vice President Leni Robredo will be sharing the same stage today as they attend the graduation ceremony of the Philippine Military Academy (PMA) in Baguio City.
This will be the first meeting of the country's top two leaders this year.
Robredo and Duterte are rarely seen together in public since the Vice President was booted out of the Cabinet in 2016.
Duterte will award the Presidential Saber to PMA Alab Tala (Alagad ng Lahing Binigkis ng Tapang at Lakas) Class of 2018 valedictorian Cadet First Class Jaywardene Galilea Hontoria.
Robredo, on the other hand, will hand over the Vice Presidential Saber to Class Salutatorian CFC Ricardo Witawit Liwaden.
On Thursday, Robredo expressed alarm over Duterte's decision
to withdraw the Philippines from the Rome Statute, the treaty that created the International Criminal Court (ICC), which has started a probe into the thousands of summary killings under Duterte's war on drugs.
Robredo said the Philippines' withdrawal from the global treaty could have an impact on the international community's perception of the country.
She also said the move has removed the country's "safety net" from abusive leaders.
"This is dangerous for the future generations," she added. "The President's decision to withdraw from the ICC is alarming."
The Philippines yesterday formally informed the United Nations of its decision to withdraw from the ICC.
In a one-page note verbale sent to UN Secretary General Antonio Gutteres through his Chef de Cabinet Maria Luiza Ribeiro Viotti, the Philippines said its withdrawal from the global treaty "is a principled stand against those who politicize and weaponize human rights."