Philippines lost Sandy Cay to China, Alejano tells Cayetano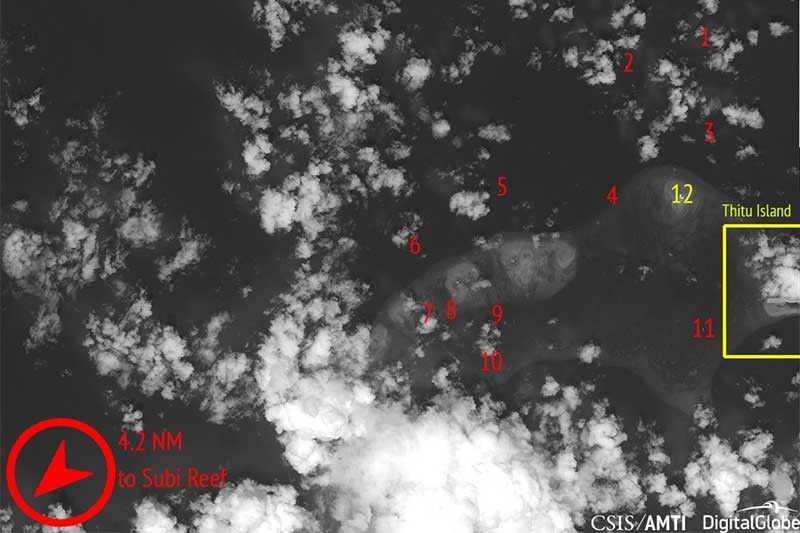 MANILA, Phillippines — Rep. Gary Alejano (Magdalo party-list) on Tuesday reminded Foreign Affairs Secretary Alan Peter Cayetano that the Philippines effectively lost control of Sandy Cay in the West Philippine Sea under the Duterte administration.
The Magdalo lawmaker was responding to the DFA secretary's challenge to prove that the country lost an island to Beijing in the time of President Rodrigo Duterte.
Alejano told Cayetano that Chinese coast guard vessels and militia fishing boats have been stationed near Sandy Cay since August last year.
"Every time Philippine government vessels patrol Sandy Cay, they are driven away by Chinese coast guard vessels. This could be likened to the situation in Scarborough Shoal in 2012 wherein our fishermen and military forces are prevented from approaching. Since then, China controlled the shoal," Alejano said in a statment.
Sandy Cay lies over 4 nautical miles from Pag-asa Island, which is part of Palawan province. The cay serves as a traditional rest and recreation area for residents and visitors of the island.
Citing Republic Act 9522, also known as the Philippine Baselines Law, Alejano said that Pag-asa Island, including Sandy Cay, is part Philippine territory under Article 121 of the United Nations Convention on the Law of the Sea.
Alejano called out Cayetano for refusing to protest the Philippines' loss of Sandy Cay to China.
"Secretary Cayetano has announced publicly that he is not filing a protest against China's seizure of Sandy Cay, which is definitely a Philippine land territory. This is an undeniable proof that Philippines lost effective control on an island during the incumbency of President Duterte and Secretary Cayetano," Alejano said.
The Department of Foreign Affairs has been criticized for not being more vocal about China's activities in the West Philippine Sea and because of the secrecy surrounding diplomacy with China, it cannot be verified whether or not the Philippines filed a formal protest.
The Magdalo lawmaker further stressed that the Philippines is slowly losing control of its territory while China is restricting the access of Filipino fishermen and challenges the Philippine military.
"Let us not wait for physical occupation of islands to happen," Alejano said.
"Sandy Cay is just one case. In a bigger picture, if our ability to patrol and supply our islands is slowly being diminished, then time will come China will have effective control of the whole West Philippine Sea. We would lose everything," he added.
Speaking in a flag-raising ceremony at the DFA on Monday, Cayetano said that he would quit public service if his critics could prove which features in the South China Sea were "lost" under the Duterte administration.
"I challenge anyone of them. Whatever their professions are — justice, politician, newsman, journalist — if we lost a single island during Duterte's time, I will pack my bags, go home and I will not serve the public in any elected or appointed position," Cayetano said.