Philippines, China draw 'red lines' in South China Sea dispute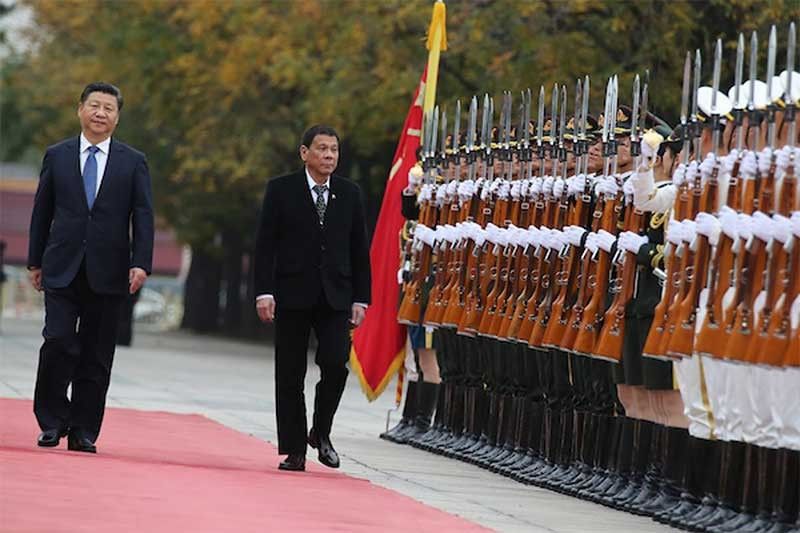 MANILA, Philippines — Both the Philippines and China have identified actions that would be deemed unacceptable in the South China Sea, the Philippines' top diplomat said Monday.
Foreign Affairs Secretary Alan Peter Cayetano said that the Philippines has informed China of some "red lines" over the disputed waterway.
"What is our red line? Our red line is that they cannot build on Scarborough [Shoal]," Cayetano in Filipino said during a flag-raising ceremony at the Department of Foreign Affairs.
The Philippines also warned China against attempting to remove the BRP Sierra Madre, a Philippine Navy ship anchored near Second Thomas or Ayungin Shoal in the West Philippine Sea.
According to Cayetano, Beijing is also not supposed to harass Filipino soldiers resupplying or repairing Manila-controlled features in the West Philippine Sea.
"Another red line for is: Nobody can get natural resources there on their own," Cayetano said.
If China breaks these conditions, President Rodrigo Duterte would be willing to wage war against Beijing.
"That's what the president said. If anyone gets the natural resources in the West Philippine Sea-South China Sea, he will go to war. He said: 'Bahala na.' He will go to war. So those were our red lines," Cayetano said.
Duterte has been consistent on his position that he does not want to go to war against China.
China's 'red line'
China, meanwhile, also set its "red line" with the Philippines such as following Section 5 of the Declaration on the Conduct of Parties in the South China Sea, which states that uninhabited features should remain uninhabited.
"Two, let us not embarass each other in front of everyone, in front of multilaterals and bilaterals. We should talk," Cayetano said.
Cayetano noted that China did not object to the ASEAN statement declaring that no country should further complicate nor militarize the South China Sea.
"It is just that they don't want to be singled out. If you were the US, if you were Russia, if you were EU, you also don't want to be singled out because you want fairness," Cayetano said.
The DFA secretary's pronouncements came days since critics have been urging the Philippine government to formally protest China's landing of an H-6K bomber on Woody Island, Beijing's largest outpost on Paracel Islands in the South China Sea.
Cayetano clarified that the dispute over the Paracels Islands is between Vietnam and China.
"When the president said it's not against us... we have to have that element of doubt because it's a democracy and we have to ask the right questions, but we also have to have trust in the president as our chief diplomat that he has more information than we do," Cayetano said.
Despite media reports and information released by independent think tanks involving China's recent deployment of missile systems and jamming equipment in the Spratly Islands, the Philippine government has only said that it is still verifying such reports.
Presidential spokesperson Harry Roque admitted that the government does not have the capability to independently confirm Beijing's deployment of weapons in the disputed features. On the other hand, the Chinese government had confirmed the deployments, which it said were meant to "safeguard China's sovereignty and security."
Related video: