Coral reef fish declared flagship species of Apo Reef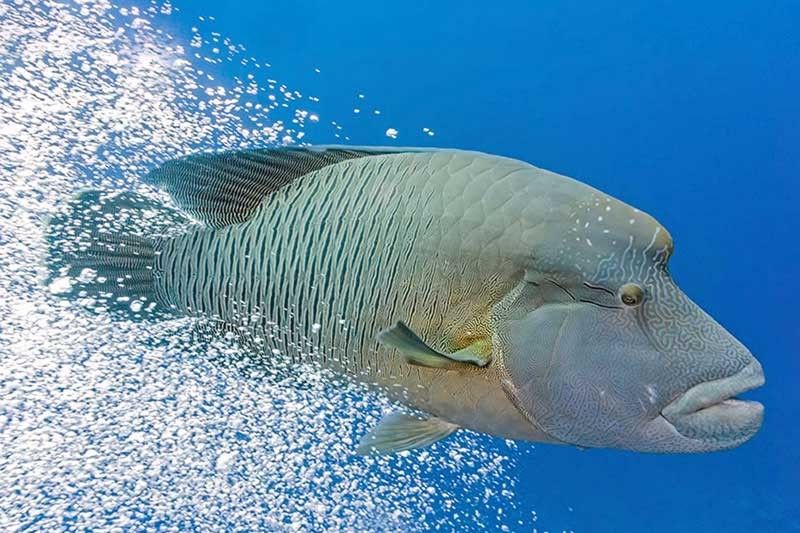 MANILA, Philippines — The coral reef fish has been declared as flagship species of the world famous Apo Reef Natural Park off Occidental Mindoro.
The Department of Environment and Natural Resources (DENR) Protected Area Management Board approved a resolution on May 10 declaring the Napoleon wrasse (Cheilinus undulates), locally known as Mameng, as flagship species.
"The declaration will boost efforts to protect and conserve not only the Apo Reef, but more importantly the rich biodiversity that thrive in the protected area," Environment Secretary Roy Cimatu said.
Napoleon wrasse is one of the largest reef fish and the biggest of the wrasse family, Labridae. It has thick lips and a bulbous hump on the forehead.
The reef fish is marked by green and blue hues with elongated dark spots on scales and two distinct lines stretching from each eye. It may grow up to six feet long and weigh up to 200 kilograms.
The fish is commonly found on steep coral reefs in the Indo-Pacific region, which include areas in Southeast Asia like the Philippines' Sablayan in Occidental Mindoro.
It feeds on toxic animals such as crown-of-thorns starfish.
Contrary to its masculine name, Napoleon wrasse is hermaphrodite, which means some females can become males once they reach sexual maturity.
As a flagship species, Napoleon wrasse will serve as the symbol of conservation of the Apo Reef Natural Park.
"We consider Napoleon wrasse as the guardian of the reef. It is a key player in maintaining balance and vibrancy of marine ecosystem in Apo Reef," park area chief Celso Almazan said.
Almazan said the Apo Reef Natural Park owes its pink sand to the Napoleon wrasse as it feeds on mollusks, fish, sea urchins, crustaceans and other invertebrates.
Almazan said these are secreted by the fish as organic materials which, over a period of time, mix with fragmented rock and mineral particles to form sand.
Napoleon wrasse is listed in the Convention on International Trade in Endangered Species of Wild Flora and Fauna or CITES Appendix II.
It is also listed by the International Union on the Conservation of Nature as endangered based on a population reduction of at least 50 percent over the last 30 years.