China claims 'natural right' to put troops, equipment on Spratlys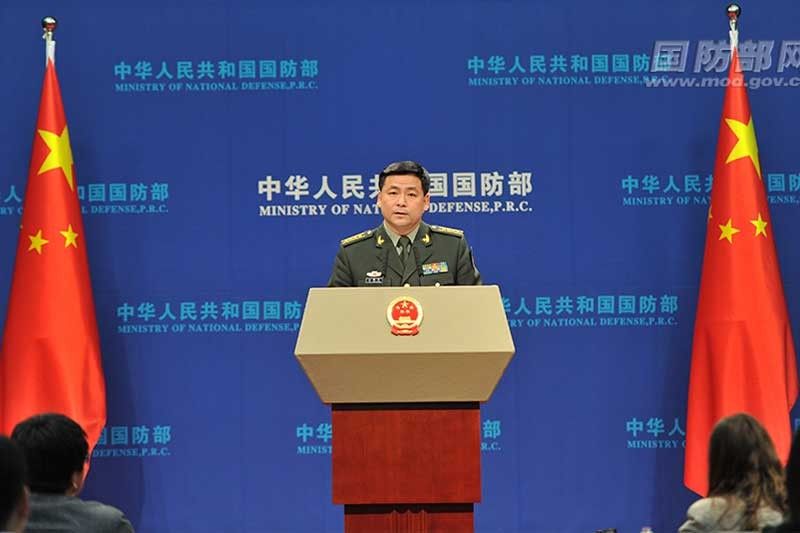 MANILA, Philippines — Following reports that Beijing has deployed military equipment in the Spratly Islands, a Chinese Defense official stressed China's sovereignty over the region, part of which Manila claims as part of the West Philippine Sea.
People's Liberation Army Senior Colonel Ren Guoqiang, spokesperson of the Chinese Ministry of Defense, said that the Spratly Islands or what the Chinese call "Nansha," are part of China's territory.
"It is the natural right of a sovereign state for China to station troops and deploy necessary territory defense facilities on the relevant islands and reefs of the Nansha Islands," Ren said in a statement released Tuesday.
RELATED: China deployed jamming equipment in Spratlys — Pentagon
Ren stressed that China's military installations on its artificial islands are not directed against any country.
"It is conducive to safeguarding the state's sovereignty and security, ensuring the freedom and security of navigation channels in the South China Sea, and maintaining regional peace and stability," he said.
Beijing will continue to pursue a national defense policy that would be defensive in nature and a military strategy of active defense, the Chinese Defense official added.
Earlier this week, the Wall Street Journal reported that Beijing has installed new jamming equipment in the past 90 days on Fiery Cross Reef and Mischief Reef.
Such equipment would be capable of jamming communications and radar systems, further asserting Beijing's extensive territorial claims over the disputed waters
US Defense Department: Jamming equipment is for military use
"While China has maintained that the construction of the islands is to ensure safety at sea, navigation assistance, search and rescue, fisheries protection and other nonmilitary functions, electronic-jamming equipment is only for military use," a US Defense Department official told Wall Street Journal.
Amid Beijing's claim that it has sovereignty over the Spratly Islands, a United-Nations backed tribunal had already invalidated its nine-dash line claim over the South China Sea.
The landmark ruling indicated that China violated its commitment under the UN Convention on the Law of the Sea to protect and preserve the marine environment on South China Sea features including Fiery Cross Reef. China has conducted dredging, artificial island-building and construction activities on the Manila-claimed reef.
The arbitral tribunal had concluded that Fiery Cross Reef is a rock, which appears during high tide but cannot sustain habitation or economic life but is allowed a 12-nautical mile territorial sea.
Mischief Reef, on the other hand, was considered a low-tide elevation within the exclusive economic zone and continental shelf of the Philippines. It is located within 200 nautical miles of the country's coast on the island of Palawan.
The UN-backed tribunal also ruled that Beijing violated Manila's sovereign rights by interfering with petroleum exploration and prohibiting fishing by Philippine vessels within the area of Mischief Reef, which is part of the country's EEZ.
As Beijing refused to acknowledge the tribunal award, President Rodrigo Duterte chose to seek dialogue with China, setting aside the ruling which invalidated China's expansive claims in the South China Sea.
RELATED: How the Hague court ruled on the Philippines's 15 arguments