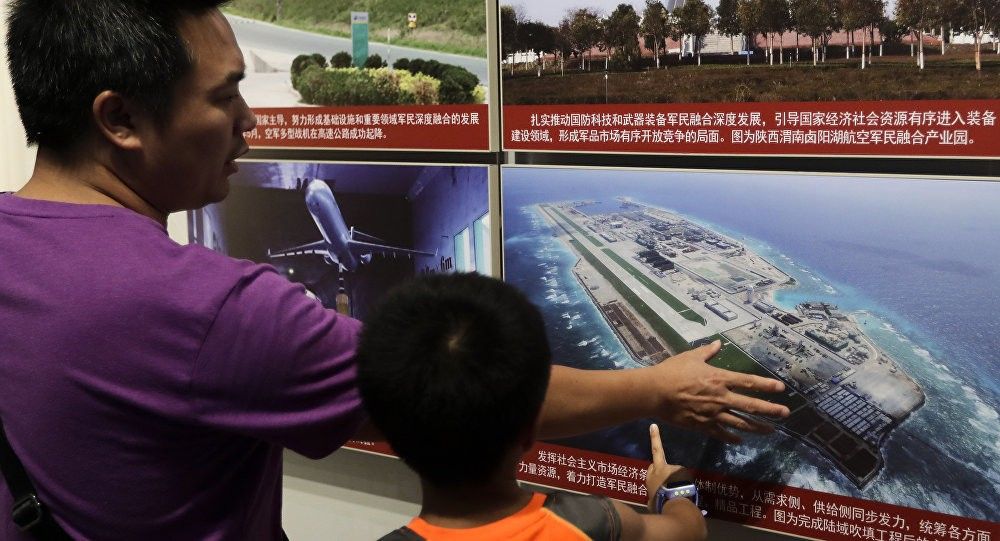 In this Thursday, July 27, 2017, file photo, a man and a child look at a picture showing the Fiery Cross Reef in the Spratly islands, in the disputed South China Sea, on display at the military museum in Beijing. China has deployed military jamming equipment on Fiery Cross Reef and Mischief Reef, according to US officials.
AP/Andy Wong, File
China deployed jamming equipment in Spratlys — Pentagon
MANILA, Philippines — Beijing appears to have installed military jamming equipment in two of its outposts in the Spratly Islands in the South China Sea, according to US officials.
The Wall Street Journal reported that such equipment is capable of jamming communications and radar systems, asserting China's extensive territorial claims in the disputed waterway.
The new jamming equipment was deployed in the past 90 days on Fiery Cross or Kagitingan Reef and Mischief Reef, according to the report.
"While China has maintained that the construction of the islands is to ensure safety at sea, navigation assistance, search and rescue, fisheries protection and other nonmilitary functions, electronic-jamming equipment is only for military use," a US Defense Department official told Wall Street Journal.
This information comes as the Chinese military conducts its largest military exercise so far in the South China Sea, according to US officials.
Wall Street Journal was able to obtain a satellite image from DigitalGlobe, showing a suspected jammer system on Mischief Reef. The photo, which was taken last month, was commissioned by the US military.
Last February, US Pacific Command commander Adm. Harry Harris warned that Beijing continues to install military facilities and capabilities on seven outposts in the Spratly Islands.
RELATED: China built 7 military outposts in South China Sea, says US admiral
"These bases appear to be forward military outposts, built for the military, garrisoned by military forces, and designed to project Chinese military power and capability across the breadth of China's disputed South China Sea claims," Harris told the US Senate in February.
He added that China may use these facilities for "clearly intended purposes" at some point in the future.
Washington-based think tank Asia Maritime Transparency Initiative earlier reported that Beijing is likely using Fiery Cross Reef as its intelligence hub in the Spratly Islands.
"None of the other bases in the Spratlys so far has a comparable array, though smaller ones have been built on Subi and Mischief, suggesting that Fiery Cross might be serving as a signals intelligence/communications hub for Chinese forces in the area," the AMTI said in a brief published in February.
China has yet to station fighter planes on the artificial islands or deploy surface-to-air missiles or anti-ship cruise missiles in the Spratlys, according to US officials.
Beijing, however, has prepared capabilities to install such weapons in its military outposts.
Last month, Defense Secretary Delfin Lorenzana that China has been warning off Philippine planes doing patrols in the West Philippine Sea.
"These planes, every time they fly over the features occupied by the Chinese, they challenge… Well, they will say 'You are entering Chinese airspace,'" Lorenzana told CNN Philippines.
"They just exchange words, 'No, we are passing by Philippine airspace.' This is just a play of words but it happens every time our patrols go around," the Defense secretary added.
Fiery Cross or Kagitingan Reef, which has been transformed into a fortified airbase, is also being claimed by the Philippines. Lorenzana said that the Philippines would protest China's transformation of the Manila-claimed reef into an airbase.
Presidential spokesperson Harry Roque, however, said that there was no need for such protest as China's promise of "good faith" concerns only land reclamation and not setting up of structures.
RELATED: Kagitingan likely China's intelligence hub in Spratlys, think tank says