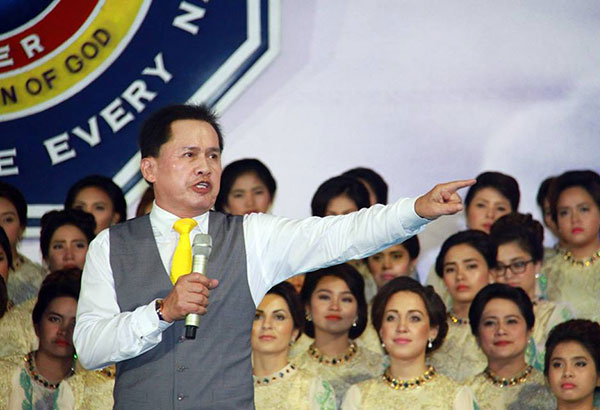 A spokesperson for Pastor Apollo Quiboloy said he has no personal knowledge of the money or gun parts seized from the latter's private plane. He, however, said that Quiboloy was unaware of the cash. Pastor Apollo Quiboloy/Facebook
Pastor Quiboloy's camp denies he was detained in Hawaii
MANILA, Philippines — The camp of Pastor Apollo Quiboloy dismissed reports that the Kingdom of Jesus Christ the Name Above Every Name leader was detained in Hawaii after cash and gun parts were allegedly found in his private plane.
"There is no truth to the insinuation that Pastor Apollo Quiboloy was detained. He was not charged nor was he jailed nor was he deported. There was only clarification made and after it was clarified, Pastor Quiboloy was allowed to leave the United States," lawyer Israelito Torreon, Quiboloy's spokesperson, said in an interview on CNN Philippines.
Hawaii News Now reported Thursday that federal agents found $350,000 in cash and gun parts in Quiboloy's private jet.
Torreon said the insinuation that the pastor, who proclaimed himself as the "Appointed Son of God," was detained is "simply misleading."
"The fact is that he did not commit any crime because had he committed a crime, he would have been booked, he would have been processed, he would have been charged," he said, noting that the pastor arrived in the Philippines Thursday night at around 6:35 p.m.
Quiboloy's spokesperson added: "There is no way it can be legally probable for him to arrive right away if he was charged, if he was detained or a deportation proceeding was made against him."
Torreon said he has no personal knowledge of the money or gun parts seized from the pastor's private plane but he was told by Quiboloy that he was not aware of the cash.
"He had no knowledge about it. He was even surprised and that's it and the US authorities believed him," he said.
A certain Felina Salinas of Makakilo, Hawaii reportedly claimed the suitcase with the cash was hers. Salinas, who was released on $25,000 bond, is a member of Quiboloy's church, which claims to have six million followers all over the world.
'Blown out of proportion'
Torreon hit some media outlets for "making a hullabaloo out of nothing."
"He (Quiboloy) is just surprised as to why this issue was blown out of proportion. He was just surprised by the magnitude of the media attention that is given to this issue," he said.
Torreon also clarified that the issue has nothing to do with President Rodrigo Duterte.
Quiboloy, who has been friends with Duterte for more than 30 years, campaigned for the then-Davao City mayor in the 2016 elections.
"He is close to President Duterte. There is no sense linking him with the presidency of the good president because this issue is not connected with President Duterte," the spokesperson said.