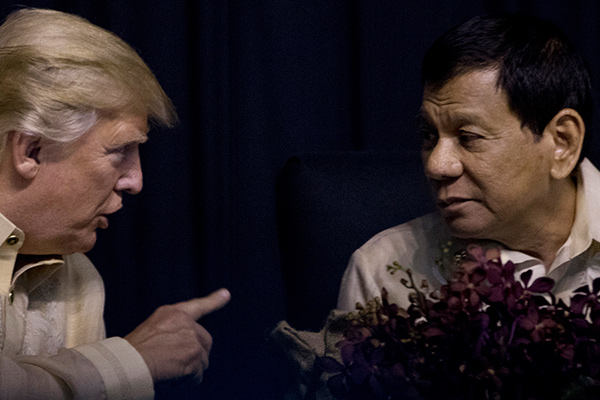 President Donald Trump speaks with Philippines President Rodrigo Duterte at an ASEAN Summit dinner at the SMX Convention Center, Sunday, Nov. 12, 2017, in Manila, Philippines. AP Photo/Andrew Harnik
Fact check: Trump's 'additional' pledge of $14.3M for Marawi; $2M for drug war
MANILA, Philippines — United States President Donald Trump announced that Washington would be giving an additional $14.3 million for Marawi rehabilitation and $2 million to support drug demand reduction programs of the Duterte administration. These were not new pledges.
The White House made the announcement in a release late Tuesday night as Trump headed back to the US after leaving the Association of Southeast Asian Nations summit in the Philippines, the last stop in his 12-day Asia tour.
"President Trump announced an additional $14.3 million for the community of Marawi City to address the humanitarian needs of 360,000 displaced persons, and to support stabilization and speedy recovery in Marawi by jumpstarting livelihoods and promoting alternatives to violent extremism," it said.
The White House added that "Trump announced $2 million to support drug demand reduction programs in the Philippines."
The US embassy confirmed to Philstar.com that these pledges were the same commitments Washington promised last September.
Malacañang welcomed the pledge on Thursday saying that Trump should have discussed it during the bilateral talks as it would delight Philippine President Rodrigo Duterte more.
"But I'm sure, although it was announced belatedly, that the Philippine President or President Duterte will appreciate this commitment to the war against drug," Duterte spokesman Harry Roque said.
"That proves without doubt that the US president supports the war on drugs. Why would he otherwise give two million dollars to this cause if he thinks it's not being implemented correctly?" he added.
Foreign policy expert Dindo Manhit said that although it is not customary for states to pledge new grants or investments or engage in fresh deals during international gatherings such as the ASEAN, it is a good sign of commitment to the alliance of the two countries.
Trump congratulated Duterte on the recent liberation of the southern city of Marawi from ISIS-inspired terrorists in their 40-minute bilateral talks. Duterte also thanked Trump for US support in defeating the threat.
The US has provided over $85 million in counterterrorism-related equipment, training and support to the Philippine military.
Duterte also discussed the Philippines drug problem to the US president, Malacañang said.