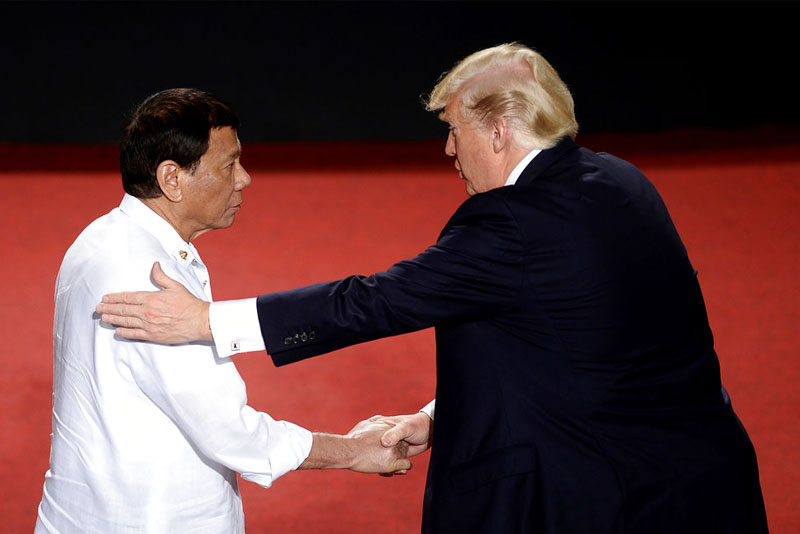 Philippine President Rodrigo Duterte, left, shakes hands with U.S. President Donald Trump during the 31st Association of Southeast Asian Nations (ASEAN) Summit in Cultural Center of the Philippines in Manila on Monday Nov. 13, 2017. Noel Celis/Pool Photo via AP
Trump gave biggest support to drug war, says Roque
(Philstar.com) - November 15, 2017 - 2:55am
MANILA, Philippines — Presidential Spokesperson Harry Roque on Wednesday said US President Donald Trump gave the biggest support for the country's war on drugs among the global leaders present in the ASEAN summit.
In a radio interview with DzBB, Roque shared that the US leader has heaped praises on President Rodrigo Duterte in the administration's war against drugs.
SPECIAL COVERAGE: ASEAN Summit in the Philippines
"Palagi niyang sinasabi na talagang si President Duterte ay doing the right thing in fighting the war on drugs," said Roque, who tailed Duterte in the three-day summit.
(He repeatedly said that President Duterte is really doing the right thing in fighting the war on drugs.)
READ: White House, Palace issue contradicting accounts of human rights in Duterte-Trump talks
Human rights groups from across the world has criticized Duterte's campaign against illegal drugs that claimed between 7,000 to 12,000 lives, most of whom belong to the urban poor.
The two controversial leaders — known for their acid tongue and firebrand leadership — first met at the Asia-Pacific Economic Cooperation in Da Nang, Vietnam last week.
Trump's visit in the Philippines was met with protests among progressive groups. The activists burned the "fascist spinner" effigy featuring the US leader's likeness and the Nazi swastika.
Asked who among the global leaders tacitly expressed support to Duterte's drug war, Roque said that the ASEAN-member states and dialogue partners threw in their support to the ASEAN-drug free principle pursued by Duterte.
He said that Trump gave the biggest support, as the American leader repeatedly told Duterte at the sidelines of the regional bloc's summit: "He knows what he do he's doing, he is doing the right thing."
READ: Trump to raise human rights with Duterte at ASEAN Summit
Bilateral meeting
On Tuesday, the Philippines and the United States of America released a joint statement following the bilateral meeting between Duterte and Trump.
The two heads of state held their first bilateral talks on the sidelines of the ASEAN summit in Manila on Monday.
In the statement, both countries "discussed the ongoing campaign in the Philippines against criminality including illegal drugs."
"Both sides acknowledged that illegal drug use is a problem afflicting both countries and committed to share best practices in the areas of prevention; enforcement, including capacity-building and transparency in investigations; and rehabilitation," the statement further reads.
Trump skipped the East Asia Summit in Manila and left for Hawaii on Tuesday, at 3:18 p.m.