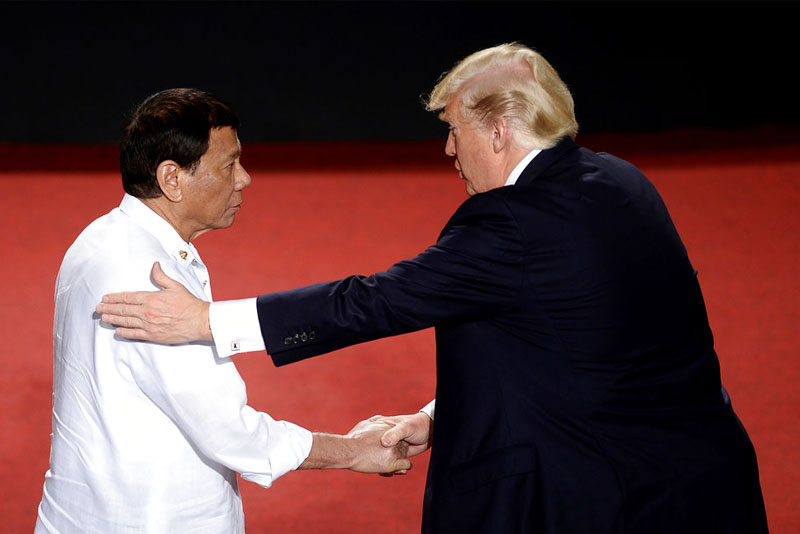 Philippine President Rodrigo Duterte, left, shakes hands with U.S. President Donald Trump during the 31st Association of Southeast Asian Nations (ASEAN) Summit in Cultural Center of the Philippines in Manila on Monday Nov. 13, 2017. Noel Celis/Pool Photo via AP
White House, Palace issue contrasting accounts of Duterte-Trump talks
(Philstar.com) - November 13, 2017 - 9:57am
MANILA, Philippines — The White House on Monday said the topic of human rights was "briefly" tackled during US President Donald Trump's first bilateral meeting with Philippine President Rodrigo Duterte, contradicting Malacañang's claim that the sensitive issue was avoided by the two leaders.
"Human rights briefly came up in the context of the Philippines' fight against illegal drugs," White House spokesperson Sarah Sanders said.
The two heads of state held their first bilateral talks on the sidelines of the 31st Association of Southeast Asian Nations summit in Manila on Monday.
SPECIAL COVERAGE: ASEAN Summit in the Philippines
Duterte is facing strong criticisms at home and abroad for the brutality of his government's war on drugs, which rights groups say has claimed between 7,000 to 12,000 lives, most of whom belong to the urban poor.
What Malacañang says
After the two firebrand leaders' meeting that lasted for 40 minutes, Harry Roque, Duterte's spokesperson, said Manila's human rights situation "did not arise" and was "not brought up."
But he also said Duterte took the opportunity to explain to his American counterpart the Philippines' drug problem.
"My understanding is he explained at length his Philippine domestic policy on the war against drugs and from the body language of the US president, he seemed to be in agreement," Roque told a press briefing.
"The US president did not comment on the war against drugs. There were instances when he was nodding his head as the Philippine president was explaining his war on drugs but I leave to American authorities to comment," he added.
Asked how he would explain Malacañang and the White House's contradicting statements, Roque said: "There was no mention of human rights, there was no mention of extralegal killings."
"There was only a rather lengthy discussion of the Philippine war on drugs with President Duterte doing most of the explaining," he added.
Earlier, a White House official reportedly said that Trump plans on discussing the human rights situation in the Philippines on his forthcoming meeting with Duterte.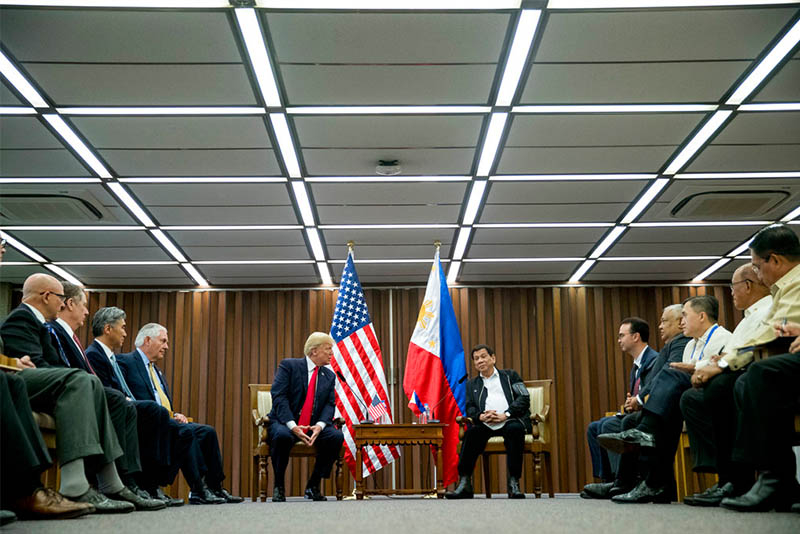 US President Donald Trump and his Philippines counterpart, Rodrigo Duterte, hold a bilateral meeting before senior officials on the sidelines off the ASEAN Summit in Manila, Philippines. AP
READ: Trump to raise human rights with Duterte at ASEAN Summit
Sensitive issue
Duterte, who brooks no criticism of his rights record and anti-drug campaign, earlier said he wants Trump to lay off the topic of human rights in their maiden bilateral meeting.
"Lay off, that is my business. I take care of my country," Duterte said.
The maverick Duterte earlier incited diplomatic alarm after he announced Manila's "separation" from its century-old alliance with Washington after former US President Barack Obama criticized Manila's bloody drug war.
Ties between the two countries' later improved upon Trump's election victory. In a telephone conversation last April, Trump had told his Philippine counterpart he was doing an "unbelievable job on the drug problem."
READ: Palace confident Trump won't bring up drug war with Duterte