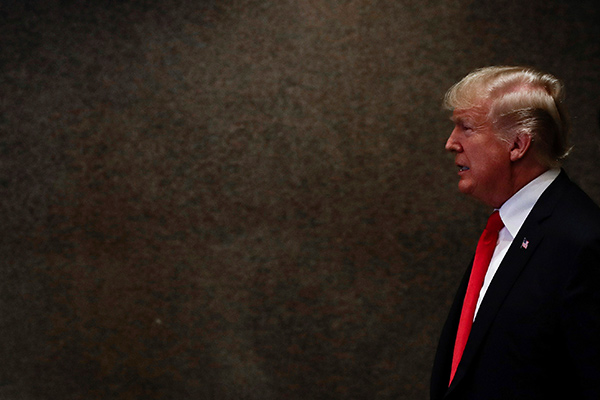 US President Donald J. Trump arrives before the opening ceremony of the 31st Association of Southeast Asian Nations Summit in Manila, Philippines, Monday Nov. 13, 2017. Mark Cristino/Pool Photo via AP
Highlights of Trump's visit to the Philippines
MANILA, Philippines — US President Donald Trump visited the Philippines for the first time as part of his five-nation Asia tour. He attended the ASEAN-US Summit and East Asia Summit in Manila.
"And now we have a very, very strong relationship with the Philippines, which is really important — less so for trade, in this case, than for military purposes," Trump said aboard the Air Force One as he left the country.
Trump met with President Rodrigo Duterte and leaders from the ASEAN and participated in the East Asia Summit to reaffirm his commitment to promoting a free and open Indo-Pacific region.
Here are the highlights of his first visit to the Philippines:
US-Philippines alliance
The US and the Philippines released a joint statement following the bilateral meeting of Trump and Duterte. Trump sent a clear message to the region about strengthening alliance and maintaining close bilateral cooperation.
FULL TEXT: Joint statement of the Philippines and the US
Trump congratulated Duterte on the liberation of Marawi City from ISIS-inspired terrorist groups. The US leader has announced an additional $14.3 million for the humanitarian needs of the 360,000 displaced persons in war-torn Marawi.
The US had also provided over $85 million for counterterrorism-related support to the Armed Forces of the Philippines and approximately $65 million to enhance the Philippines' maritime security capabilities.
READ: How other countries helped regain Marawi
In their meeting, Duterte thanked Trump for the more than $1 billion foreign assistance from the US for the past eight years.
US-ASEAN and East Asia Summits
Trump participated in the 50th anniversary of ASEAN and the 40th ASEAN-US Commemorative Summit. The ASEAN-US cooperation on maritime security issues was welcomed, including the first ASEAN-US maritime exercise scheduled next year.
In the East Asia Summit, Trump and the other heads of state discussed Indo-Pacific regional challenges such as the South China Sa, counterterrorism and the humanitarian crisis in Rakhine State, Burma.
Trump and Singaporean Prime Minister Lee Hsien Loong co-sponsored a statement reaffirming the region's commitment against the use of chemical weapons.
READ: East Asia Summit to stress compliance with chemical weapons ban
Denuclearization of North Korea
Trump, Duterte, along with ASEAN and EAS leaders reaffirmed the region's commitment to the global pressure campaign on North Korea to the path of denuclearization.