Duterte calling media 'spies' gets chuckles from Trump
November 13, 2017 | 8:45am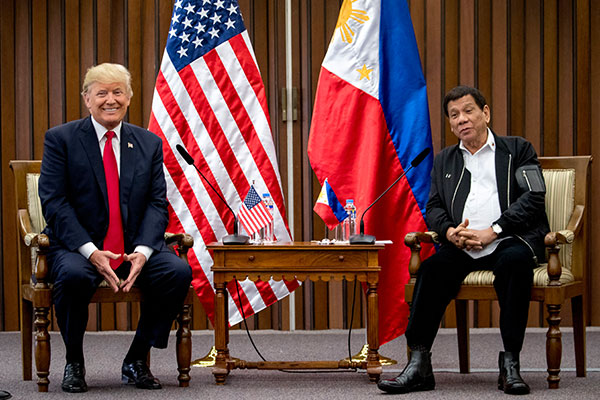 MANILA, Philippines — US President Donald Trump laughed as President Rodrigo Duterte referred to journalists as spies after American reporters raised questions on human rights.
Duterte made the remarks before the bilateral talks with the US president. Trump also skirted the issue of human rights in the Philippines in their meeting Monday noon on the sidelines of the Association of Southeast Asian Nations Summit in Manila.
Duterte's spokesman Harry Roque at a press conference on Monday afternoon said Duterte explained his drug war to Trump during their talks, with the latter nodding along during the "lengthy" discussion.
"We would be talking on matters that are of interest of both the Philippines and... With you around guys, you are the spies," Duterte said as he told the press that questions would not be answered as they are not at a news conference.
Trump laughed as Duterte shut down questions. "You are the spies," Duterte said, referring to press. "Hah, hah, hah," Trump said laughing. "You are," Duterte repeated. (per WH pool) https://t.co/K4M2JsQCzw

— Jim Acosta (@Acosta) November 13, 2017
Duterte also asked Trump to give a statement where the US leader hailed the "great relationship" it has with traditional ally Philippines.
"[W]e've had a great relationship. This has been very successful. We have many meetings today with many other leaders. The ASEAN conference has been handled beautifully by the president and the Philippines and your representatives," Trump said.
He also praised the good weather in the country and the welcome he received.
"But we very much appreciate the great treatment you have given us. I thought last night's event was fantastic, tremendous talent. Most of them, I guess, from the Philippines. But tremendous talent. Musical talent, dance talent and we really had a tremendous time, all of the leaders," Trump said referring to the gala dinner Sunday night.
Duterte sang the Filipino love song "Ikaw" with OPM legend Pilita Corrales during the gala dinner, saying lightheartedly that he did so upon the request of Trump.
#PresidentDuterte sings #Ikaw with #PilitaCorales, upon request of @realDonaldTrump. #Asean2017 pic.twitter.com/VjGCVeOeqG

— Karen Jimeno (@AttyKarenJimeno) November 12, 2017
The press also got a scolding from the Philippine president for reporting his words.