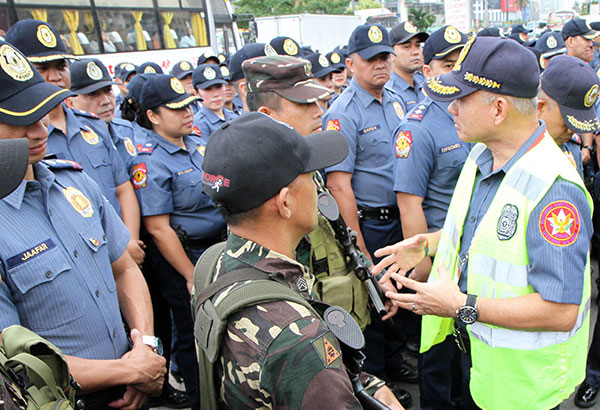 National Capital Region Police Office (NCRPO) chief Director Oscar Albayalde vowed zero incident during the summit. He ordered all policemen to be alert and vigilant and to observe proper coordination with their commanders. Edd Gumban
NCRPO seeks 'divine intervention' in securing ASEAN
MANILA, Philippines — National Capital Region Police Office (NCRPO) chief Director Oscar Albayalde is praying for "divine intervention" to help the police force secure the 31st Association of Southeast Asian Nations (ASEAN) Summit next week.
"In almost a year of security preparations for the 31st ASEAN Summit, I believe we have prepared everything. However, one thing that we must not forget to include in our preparedness and readiness is prayer and divine intervention," Albayalde said during the Prayer for a Peaceful ASEAN and Commander's Time at Camp Bagong Diwa in Bicutan.
Albayalde vowed zero incident during the summit. He ordered all policemen to be alert and vigilant and to observe proper coordination with their commanders.
Policemen were deployed yesterday to secure the 16 hotels where the 22 ASEAN leaders are billeted, malls, and places of convergence in Metro Manila two days before ASEAN Summit.
Policemen were also posted at the Bonifacio Global City in Taguig City; the ambassador residences in Makati City; and the open markets in Baclaran, Divisoria and Quiapo.
At least 20,000 of the deployed policemen are from the NCRPO while the rest are augmentation forces from the Police Regional Offices 1, 2, 3, 4-A, 4-B and 5.
No texting while on duty
Albayalde yesterday inspected the policemen's positions. He was riding his motorcycle when he saw two policemen texting while on duty.
Albyalde scolded the two erring policemen.
The cops reasoned out that they were reporting to their superior officers. But Albayalde said only commanders have the right to submit reports to higher headquarters and not subordinates.
ASEAN delegates can check out beer gardens
Dignitaries and delegates attending the ASEAN Summit next week are not banned from visiting beerhouses and nightclubs in Manila, Pasay City and Parañaque City.
Albayalde said foreign dignitaries and delegates can take a peep at beerhouses and nightclubs "as long as they are accompanied by their security officers."
The NCRPO chief cautioned policemen not to take for granted their task of securing the 22 heads of states attending the ASEAN Summit to be held at the Philippine International Convention Center (PICC) in Pasay City.
Albayalde also warned criminals against taking advantage of foreign dignitaries and delegates visiting beerhouses and nightclubs as more than 33,000 policemen were deployed to secure the ASEAN dignitaries and delegates.
He said the whole stretch of Roxas Boulevard is covered by the security deployment for the ASEAN Summit from Nov. 10 to 15.
Protests against Trump
Anti-riot policemen were also deployed along T.M. Kalaw Ave., Rizal Coliseum and Roxas Boulevard to prevent militant groups from staging protest actions in front of the US embassy and the PICC grounds during the ASEAN Summit.
Protesters from various militant groups yesterday marched along TM Kalaw Ave. and United Nations Ave. yesterday morning in an attempt to reach the US embassy, according to the Manila Police District.
They called on the government to "ban US President Donald Trump," who will visit Manila.
They also called on President Duterte to avoid being a "tuta" (puppy) of Trump, who implements "detrimental" policies like his immigration policies and proposal to give tax breaks to the rich.
Lieutenant Jomar Angue of the ASEAN Task Force on Maritime Security said the Philippine Coast Guard also received information that fishers group Pambansang Lakas ng Kilusang Mamamalakaya also plans to conduct a protest rally along Manila Bay near the US embassy during the ASEAN Summit.
Pamalakaya also reportedly hired around 50 motor bancas which are docked at the shores of Parañaque City.
No allowance for cops
However, the more than 33,000 policemen deployed to secure the venue of the ASEAN Summit and nearby areas like Roxas Boulevard would not receive cash allowance.
What the cops would receive is an additional food allowance, Albayalde said. – With Non Alquitran, Emmanuel Tupas, Ghio Ong