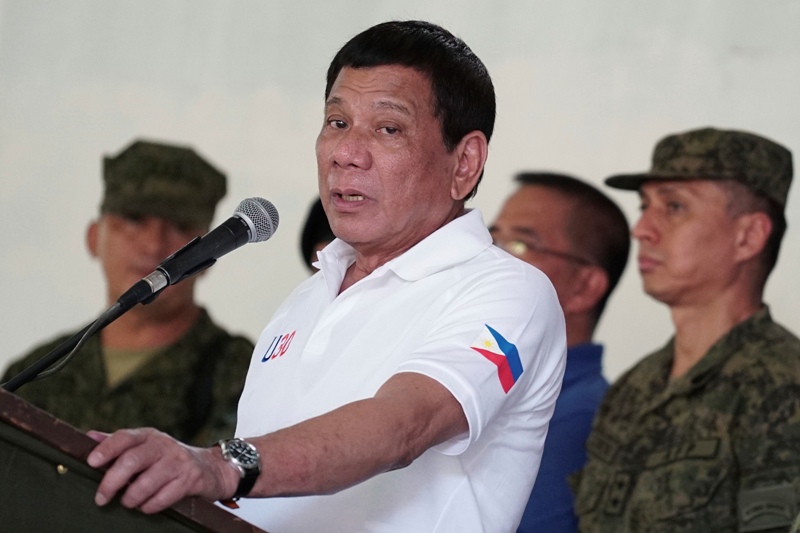 President Rodrigo Duterte is looking to transfer intelligence funds of his office for the use of the Armed Forces of the Philippines (AFP) in its campaign against terrorism in Mindanao. PCOO via AP/File
Duterte eyes moving intel funds to anti-terror campaign
Marvin Sy
(The Philippine Star) - August 31, 2017 - 4:00pm
MANILA, Philippines - President Duterte is looking to transfer intelligence funds of his office for the use of the Armed Forces of the Philippines (AFP) in its campaign against terrorism in Mindanao.
Senate Minority Leader Franklin Drilon said this was relayed to the leaders of Congress during the Legislative-Executive Development Advisory Council (LEDAC) meeting last Tuesday.
Drilon noted there was no briefing paper prepared for this and that it was just mentioned by the President.
He recalled that the President wanted the funds to be used for purchasing arms for the AFP's ongoing campaign to address terrorist threats in Mindanao.
The Office of the President has around P2.5 billion in intelligence and confidential funds, which are being used by the Philippine Center for Transnational Crime, Philippine Presidential Commission on Visiting Forces Agreement, National Coast Watch Council, Presidential Situation Room, Anti-Terrorism Council and Anti-Organized Crime, all of which are under its jurisdiction.
During the LEDAC meeting, Drilon pointed out that the planned realignment of intelligence funds cannot be done now because of the ruling of the Supreme Court on the Development Assistance Program (DAP) of the Aquino administration.
The administrators of the DAP argued then that savings could be realigned to programs or projects that require additional funding.
Drilon noted, however, that the Supreme Court, in its ruling, stated that savings can only be determined at the end of the year.
"I suggested during the meeting that you cannot do it now because you cannot claim you have savings because according to the Supreme Court, the savings can only be determined in December," Drilon said.
To address this legal obstacle, Drilon urged Malacañang to craft a bill to amend the General Appropriations Act "and transfer items to the Armed Forces."
"Items which they cannot use anymore or they would, in their judgment, not need in the next six months, can be moved to areas where they want to move it," Drilon said. – With Janvic Mateo, Ghio Ong