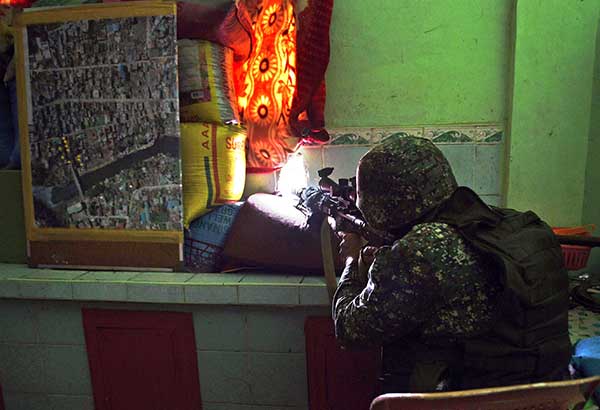 A Philippine Marine sniper aims at Maute positions in Marawi City on Saturday as the fighting entered its third month. AFP
Marawi siege enters 3rd month
MANILA, Philippines - Fighting in Marawi City entered its third month yesterday and fighting continues to drag on with President Duterte saying he is prepared to wait for a year to end it.
As Congress approved a five-month extension to martial law in Mindanao on Saturday, Vice President Leni Robredo also called on the government to listen and heed the concerns of residents displaced by clashes between the military and Islamic State-inspired terrorists to ensure the human rights of displaced civilians are respected and fully protected.
Duterte said he has asked the military to avoid more civilian casualties.
"I told them 'do not attack.' What's important is we do not want to kill people," he said on Friday. "If we have to wait there for one year, let us wait for one year."
The southern Philippines has been marred for decades by insurgency and banditry.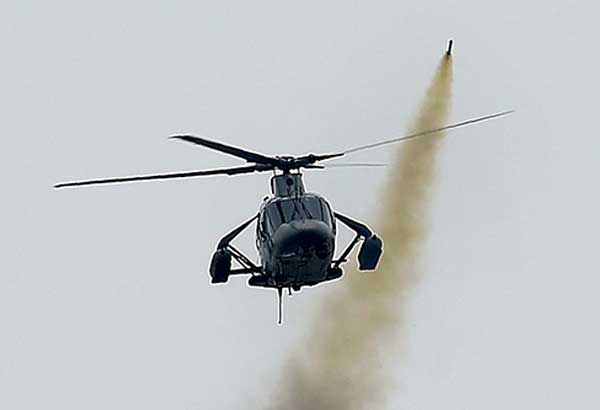 Photo shows a Philippine Air Force attack helicopter firing a rocket at militants in the city. AFP
But the intensity of the battle in Marawi and the presence of foreign terrorists fighting alongside the group formed by Maute brothers Abdullah and Omarkhayam and former Abu Sayyaf bandit leader Isnilon Hapilon have raised concern that the region may be becoming a Southeast Asian hub for IS as it loses ground in Iraq and Syria.
Some militants from neighboring Malaysia and Indonesia, both Muslim-majority nations, are reported to be fighting in Marawi.
In a statement following the martial law extension approval Saturday, Robredo said, "there are reports of violations. We need to look into this so as not to worsen it."
The Vice President also raised the alleged violations to Defense Secretary Delfin Lorenzana, administrator of martial law, following one of her visits to evacuation centers in Balo-i and Iligan City.
It is important for the government, she added, to look into the allegations to prevent a repeat of the martial law violations committed during the time of the late president Ferdinand Marcos.
"We do not want a repeat of those violations committed during the (Marcos) dictatorship," Robredo said.
Lorenzana, according to her, promised to look into the concerns raised and talk with those who raised them.