Philippines' sea row lawyer: Duterte adopted a policy of defeatism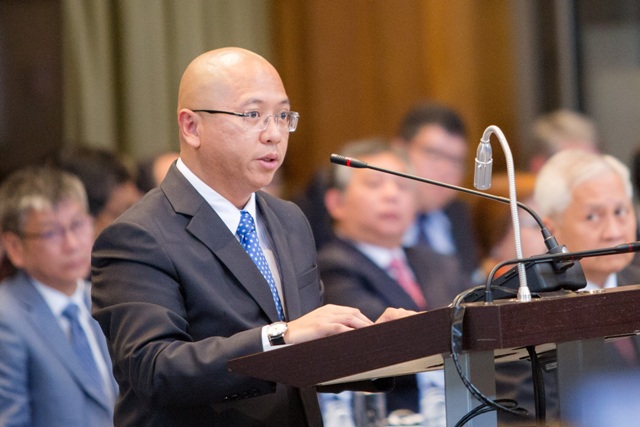 MANILA, Philippines — A law professor who was among those behind the Philippines' legal victory in the Hague over its maritime dispute with China is disappointed with the Duterte administration's approach a year after the ruling was handed down.
Florin Hilbay, the solicitor general under the previous administration, lamented how the current government adopted a defeatist stance in setting aside the ruling in favor of better relations with Beijing.
"The first anniversary of the tribunal's award marks a year of disappointment after disappointment after our victory at The Hague," said Hilbay, who was a member of the legal team who defended the country's claims over parts of the South China Sea at the Permanent Court of Arbitration.
"The current administration seems to have adopted a policy of defeatism and a mindset of non-enforcement of the award," he added.
Facing the international tribunal in the Netherlands in 2015, Hilbay introduced the Philippines' presentation and delivered the summary of the country's 15 arguments against Chinese claims over the disputed waters.
The former solicitor general said the Philippines has not made any repulsed China's continued aggression in the strategic waterway despite having earned the tribunal's favor.
The United Nations-backed tribunal invalidated China's "historic" claims over the waters on July 12, 2016, weeks after Rodrigo Duterte assumed president. The case was filed in 2013 under President Benigno Aquino III.
A year after the decision, the Philippines is working on rapprochement with China with which it started direct negotiations over the dispute. China, which continues to build military facilities on reefs within the Philippines' continental shelf, has refused to honor the ruling despite international criticisms.
READ: A year of walking with China
Duterte has met with Chinese President Xi Jinping thrice since the issuance of the arbitral ruling. It was only during his second visit to Beijing in May that Duterte was able to raise the arbitral ruling to his counterpart. Duterte claimed that Xi threatened that to go to war if the Philippines drills for oil in the disputed waters.
The Philippines also failed to raise the arbitral ruling at the start of its bilateral discussions with China.